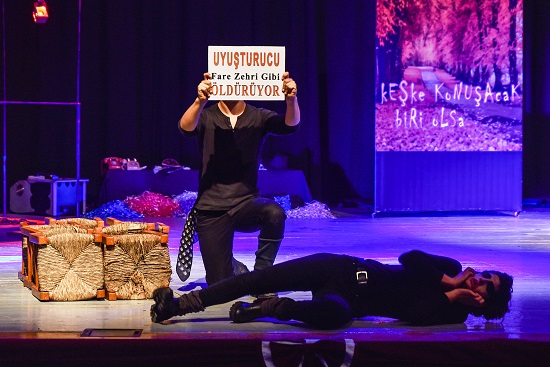 Near East College (NEC) often has its name mentioned not only with its academic achievements but also with its cultural activities and sporting success. Being committed to supporting students to be successful in all domains of education, NEC exhibits a very meticulous behavior for social activities encompassing culture, art and sports.
According to the press release issued by the Directorate of Press & Public Relations Office, in cooperation with the Ministry of National Education and the Directorate of Civil Defense Organization and within the scope of the school project on "risks and coping" (within the frame of Fight Against Drugs Educational Project), a group of NEC students accompanied by NEC's psychological counselors consisting of Specialist Duyal Tüzün, Rasiha Özyurtlu, Rasiha Altunkaya, ÖyküÖzgüm and Hatice Bolayır watched the drama called Diary that staged by Çanakkale Art Theatre.
The drama that watched by many students and teachers from different schools, gives very clear social messages regarding harmful substances, narcotics, substance abuse, drug addiction, the importance of peer relationships on substance initiation and cessation, the crucial role of family in communicating with the child, and the importance of communication to reach the child. From this aspect, the drama named "Diary" was very educative and impressive.