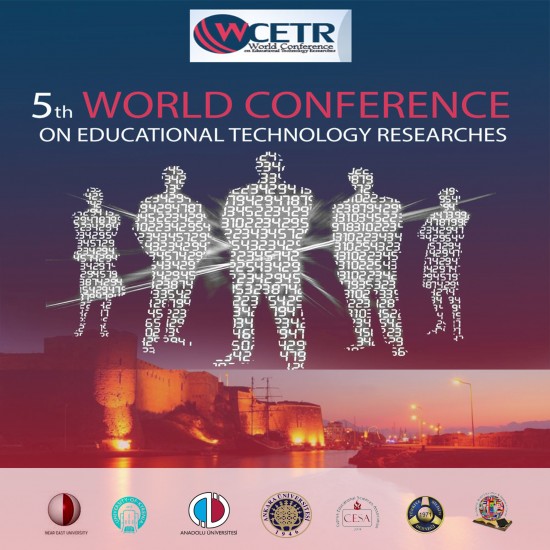 Organized cooperatively by the Near East University, University of Kyrenia, Anadolu University, Ankara University and Cyprus Educational Sciences Association, the 5th World Educational Technology Research Conference will be held in the Turkish Republic of Northern Cyprus (TRNC) on October 15-17, 2015.
According to the common press release from the Directorate of Press & Public Relations Office of the Near East University and University of Kyrenia, the opening ceremony of the conference will take place in the Meeting Hall of Anadolu University Open Education Faculty's office in Nicosia at 10:00 hrs on October 15, 2015. After the opening ceremony, keynote speeches and parallel presentations will be held in four different halls.
Throughout the conference, scientists from 27 different countries will present more than 150 oral or poster presentations in English or Turkish.
Assoc. Prof. Dr. Subramaniam Ramanathan from Nanyang Technological University in Singapore, Prof. Dr. Ferhan Odabaşı and Prof. Dr. Ümit Girgin from Anadolu University, Prof. Dr. Buket Akkoyunlu and Prof. Dr. Gülsün Atanur Baskan from Hacettepe University, Prof. Dr. Hafize Keser from Ankara University, Prof. Dr. Adnan Baki from Karadeniz Technical University, Prof. Dr. Osman Adıgüzel andProf. Dr. Soner Özgen from Fırat University, Prof. Dr. Hüseyin Uzunboylu, Assoc. Prof. Dr. Fezile Özdamlı, Assoc. Prof. Dr. Gökmen Dağlı, Assoc. Prof. Dr. Zehra Altınay Gazi and Assoc. Prof. Dr. Fahriye Altınay Aksal from Near East University Atatürk Faculty of Education, Prof. Dr. Haluk Soran, Asst. Prof. Dr. Deniz Özcan and Asst. Prof. Dr. Tahir Tavukçu will deliver speech during the conference.
The conference will provide platform for scientists and academics to share and discuss theoretical and practical knowledge in a scientific environment. Various topics will be discussed at panels, oral and poster communications were presented and workshops for elementary and secondary education teachers will be held in separate sessions by field experts.
Those, who want to apply or receive further information, can call 0533 842 47 47 and contact with Asst. Prof. Dr. Erinç Erçağ.