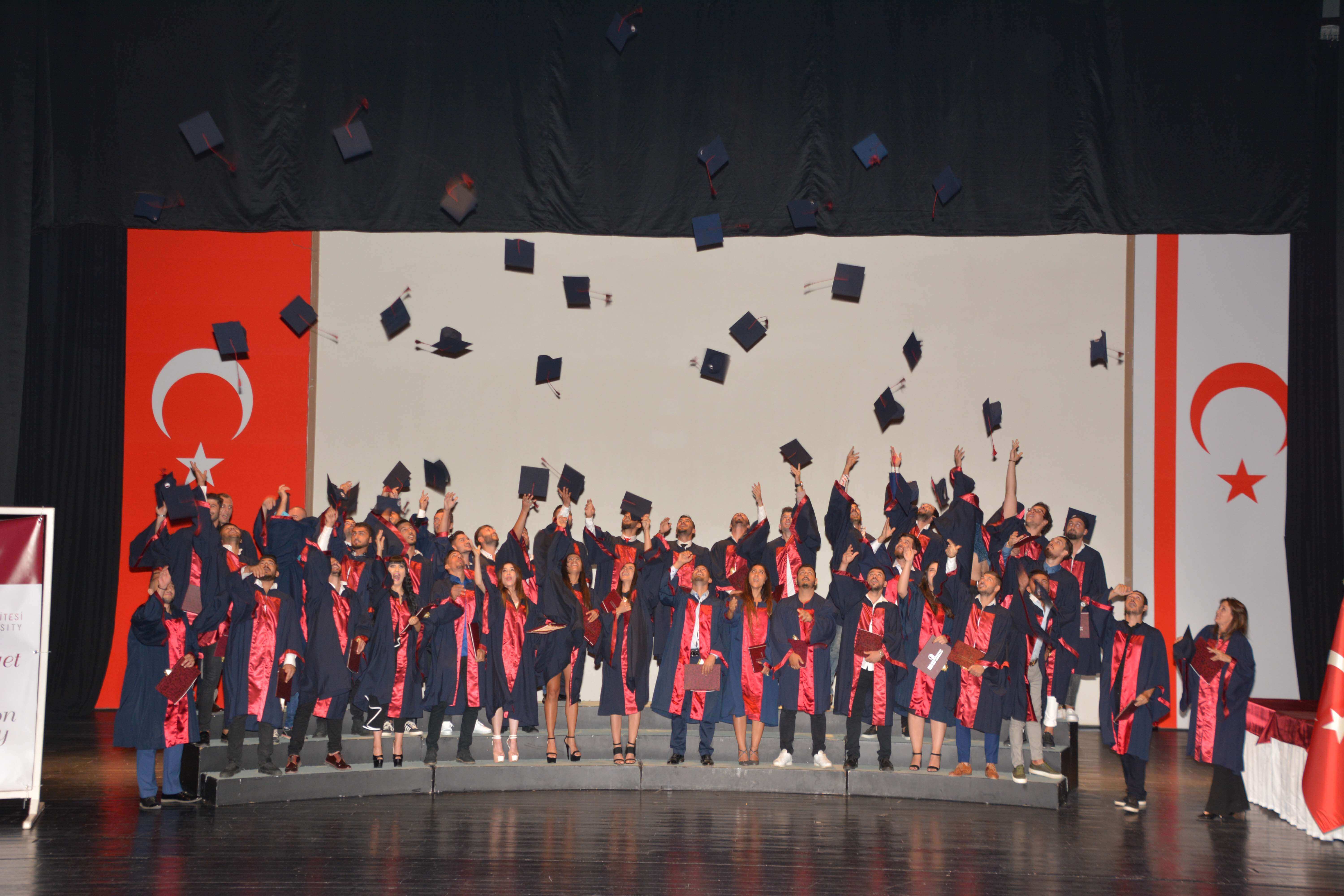 Near East University Faculty of Sports Sciences 2017-2018 Spring Semester Graduation Ceremony was held in AKKM Grand Hall.
According to the statement made by Near East University Press and Public Relations Directorate, Vice Rectors Dr. Tamer Sanlıdağ and Prof. Dr. Murat Kocaoglu, Dean of the Faculty of Sports Sciences Prof. Dr. Mehtap Tiryakioğlu, Member of the Board of Trustees Ahmet Savaşan, department heads, lecturers, students and parents attended to the ceremony.
Following the reading of national anthem and one minute silence in memory of martyrs, Sevda Demir was invited to the scene to read a poem on sports teaching, and the Sabriye Atikoglu delivered a speech on their graduation on behalf of the graduates.
Before the officals' opening speeches,a zeybek choreography prepared by the Folk Dance Instructor was presented.
Professor Dr. Tiryakioğlu; "In fact, for the first time, we are graduating our students as the Faculty of Sport Sciences of the Near East University."
Prof. Dr. Mehtap Tiryakioğlu, Dean of the Faculty of Sport Sciences of the Near East University who made the opening speech, said; "The Near East University School of Physical Education and Sports was founded in 1997 and has been training sports students for 21 years. On this pleasurable graduation day there is actually another thing I would like to share with you, this is the first time we graduate our students as the Faculty of Sport Sciences of the Near East University. It's an event that makes this day a special day. I would like to remind you that you will continue to your lives from the new door opened up but your education will never end."
Professor Dr. Tiryakioğlu; "Education is actually something that lasts up to the death. I hereby want to share something that I think will always be useful to keep in mind in your lives. When we say professionalism, we mean to walk with professionalism at a fast pace and approach issues with empathy, sometimes make quick decisions, and make the right decision as much as possible, believe in justice, respect humanity regardless of age, nationality, sex, color, or beliefs and ideas. I congratulate you all, I embrace you with love. Always be with love and respect, and I want you to keep us informed of your achievements. God speed your way… ".
Professor Dr. Kocaoglu; "Sports Teaches Self-Control, Respect Others and Rules, and to Work in a Scalable and Planned Mode, and Having a Rest."
Afterwards, Vice-Rector of the Near East University, Prof. Dr. Murat Kocaoglu said in his speech;
"Sport teaches self-control, working and resting respectfully and in a regulated, and planned manner. In addition, it develops social responsibility. To be together with your colleagues and others allows one to work with others and identify himself as an individual within the society. Dear graduates; in your future life you achievements in the society will be sources of proud and honor for us. You will continue your training activities to increase your professional experience in the light of the scientific and ethical rules taught to you after graduation and you will be a sportsman and sports instructor in your field with your knowledge that will be increasing day by day and by this means you will make your families and us, your university, be proud with your achievements. I congratulate you on behalf of our faculty and I wish you health, success and happiness in your new life. God speed you."
After the diplomas were given to all the students, the ceremony ended with the traditional activity, hats thrown in the air.