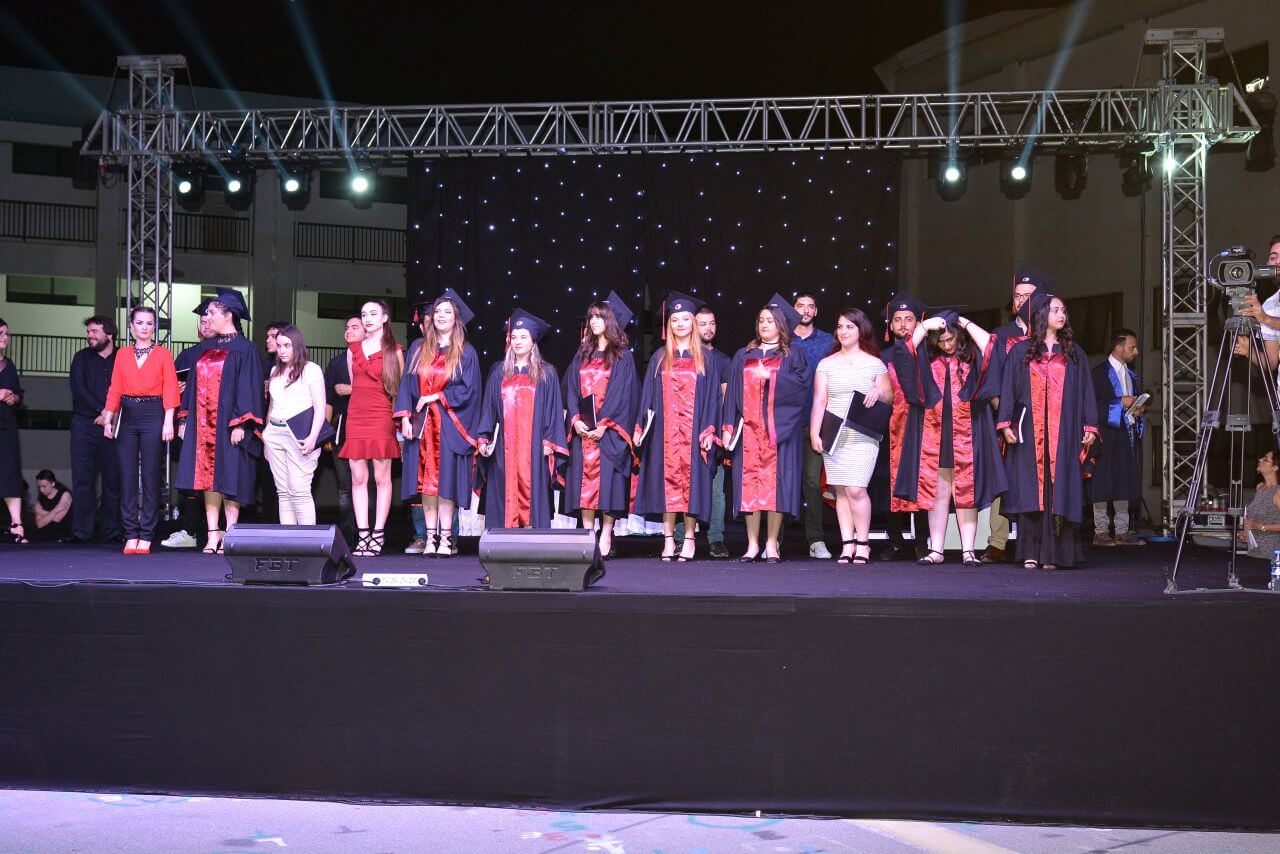 Near East University Atatürk Education Faculty 2017 – 2018 Spring Semester Graduation Ceremony was held at the Near East Primary School Courtyard.
According to the press statement made by the Press and Public Relations Directorate of the Near East University, the ceremony was attended by the Supreme Court Retired Chairman Şafak Öneri, Retired Vice President of the TRNC Republican Parliament, Mustafa Yektaoglu, Famagusta MP of HP Dr. Hasan Topal, CTP İskele MP Biray Hamzaoğulları, Security Forces Commander Infantry Colonel İbrahim Dağman, Vice Rector of Near East University Mustafa Kurt, Dean of Atatürk Education Faculty, Dr. İsmail Hakkı Mirici, Institute Directors, Deans, Faculty Members, Students and Families.
Ceremony started with a one minute silence in memory of Gazi Mustafa Kemal Atatürk, Leader of Turkish Cypriots Fazil Kucuk, the President of Rauf R. Denktas, and all the martyrs and the reading of the national anthem. Following this, a music concert was performed by Emine Kıvanç Öztuğ.
Prior to the opening speeches, Yüksel Öztürk, the top graduate of the Department of Preschool Teaching, delivered a speech.Prof. Dr. Altınay Aksal; "This is the turning point where we see the products of our educational and social activities as well as the results of the vision of living continental on an island"
The opening speech was delivered by the Director of Institute of Educational Sciences of Near East University, Prof. Dr. Fahriye Altinay Aksal; "Tonight we are proud to combine dots and create a whole picture. Tonight is the turning point where we see the product of educational and social activities that we have progressed in accordance with the vision of living continental on an island. First of all, we would like to congratulate our valued graduates and present our gratitude to the Near East family that has given us the opportunity to keep this vision alive. "
Professor Dr. Altinay Aksal; "The Near East Educational Sciences Institute serves as a sensitive school that brings the interdisciplinary sciences together with its qualified staff. I kindly express my gratitude to our Founding Rector Suat Günsel for his supports in establishing and developing our institute, to Chairman of the Board of Trustees, Vice Rectors, colleagues, chairmen of the departments of the institute, faculty dean Prof. Dr. Hakkı Mirici, and to our ethical committee members for their invaluable contribution and cooperation".Prof. Dr. Mirici; "We are together to bid godspeed to our young, qualified educators"
Taking the word after Prof. Dr. Altınay Aksal, Prof. Dr. Hakkı Mirici, Dean of Atatürk Faculty of Education said "Today we are experiencing the happiness of our graduation ceremony, we are together to share the happiness of our young, qualified educators graduated from the undergraduate programs of our faculty, and to have the honor of bidding them godspeed. First of all, on this meaningful day, I would like to thank you for participating in this meaningful ceremony and sharing our joy on behalf of the Atatürk Faculty of Education and Institute of Educational Sciences".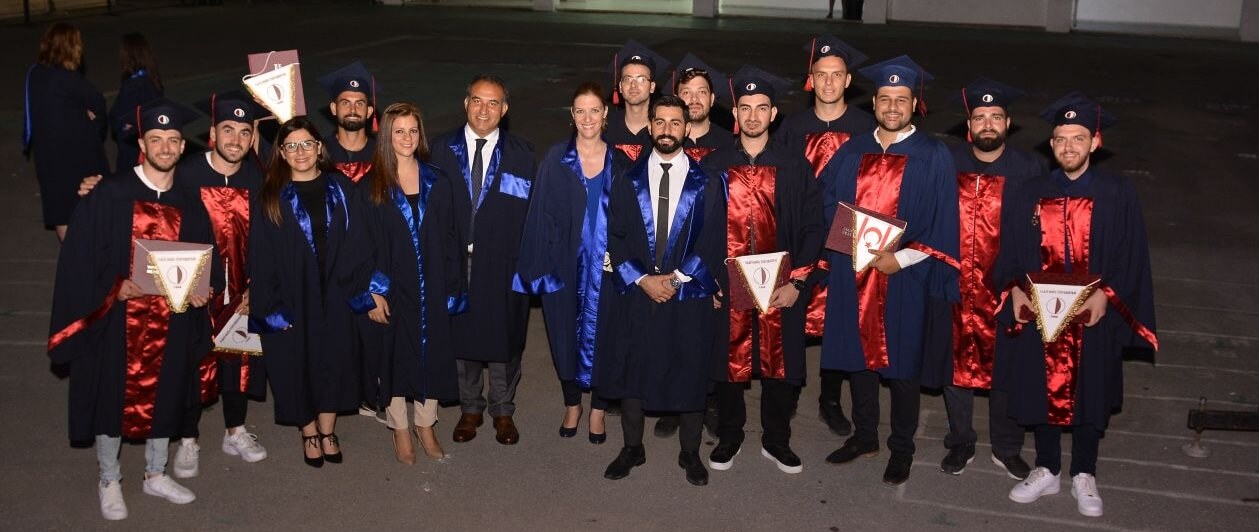 Prof. Dr. Mirici addressing to the parents said "Dear Parents, you have dedicated your lives to grow up your beloved children with great efforts, you have valued them beyond everything, you have dedicated yourselves to them, and now it is time that they will stand up on their own feet and to bid them godspeed at the beginning of their professional lives. Without doubt, you are the most important figures behind their success and made this achievement with the help of your precious support and motivation. I thank all of you individually on behalf of our young engineers in the presence of everyone sharing our honor and joy here.
Prof. Mirici;"Dear Faculty Members,you are the greatest architects of this honorable scene which coincides with the 30th anniversary of our faculty. You have not only educated, trained and shaped our beloved students since the very first day they came to our university, but you have taught them to be fully competent in their professions and raised their awareness in fulfilling their responsibilities as individuals towards society. I am sure that the successful studies of our young engineers in the future will also honor you.
Prof. Dr. Mirici addressing to students, said "You have successfully completed the challenging process of your education life that has lasted for years. You have obtained a qualified education from the precious staff of an outstanding university and gained the right to be conferred upon a precious diploma and be privileged as graduates of the Near East University. I sincerely congratulate you and wish you every success in your future live".
Assoc Prof. Dr. Kurt "Be vigorous, be honest and stay firmly tied to ethical rules."
Assoc. Prof. Dr. Kurt, following Mirici, "In my long academic life I prepare all of my speeches for all the congresses in advance, but I never prepare a speech in advance in such organizations, I speak in the frame of my sentiment. You have graduated at the end of 4 years. You will receive your diplomas for your efforts. Be virtuous, be honest, and stick to your ethics. If you know the value of these things and evaluate your life accordingly, you will be contributing to our goal of being a principled human being, a good human being, and a critical thinking person. I wish you success again in your life. Do not forget that we are here and you can always communicate with us again after graduation. Godspeed you."
The ceremony ended with the presentation of diplomas and the traditional hat throwing.