One of the conditions of being a step ahead for the future is being able to use media correctly. Near East TV and Near East FM, which were established with this aim, allow all students at the Communications Faculty to develop their learning experience in a real field and function as an education and application laboratory to demonstrate the important aspects of professional production.
Our students can receive practical training in addition to theoretical training in the broadcasting studios created with the latest technology, 3 production studios, managing units, a 200-person amphitheatre with live broadcast infrastructure, and production and broadcasting units within Near East TV and Near East FM. Our students who receive this versatile education will have the technical and mental skills to work in all local and international media organizations. You can listen to Near East FM at the frequency 88.00 FM.
The digital revolution that has swept through the media industry over the past decade has made learning about television and radio production more exciting than ever.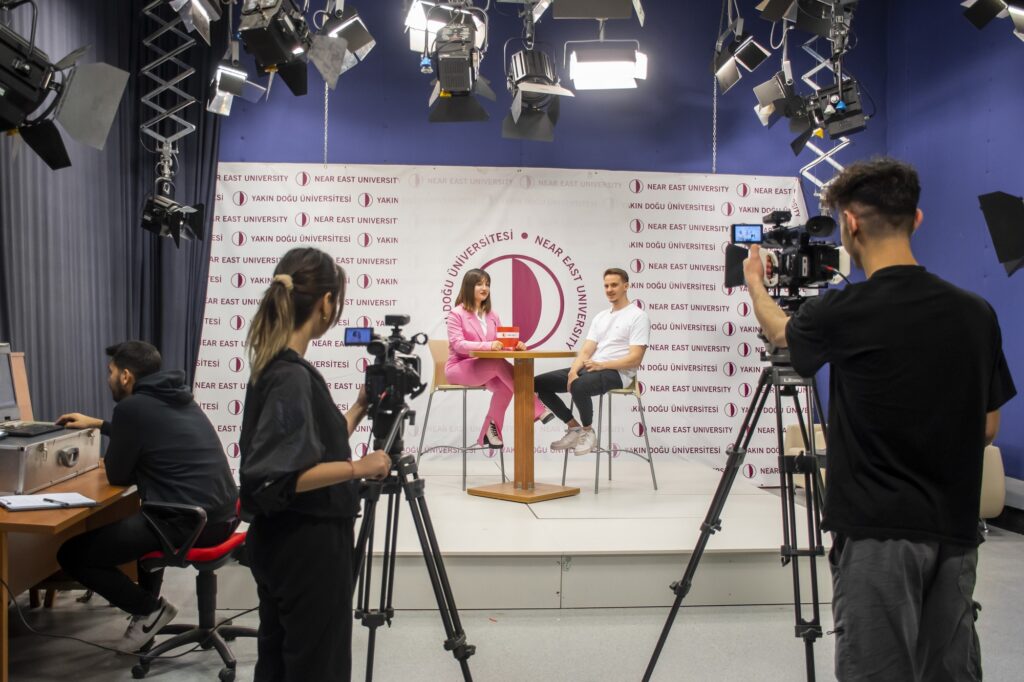 Near East TV closely monitors and applies developments in the world in terms of producing content for TV, radio and other social media platforms, visual storytelling and how to produce them. You can choose to specialize in camera skills and editing, radio recording and TV-Radio studio production and produce a range of factual, fictional and entertaining projects in the media of your choice.
Near East TV and Near East FM will produce your own films and radio packages in factual, fictional and academic formats and use them to create content for other media platforms. You can produce a range of documentaries, dramas, news and social media posts in the media of your choice. Additionally, contemporary media theories in everyday work help you explore the social and economic impact of changes in media production.
Our studios, located on the largest campus and university of Cyprus, contribute to the excitement, production and educational activities of the university with new technologies every day. Our institution, which continues to work with many media organizations in Cyprus, trains countless media experts every year and works with media companies on industry-oriented projects.