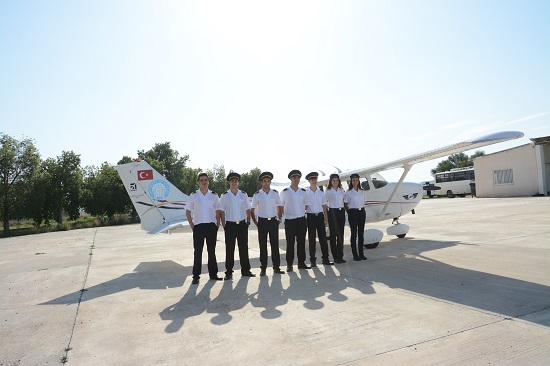 University of Kyrenia, adding the latest-model Cessna-172 S training aircraft, which is the most preferred model of its class, to its fleet, increased the aircraft number of its fleet to 4.
According to a press statement released by the Press and Public Relations Directorate of University of Kyrenia, due to the increasing demand to Department of Pilotage (Professional Flight) and in accordance with the ultimate objectives of the university that aim to educate and train the students to gain the highest possible qualifications required by the aviation sector, a Cessna – 172 S, the most preferred training aircraft in its class was added to the fleet and the number of training aircrafts increased to 4.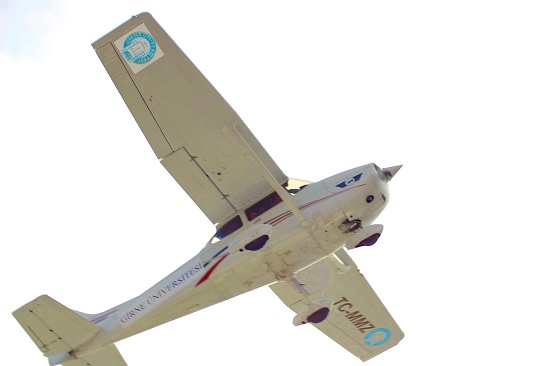 All aircrafts of the fleet have international flight rights
All aircrafts belonging to the University of Kyrenia Fleet and the latest Cessna-172 S training aircraft are registered to İstanbul, Turkey, and all aircrafts have been licenced and permissioned for international flights. In this respect, students who will have the opportunity to train with the aircrafts licenced for international flights will also have the opportunity to be engaged in long distance flight trainings. It was stated that registrations of the aircrafts licenced to be used for international flights were made in Istanbul by University of Kyrenia which already has carried out all necessary preparations to offer the international flight opportunities to its students.
Prof. Dr. İlkay Salihoğlu: "As University of Kyrenia, we do give importance to Professional flight trainings and civil aviation"
Prof. Dr. İlkay Salihoğlu, Acting Rector of University of Kyrenia, making a statement about the issue said that they are giving utmost importance to Professional flight training and civil aviation, and will always try to keep up with the best possible training standarts. Prof. Dr. Salihoğlu also emphasized that the University of Kyrenia is extremely sensitive about the quality, standarts and safety of flights, and said "As the University of Kyrenia, to provide our students with the best possible training opportunities, we have chosen the the most preferred training aircraft, Cessna-172 S as our fourth training aircraft. University of Kyrenia takes very important steps in TRNC in terms of developing aviation and aviation trainings, as well as increasing its own standarts in order to meet the needs of students and increasing demands in aviation. In paralel to increasing number of aircrafts, an increase will follow in efficiency of our implementations as well as an increase in sports activities such as parachute jumping".
Prof. Dr. Süleyman Tolun: "We will offer the best possible training to our students with this worldly most preferred training aircraft gradually growing fleet"
Prof. Dr. Süleyman Tolun, Dean of the Faculty of Aviation and Space Sciences of University of Kyrenia expressed his gratefulness for the growing fleet and said "As the University of Kyrenia, we are making great investments in aviation education. We are racing with ourselves to provide the best possible theoretical and practical aviation education to our students. As the demand in this subject grows, we do improve our potentials to meet the increasing demands. The Cessna-172 S which was lately added to our fleet is regarded as the most preferred training aircraft since it was first put into use in 1995. This sophisticated training aircraft can well be used for parachute jumping activities as it is technically equipped with various details for various purposes.