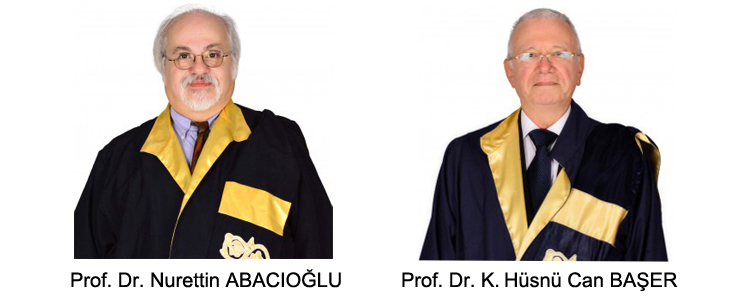 Prof. Dr. Hüsnü Can Başer and Prof. Dr. Nurettin Abacıoğlu from the Faculty of Pharmacy of Near East University deemed worthy for the Golden Mortar Award that presented by the Journal of Pharmacists since 2010 in order to bring the successful persons, institutions and organizations of the pharmacy sector to the forefront.
Golden Mortar is an annual event that organized by Magazine Pharmacist since 2010 (Eczacı) in order to award the successful persons and institutions serving the sector. Golden Mortar presents awards in two categories; personal awards and institutional awards.
This year, two faculty members of Near East University Faculty of Pharmacy, Professor Hüsnü Can Başer and Professor Nurettin Abacıoğlu have been deemed worthy for the 10th Golden Mortar Award. In recognition of his outstanding contributions to the development of the profession of pharmacy, Prof. Dr. Nurretin Abacıoğlu was deemed worthy to be awarded with Levent Kamacık Special Prize that presented in honor of the decedent pharmacist Levent Kamacı, one of the founders of the Magazine Pharmacist and the Izmir Chamber of Pharmacists. Professor Hüsnü can Başer was deemed worthy to be awarded with Service Award for his long-term devoted services in the pharmacy sector.
Expressing his satisfaction with being awarded the Golden Mortar award, one of the most prestigious awards in the drug and pharmacy sector, Prof. Dr. K. Hüsnü Başer stated that he was pleased that his 47-year pharmacy profession had been honored with the Service Award.