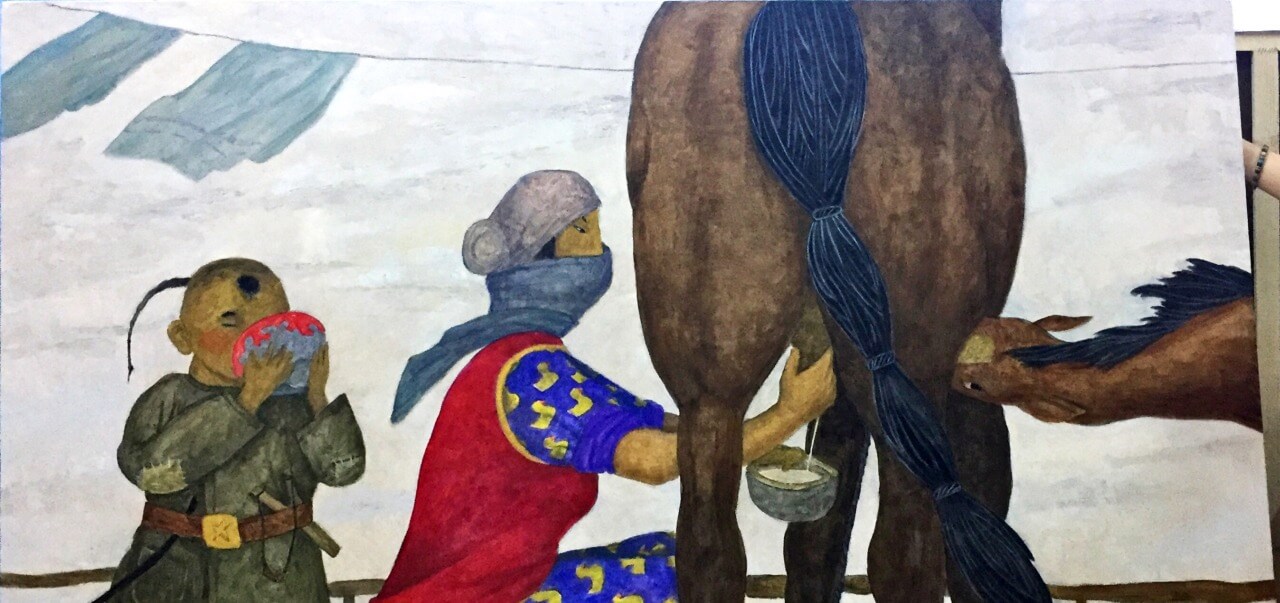 Two group exhibitions consisting of 20 artworks of Uzbekistan artists Babosinov Sarsenbay, Murad Karabaev and Erkin Aralov, and 14 artworks of Tatarstan artists Rabis Saliakhov, Albert Shinibaev and Leila Faizova, and the solo exhibition of 33 artworks of Azerbaijani artist Rauf İsmailov will be opened by Ayşegül Baybars, Minister of Interior.
According to the press information provided by the Directorate of Press and Public Relations of the Near East University, on November 29, 2019, at 08.30 on Friday, one solo painting exhibition and two group exhibitions consisting of a total of 67 artworks will be opened at Hall 4 of the Near East University İrfan Günsel Congress Center.
The creativity, genres and thematic diversity of Uzbekistani Artists are distinguished by still life, landscapes, portraits and theater paintings. The works of the artists take place in museums and private collections in various parts of the world.
Who is Erkin Aralov?
One of the artists of Uzbekistan Erkin Aralov was born in 1976 in Surkhandarya. Between 1998-2005, he studied at the K. Begzad National Institute of Art and Design. In 2007, he participated in the International Exhibition in South Korea. In 2019, he participated in the international exhibition "New Jazz" in Kyrgyzstan.
Who is Murad Karabaev?
Murad Karabaev was born in 1963 in Tashkent. Between 1978-1982, he studied at a college called Benkov. In 2017, he participated in the international festival organized at the Hall of Tashkent International Academy of Art.
Who is Sarsen Baibosinov?
Sarsen Baibosinov is an artist from Karakalpakstan. In 2007, his solo exhibition titled "Music in Colors" was held in the exhibition hall of the Karakalpak branch of the Uzbekistan Academy of Arts, dedicated to the 50th anniversary of the artist. In 2016, he received the title of "People's Artist of the Republic of Karakalpakistan". In 2018, he became a member of the Uzbekistan Academy of Art.
Who is Albert Shinibayev?
Tatarstan artist Albert Shinibayev was born in 1974. He graduated from K.A.Savitsky Penza College of Art. He is a member of Russian Artists Association. He was awarded the gold medal from the Russian Academy of Arts for his academic achievements.
Who is Leila Faizova?
Leila Faizova was born in 1986 in Kazan. She graduated from Moscow Surikov State Institute. Since 2019, she has been a member of the Russian Artists Association.
Who is Rabis Salyakhov?
Rabis Salyakhov is a People's Artist of the Republic of Tatarstan. Since 1986, he has participated in local and international art exhibitions of Russian Federation, Republic of Tatarstan.
Who is Rauf Ismailov?
Azerbaijani artist Rauf Ismailov was born on June 28, 1957 in Mingachevir, Azerbaijan. He is the first and the only artist in Azerbaijan who is a member of UNESCO and uses felt needling technique. He is a member of the Azerbaijan Artists Union. He is the candidate of the "Humay" national art award. He received many awards from the Ministry of Culture and the Union of Artists of Azerbaijan. He studied at Azim-Azimzade Art College. He graduated from the Mukhina College of Arts and Industry in Sant-Peterburg. He studied at Azerbaijan Art University. Since 1991, he has been teaching painting and drawing at the Western University of Azerbaijan. Some of his works were donated to former Secretary-General of the United Nations Boutros Boutros-Ghali. The artist's painting titled "Rhythms of Karabakh" is in the United Nations Exhibition Hall. His painting titled "Oguz Land" was presented to former Prime Minister of Turkey, Mesut Yilmaz. In addition, his works were donated to the former President of Azerbaijan Heydar Aliyev. He held solo exhibitions 4 times in Baku, as well as in the US, Turkey, and Russia. He also participated in group exhibitions in Baku and France. Since 1980 he has been participating in international and national art exhibitions. His works are exhibited in the Azerbaijan Artists' Union, the Museum of Modern Art and the National Art Museum of Azerbaijan, the Azerbaijan Carpet Museum and the Azerbaijan State Art Gallery. His works take place in many private collections and museums. He founded the children's art studio called "Mehriban". In the studio, he deals with pictures and graphics. In 2018, he participated in an international exhibition under the auspices of UNESCO in Baku. In 2018, he participated in an international art exhibition in Baku, under the auspices of UNESCO. In 2019, he participated in an international art exhibition in Ukraine.