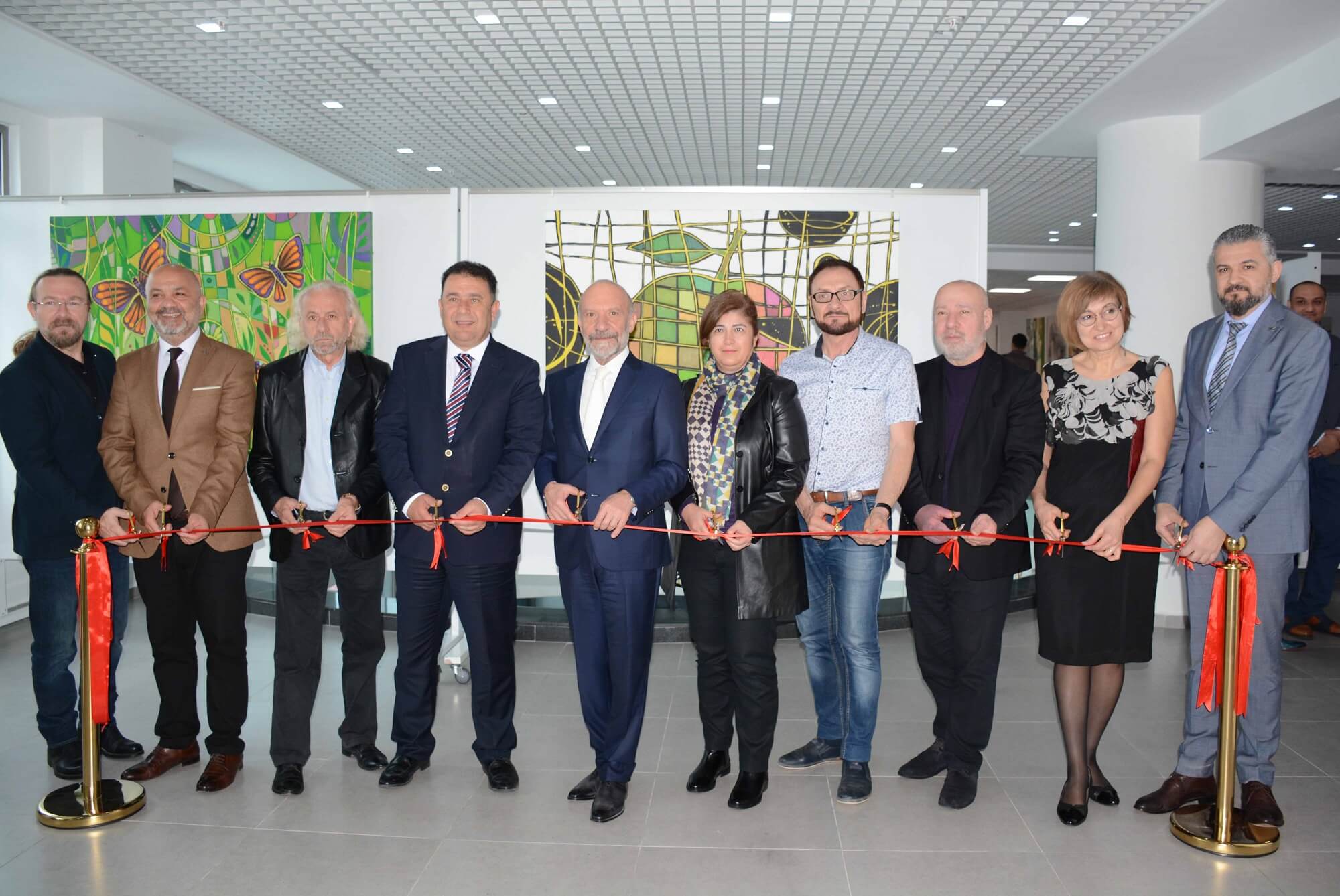 Three group exhibitions consisting of 20 artworks of Uzbek artists Tulkin Zakirov, Baktihyar Makhkamov, Khusan Aminov and Zafar Zufarov, 20 artworks of Gagauzian artists Foidor Duoglo, Nina Peeva and Piotr Fazli, and 15 artworks of Kazakh artists Akan Oimautov, Bulat Mekebaev and Yevgeniy Silabospitskiy, in total 55 artworks, were opened by Famagusta MP Hamza Ersan Saner.
According to the information given by the Press and Public Relations Directorate of Near East University, Famagusta Deputy Hamza Ersan Saner, Founding Rector of Near East University Dr. Suat İ. Günsel, vice-rectors, institute directors, deans, lecturers, artists and invitees attended to the opening of group exhibitions held at the İrfan Günsel Congress Center exhibition hall.
At the opening of the exhibition, the Vice-Rector Prof. Dr. Tamer Şanlıdağ, Gagauzian Artists Piotr Fazlı, Uzbekistani artists Baktihyar Makhkamov, Kazakh artist Akan Oımautov and Famagusta Deputy Hamza Ersan Saner made speeches.
Prof. Dr. Şanlıdağ: "I wish mercy from God to soldiers martyred during the treacherous attack on Turkish soldiers in Idlib, and speedy recovery to the wounded"
Making the opening speech of the exhibition, Near East University Vice-Rector Prof. Dr. Tamer Şanlıdağ, wishing a speedy recovery for the Turkish soldier wounded during the treacherous attack and asking for God's mercy on the fallen, said "As Near East University we are always near our motherland Turkey, I would like to voice one more time,"
Prof. Dr. Şanlıdağ: "As a society, we are taking firm steps towards the future with art…"
Expressing that societies make advances with art, exist with art, and proceed with sure steps to the future with art, Prof. Dr. Şanlıdağ stated that they attach great importance to art and museology as well as the importance they give to science, education, culture, health and technology based on 40 years of experience full of education under the leadership of Suat Günsel. Expressing that in their museums, where they combine science, technology and art, their visitors are happy to spend time full of art, science and technology. Prof. Dr. Şanlıdağ stated that as of today, the number of materials in museums within the Near East University campus has reached over 100 thousand.
Prof. Dr. Tamer Şanlıdağ, "At the end of the workshops held by Cyprus Museum of Modern Arts and participated by thousands of artists coming from countries such as Turkey, Azerbaijan, Uzbekistan, Tatarstan, Kazakhstan, Bashkortostan, Georgia, Kyrgyzstan, Turkmenistan, Ukraine, Albania, Germany, Macedonia, Bosnia and Herzegovina, Syria, the total number of exhibitions have been opened on our campus at nine exhibitions halls is 284 as of today. The number of works of artists, who are active in the field of painting, printing, sculpture, ceramics and photography, has reached 25 thousand in plastic arts."
"Cyprus Museum of Modern Arts has overcome all the known cliches…"
Speaking on behalf of Gagauzian artists, Piotr Fazlı said, "On behalf of all Gagauzian artists, I would like to express my deepest gratitude to Dr. Suat Günsel. The atmosphere here has destroyed all the cliches and foundations. We started to use techniques that we did not know before, we are rediscovering our own skills. In such an imaginative atmosphere, new ideas are born, which is very exciting. It is an issue that motivates new discoveries. I think that our works will add Gagauzia colors to the treasure of the Cyprus Museum of Modern Arts"
"It is a pleasure to be part of a great project…"
Speaking on behalf of Uzbekistan Artists, Baktihyar Makhkamov said, "Thank you for sharing this moment with us at the initiative of Dr. Suat Günsel. We offer our gratitude for the opportunity enabled us to be on your side, create and be part of this amazing project. Working under the roof of the Cyprus Museum of Modern Arts and leaving a mark here is another pride for us. We hope that our life experiences, thoughts, hearts and works touch every person. The future generations will definitely not forget this."
"It is an honor to be together with artists from many parts of the world…"
Speaking on behalf of Kazakh artists, Akan Oımautov said, "We are honored to be among the artists participating in this symposium from many corners of the world. We are grateful for the opportunity to experience such moments. Every day we spend in your lands, we have had the opportunity to touch your history, culture and people. We can confidently say that all artists are satisfied with the interest and opportunities provided to them. On behalf of the Kazakh masters, we express our gratitude to you and your whole team for a warm welcome."
Deputy Ersan Saner: "We take our place in the world with the importance given to art and artist …"
UBP Secretary General and Famagusta MP Hamza Ersan Saner stated in his opening remarks that the exhibitions carried out on the basis of the vision of Suat Günsel and the value given to the art and the artist is standing out.
Deputy Saner said, "The exhibitions put forward with the vision of Suat Günsel are an obvious indication of the value given to art and artists. It is important to meet our brothers and sisters from the Turkic republics every week in order to bring together the works that our artists create. It is very important that Suat Günsel has closed the gaps that should be provided to our artists. I wish these exhibitions, which unite the Turkic world, will reflect the color, spirit and personality of all of us. The importance Suat Günsel attaches to art and artist is very important because no society that does not care about art and artist cannot take its place in the world. I would like to thank Suat Günsel who is the mastermind of this kind of work in the TRNC."
Emphasizing the importance of contributions to art, Hamza Ersan Saner stated that 300 exhibitions, 25 thousand works cannot be seen in any museum in the world, these works are invaluable and it is an honor and pride to have a center where all kinds of innovation take place.
Famagusta MP Hamza Ersan Saner concluded his words with the following words: "In the adventure that started 35 years ago, it is very important for us to have a center with all kinds of innovation in every branch. Because whatever you do as governments, it is another source of pride for us to have Near East University, which is the most decent of our universities, which opens the way for informatics, the only value you can touch when you step forward. On the other hand, GÜNSEL car will be the representative of the TRNC flag on the road. Produced with the vision put forward, GÜNSEL car is waiting for the day it will compete with other competitors in the world. A competitive environment was born. Investing in human life and loved ones is the difference of vision of Suat Günsel. I thank Suat Günsel for the values he added to our country."
Exhibition ribbon cut…
After the speeches, UBP Secretary General and Famagusta Deputy Hamza Ersan Saner, Kazakhstan artists, Akan Oimautov, Bulat Mekebaev, Yevgeniy Silabospitskiy and Uzbek artists Baktihyar Makhkamov, Tulkin Zakirov, Khusan Aminov, Zafar Zufarov, and Gagauzisan artists Piotr Fazli, Foidor Duloglo and Nina Peeva were presented the certificates of appreciation. Then three separate group exhibitions were opened. Exhibitions can be visited between 08.00-16.00 on weekdays until 06 March 2020 at the exhibition hall of the Near East University İrfan Günsel Congress Center.