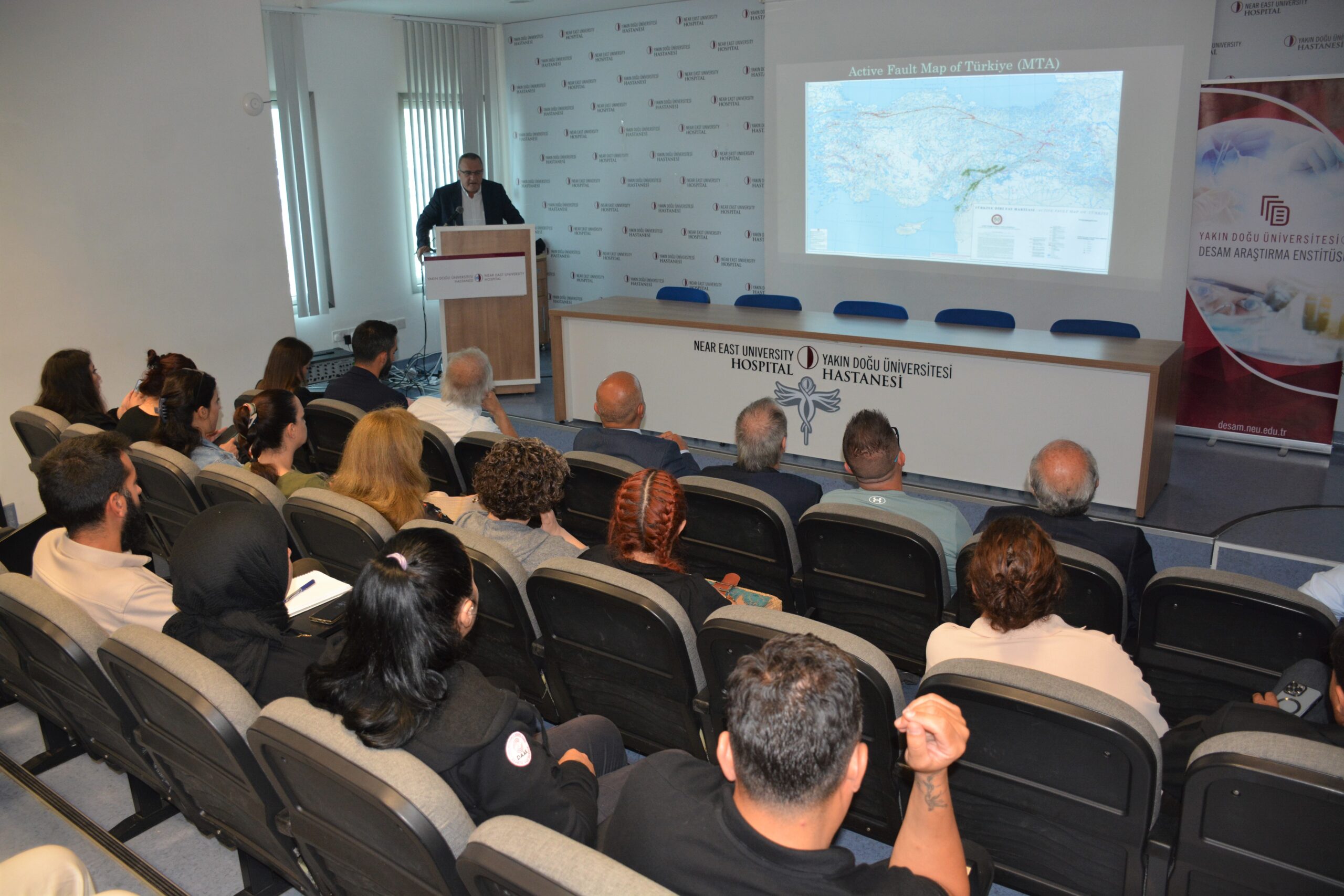 As part of the "Periodic Conferences" series organized by the Near East University DESAM Research Institute, Hacettepe University Engineering Faculty Geological Engineering Faculty Member Prof. Dr. Candan Gökçeoğlu gave a conference on "Turkish Earthquakes and Seismicity of the Eastern Mediterranean".
The conference held at the Near East University Hospital Hall 101 was held with the participation of representatives from professional organizations and non-governmental organizations, academics and students.
Starting the conference by commemorating the Champion Angels who lost their lives in Adıyaman Isias Hotel, Prof. Dr. Candan Gökçeoğlu pointed out important issues about the earthquakes in Turkey and their effects on the Eastern Mediterranean. Expressing that they visited many regions affected by the earthquake and studied at many points, Prof. Dr. Gökçeoğlu shared her impressions about the region with the participants with photographs.
Aftershocks can last until November!
Emphasizing that in the earthquakes that took place on February 6, seven main fault segments broke apart within 9 hours, producing two major earthquakes, and this is a rare event in the history of geology. Prof. Dr. Candan Gökçeoğlu said, "The active faults in the region were broken together. So there was a great deal of destruction."
Drawing attention to the aftershocks after the main earthquakes, Prof. Dr. Gökçeoğlu said, "Although it is not possible to predict the timing of earthquakes with the scientific studies carried out, it is possible to say that aftershocks may continue until November, considering the magnitude of the earthquakes that occurred in February."
The risk in Cyprus is higher in the South!
Making important statements about the earthquake hazard of the island of Cyprus, Prof. Dr. Candan Gökçeoğlu said that the south of Cyprus is under higher threat in terms of tsunamis and earthquakes than the north. When we look at the historical process, the faults on land and the studies carried out, Prof. Dr. Gökçeoğlu said, "An earthquake of this magnitude can cause serious damage to buildings that were built on bad ground and that did not receive good engineering service."
Microzonation work is a must!
Emphasizing that scientific studies should be deepened in order to make more precise determinations about the island of Cyprus, Prof. Dr. Candan Gökçeoğlu said, "First of all, a comprehensive microzonation study should be completed in Cyprus. After determining the mechanical and seismic properties of the soils in the region with the microzonation study, it is possible to reduce the damage of the region in a possible earthquake when suitable settlement planning and engineering work is carried out.
"There is no such thing as a natural disaster. The correct definition is a natural hazard," saying Prof. Dr. Gökçeoğlu further added; "We are the ones who turned this danger into a disaster. The thing that creates the disaster is that the design, manufacturing and inspection processes of the structures are not carried out correctly."