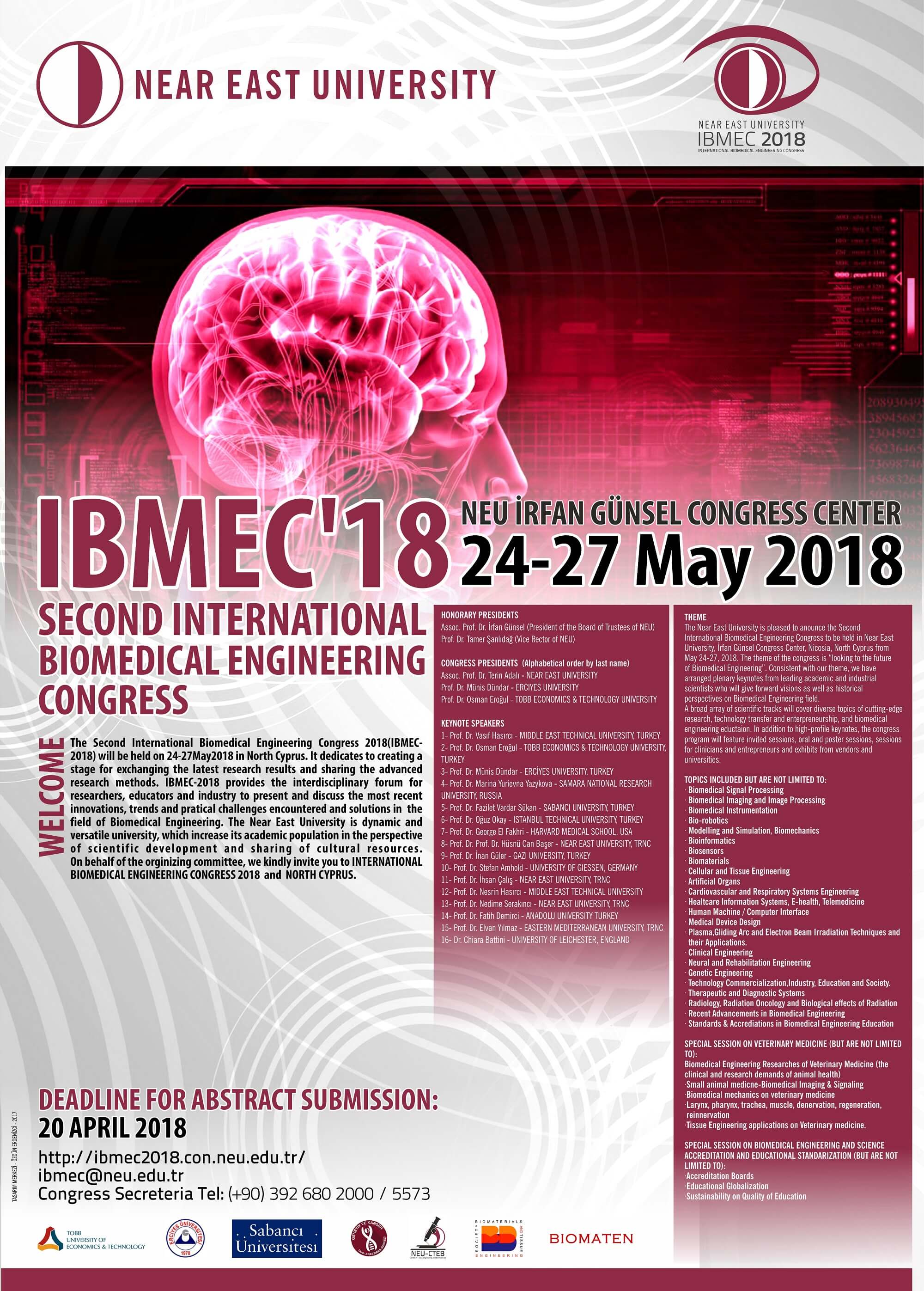 The Second International Biomedical Engineering Congress (IBMEC-2018), organized by the Near East University, will be held on May 24-27 at NEU – IRFAN GÜNSEL CONGRESS CENTER.
The IBMEC-2018, to which researchers from around the world will participate and make presentation on Biomedical Sciences and Engineering areas which is an interdisciplinary science, is supported by TOBB Economics and Technology University Department of Biomedical Engineering, Sabancı University Nanotechnology Research and Application Center (SU-NUM), Turkey Biomaterials and Tissue Engineering Association, Middle East Technical University, Department of Biomedical Engineering, METU-Biomaterials and Tissue Engineering Center of Excellence (BIOMATEN), Erciyes University Faculty of Medicine.
The IBMEC-2018, focusing on the theme of "DISCUSSING THE FUTURE OF BIOMEDICAL ENGINEERING", aims to publish to SPECIAL ISSUES in the SCI and SCI journals consisting of scientific committees with independent referees.
As the Near East University, we strongly emphasize the importance of scientific research, and in this respect, your participation in the congress will be much appreciated and make us all proud.
On behalf of the organizing committee of IBMEC-2018, we welcome all of you in the field of biomedical, and hope to meet you at the IBMEC-2018 Congress where the latest technological developments and research results will be discussed.
IBMEC-2018 Presidents
Assoc. Prof. Dr. Terin Adalı – NEAR EAST UNIVERSITY
Prof. Dr. Osman Eroğul – TOBB ECONOMICS & TECHNOLOGY UNIVERSITY
Prof. Dr. Munis Dündar – ERCIYES UNIVERSITY