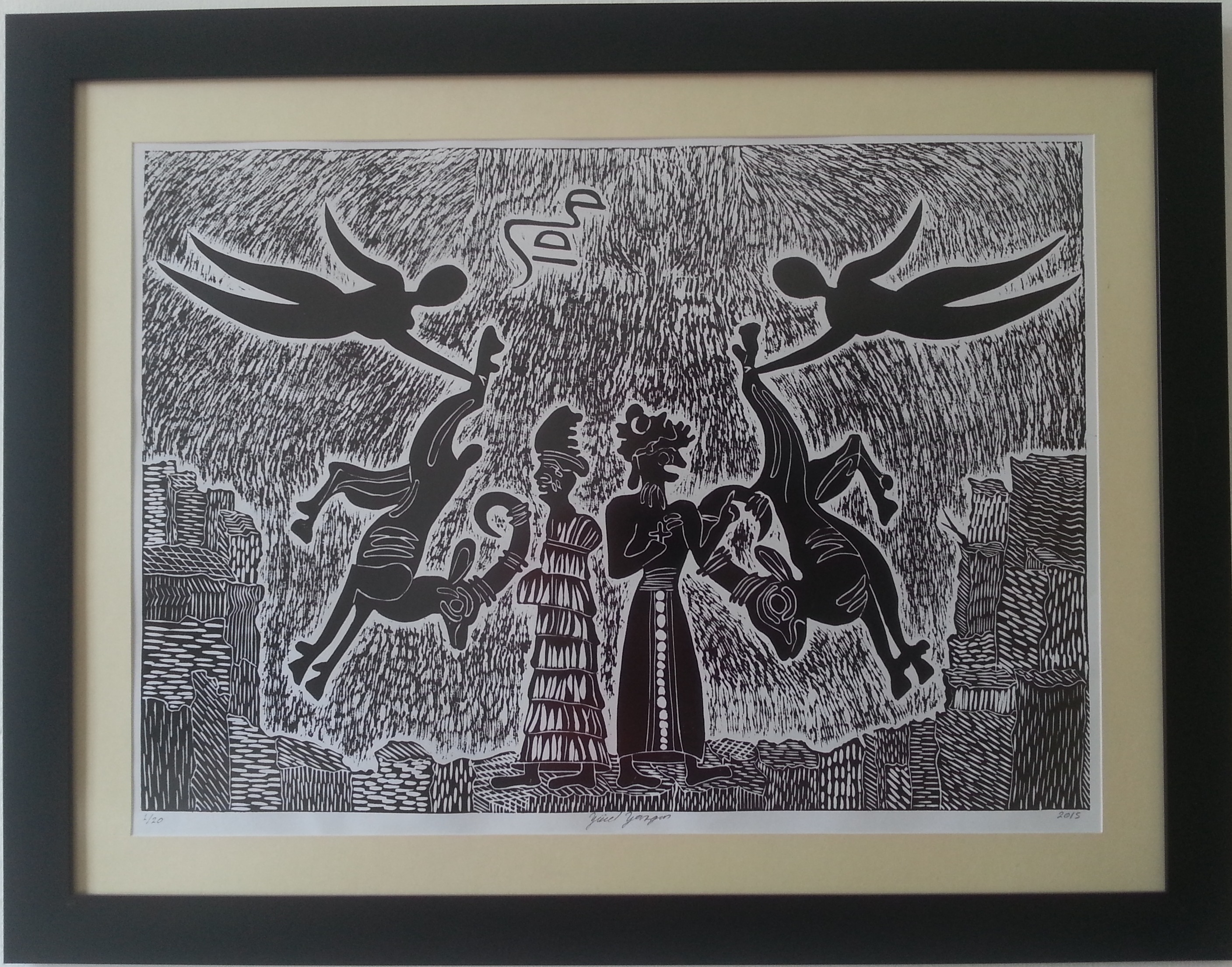 Artist Yücel Yazgın's exhibition titled "Cypriot Comments" consisting of 60 artworks prepared by using different techniques will be opened by Fikri Ataoğlu, Minister of Tourism and Environment...
Artist and Head of the Department of Plastic Arts, Faculty of Fine Arts and Design, Dr. Yücel Yazgın!s exhibition titled "Cypriot Comments" consisting of 60 print painting artworks depicting nature and cultural values of Cyprus and created by using special printing techniques will be opened by Fikri Ataoğlu, the Minister of Tourism and Environment.
According to the press information given by the Near East University Press and Public Relations Directorate, the opening of the exhibition where the effects of the nature and the cultural assets of Cyprus on the artist are depicted through his own artistic understanding and technical competences will be opened on April 19, 2019 at 09:30 at the Faculty of Communication Exhibition Hall.
The exhibition will consist of artworks created by using techniques such as recycling, paper relief technique, wood printing, linol printing, mixed technique (stencil printing, wood printing and spray paint)by using linol template. Historical figures, trees and door images will be exhibited in the exhibition.
Historical and cultural values will find meaning in different techniques...
Some of the artist's works reflect the archaeological periods of Cyprus between 2000 and 600 BC, with figures on the cylindrical and stamp seals, and on the amphoras found on the ancient Ship Wreck (made of Cyprus, Rhodes and Crete) exhibited in the Kyrenia Shipwreck Museum, which were dated to the years of 400 BC. The artist has made his own interpretations of nature based on his inspirations.
Another group of works consists of works depicting the trees growing up on the limestone cliffs of Cyprus under adverse weather conditions and the cognitive effect of these trees on the imagination of these trees. In the group consisting of door imagery, the doors used in the adobe houses of Cyprus, especially the doors of Nicosia consists of mixed techniques.
Examples of Original Print can be visited for two weeks...
The exhibition titled "Cypriot Comments" will be open for visiting between 10.00-12.00 a.m. for two weeks.
Who is Yücel Yazgın?
He was born on July 17, 1960 in the village of Magunda in Paphos. He completed the primary school in the village school and the secondary education in Poli Şehit Turgut Secondary School. During this time, he took painting lessons from Ali Atakan. While studying at the Güzelyurt Kurtuluş High School, he took painting lessons from Emin Çizenel. He received his BA degree in 1998 from Gazi University, Faculty of Education, Department of Art Teaching, workshop of Prof. Dr. Zahit Büyükişleyen. After his graduation, he worked as a primary school teacher in Bahceli Village between the years 1984-1985. After working as a graphic designer in 1985-1986, he was appointed as a Fine Arts Officer to the Culture Department of the Ministry of National Education and Culture in 1987. He was appointed as a teacher to Atatürk Teacher Training College in 1991 and as an instructor to Atatürk Teacher Training Academy in 2000. In 2003, he received his master 's degree from the Near East University Institute of Educational Sciences, Department of Educational Management, Supervision, Economics and Planning with his thesis on "The Opinions of Teachers on the Implementation of 4th Grade Maths and Picture Programs in Support of Each Other '. His works have been exhibited in three solo exhibitions and in various group exhibitions. His artworks take place in the collection of Cyprus Museum of Modern Arts, state collections and in private collections. Between the years 2007 and 2017, he taught as a part-time lecturer at the Eastern Mediterranean University, Cyprus International University and European University of Lefke. He conducted relief works in Değirmenlik Aleminyo Martyrs Memorial Monument and "Cengiz Topel Monument. In 2018, he represented the Turkish Republic of Northern Cyprus in TÜYAP ARTIST. In 2016, he retired from his position in Atatürk Teacher Training Academy. He obtained his PhD. degree in 2017 with his thesis on Analysis of Cyprus Archaeological Cylinder Seals and Their Reflections on Printed Art. Yücel Yazgın has published two books titled "Resim İş Eğitimi Yöntemi - Educational Management on Art Training" and "Calligraphy Techniques" published by Eğiten Kitap Publishing. He also worked as a columnist and editor of a book titled "Communication in Education" Published by Eğiten Kitap Publishing.