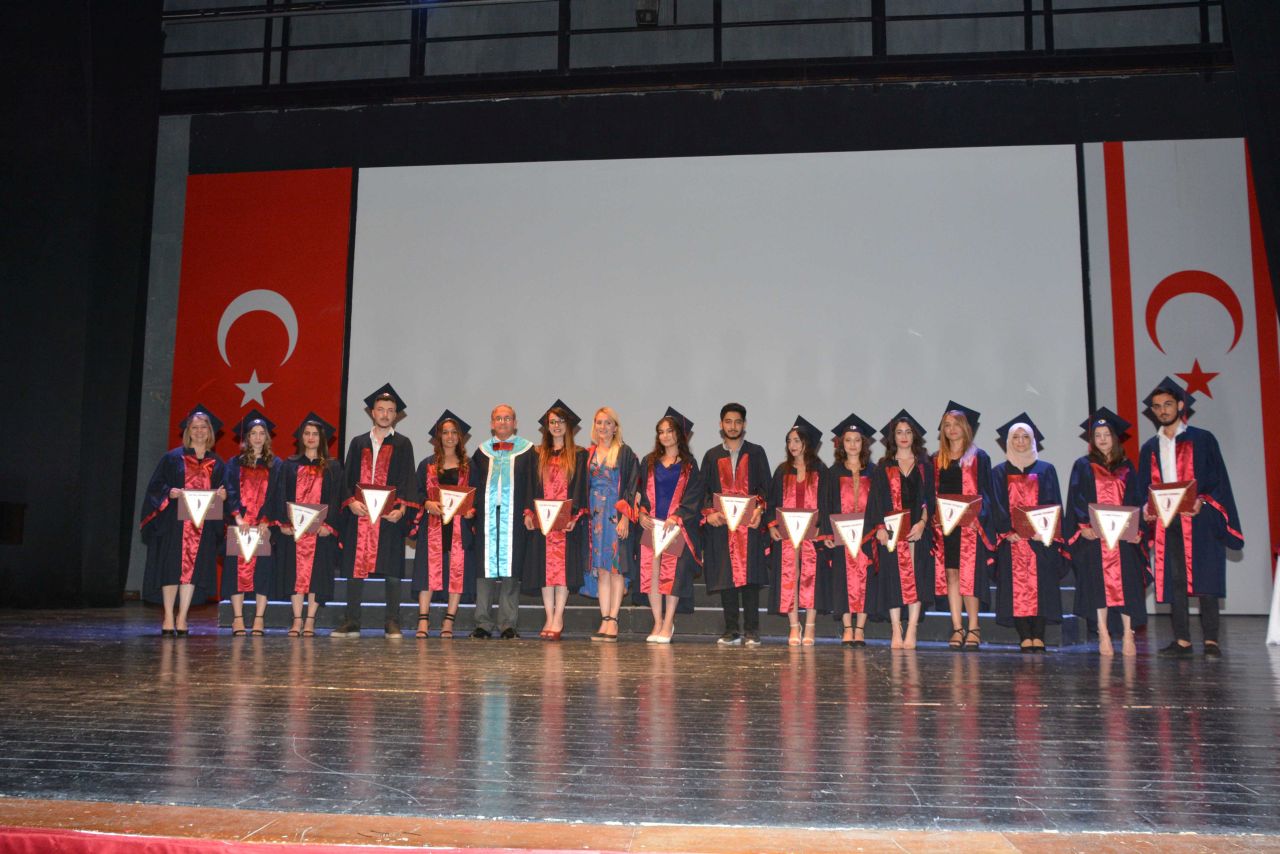 Qualified Intermediate Staff for Health Services… Near East University Health Services Vocational School Graduates Experienced Diploma and Graduation Joy…
Near East University Vocational School of Health Services 2018 – 2019 Spring Term Graduation Ceremony was held in the Grand Hall of Atatürk Culture and Congress Center.
According to the press information provided by the Press and Public Relations Directorate of the Near East University, the ceremony was attended by Vice Rector Assoc. Prof. Dr. Murat Tüzünkan, Director of Vocational School of Health Services Assoc. Prof. Dr. Aslı Aykaç, Institute Directors, Deans, Chief Physicians, Instructors, students and their families.
The ceremony started with the entrance of the students to the hall and continued with the reading of the National Anthem. The Near East University Dance School added color to the ceremony with performances.
Near East University Vocational School of Health Services graduated 285 students at the 2018-2019 Spring Term on the subjects of Oral and Dental Health, Operating Room Services Technician, Anesthesia Technician, Child Development Technician, Dialysis Technician, Pharmacy Services Technician, Electroneurophysiology Technician, Physiotherapy Technician, First and Emergency Work Labor and Veterinary Health, Audiometry, Orthopedic Prosthetics and Orthotics, Pathology Laboratory Technician, Perfusion Technician, Radiotherapy Technician, Medical Documentation and Secretarial, Medical Imaging Technician, Medical Laboratory Technician.
At the opening of the ceremony, Tezcan Alodalı, the valedictorian of the Vocational School of Health Services, delivered a speech expressing his own feelings and the feelings of his friends.
Assoc. Dr. Aykaç; "We provide a program including theoretical, practical and internship studies…"
Director of Vocational School of Health Services Assoc. Prof. Dr. Aslı Aykaç stated that they are trying to educate their students as competent individuals who will achieve ultimate successes in their business lives and social lives, and train their students to be responsible individuals who are aware of their responsibilities in protecting the human health.
Assoc. Prof. Dr. Aykaç; "During their two-year education, our graduates have taken 12,700 hours of theoretical and 6,000 hours of practical practice and 30 work days of internship during the summer term."
Assoc. Prof. Dr. Aykaç called out to the families and said, "We have given a solid professional foundation and training to your children whom you have trembled upon, endeavored and did everything for their sake from the very moment they came into this world. We put a gold bracelet on each arm with the road and destination map we have drawn. " Assoc. Dr. Aykaç ended her speech saying "Dear students, do not deviate from the truths taught to you in your working life, they will always be your guides. You will be a health worker with the diploma you will receive today. The basis of your profession is human beings, never forget this."
Assoc. Prof. Dr. Tüzünkan; "The quality of health care is one of the most important building blocks of a modern society…"
Near East University Vice Rector Assoc. Prof. Dr. Murat Tüzünkan in his speech stated that all of the technicians trained to meet the health needs of the society form a qualified workforce for the society and that they are committed to raising qualified and professionally competent individuals who are respectful to human rights and ethical values in the field of health services required by the country.
Assoc. Prof. Dr. Tüzünkan in his speech pointed out that they provide their students with the latest technological developments consisting of theoretical and practical aspects of health training in their modern laboratories and hospital.
Tüzünkan said that they have already adopted the 4th Generation University Model with the aim of increasing its scientific contributions to industry and society, producing science for the society, spreading its studies to other segments of the society and developing its projects in a way to contribute to the society with the Innovation Centre, Technology Transfer Office, overseas cooperation agreements, patent studies and so on. Murat Tüzünkan addressed the graduating students by saying that they would continue to put into practice all kinds of innovations for the upbringing of contemporary young scientists who are competent in the scientific field, research-oriented and dedicated to the ethical values.
Vice Rector Tüzünkan said, "You are equipped with modern and accurate information under the roof of the Near East, obtaining a training through a high technology based infrastructure. Keep your horizons broad with the information you have acquired, continue your lifelong learning, refresh your knowledge, and let your goal will always be the world. You, who are educated through the Near East education philosophy and culture, will always stand for rights, law and ethical values throughout your life; You will demonstrate the capacity to reverse any outdated thought that has persisted with a stereotypical and rote approach. You will be the pioneer of innovation in every environment you are in, and you will always defend new and creative ideas, projects and progressiveness. Never lose the goodness of your heart. Always respect to human values, be full of professional knowledge, take responsibility, become productive, renew yourselves, and always serve the society as a health care staff, we wish you all the best in your future lives…"
They swore the oath of profession and threw caps into the air…
After the speeches, students took the oath of their profession, were presented their diplomas and ended the ceremony by throwing their caps into the air.