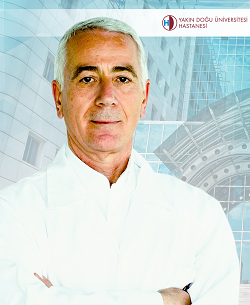 Accelerated ovarian reserve loss and early menopause before the age of 40 are things that women dread. Recent studies carried out in this field are promising. Head of the Department of Obstetrics and Gynaecology of Near East University Prof. Dr. Namık Kemal Duru said: "Due to treatments developed recently, it is now possible for women suffering of premature ovarian insufficiency to be impregnated with their own ova and to give birth to healthy living babies. This rare treatment that is offered in only a number of places is now being applied to our patients at Hospital of Near East University."
Prof. Dr. Namık Kemal Duru: 'The Reason for being unable to get impregnated may be due to Premature Ovarian Insufficiency.'
Prof. Dr. Namık Kemal Duru noted that the number of follicles reduced in women throughout childhood, adolescence and adulthood. Furthermore, he stated that rapid follicle loss and thus early menopause before the age of 40 affected 1 in every 100 women. Moreover, Prof. Dr. Namık Kemal Duru expressed that women with diminished ovarian reserve and premature ovarian insufficiency (POI) frequently face the infertility (inability to get pregnant) and therefore the most difficult group of infertile patients to treat.
In addition to the above, Prof. Dr. Namık Kemal Duru mentioned that despite having immature ova in their ovaries and ovulation stimulating treatment, the most important clinical problem these patients faced was the inability to develop ova. He also pointed out that even with high dosages of FSH/Follicle Stimulating Hormone treatment, only a few numbers of ova have been released.
He said: "Families applying for Premature Ovarian Insufficiency treatment are usually pointed in the direction of egg donation." Prof. Dr. Namık Kemal Duru added that many families rejected egg donation because of social and religious reasons.
Prof. Dr. Namık Kemal Duru provided details regarding In Vitro Activation (IVA) method and said: "A small sample (0.5cm x 0.5cm) is taken from the ovary via laparoscopy. This is then divided into 1mm3 samples and a pocket is formed in the peritoneum. Finally the samples are grafted back in the pocket during the same surgical session."
Prof. Dr. Namık Kemal Duru: "We're increasing the chance of pregnancies via In Vitro Activation Treatment."
Noting that they aim to activate passive cells inside the ovum with this process, Prof. Dr. Namık Kemal Duru, expressed that they could proceed with normal IVF procedures afterwards; and therefore, increase the opportunity for pregnancy even with women with premature ovarian insufficiency.
Prof. Dr. Namık Kemal Duru: "Women can get pregnant with their own eggs thanks too In Vitro Activation, a technique first developed in Japan."
Subsequent to the activation of the ovarian membrane by In Vitro Activation method, In Vitro Fertilisation treatment was successfully applied in Saint Marianna University in Japan, Copenhagen University in Denmark, Zhengzhou University in China and La Fe University in Spain. Thanks to this method, Prof. Dr. Namık Kemal Duru emphasised that currently women with premature ovarian insufficiency are able to get pregnant with 'their own eggs' and give birth to live and healthy babies.