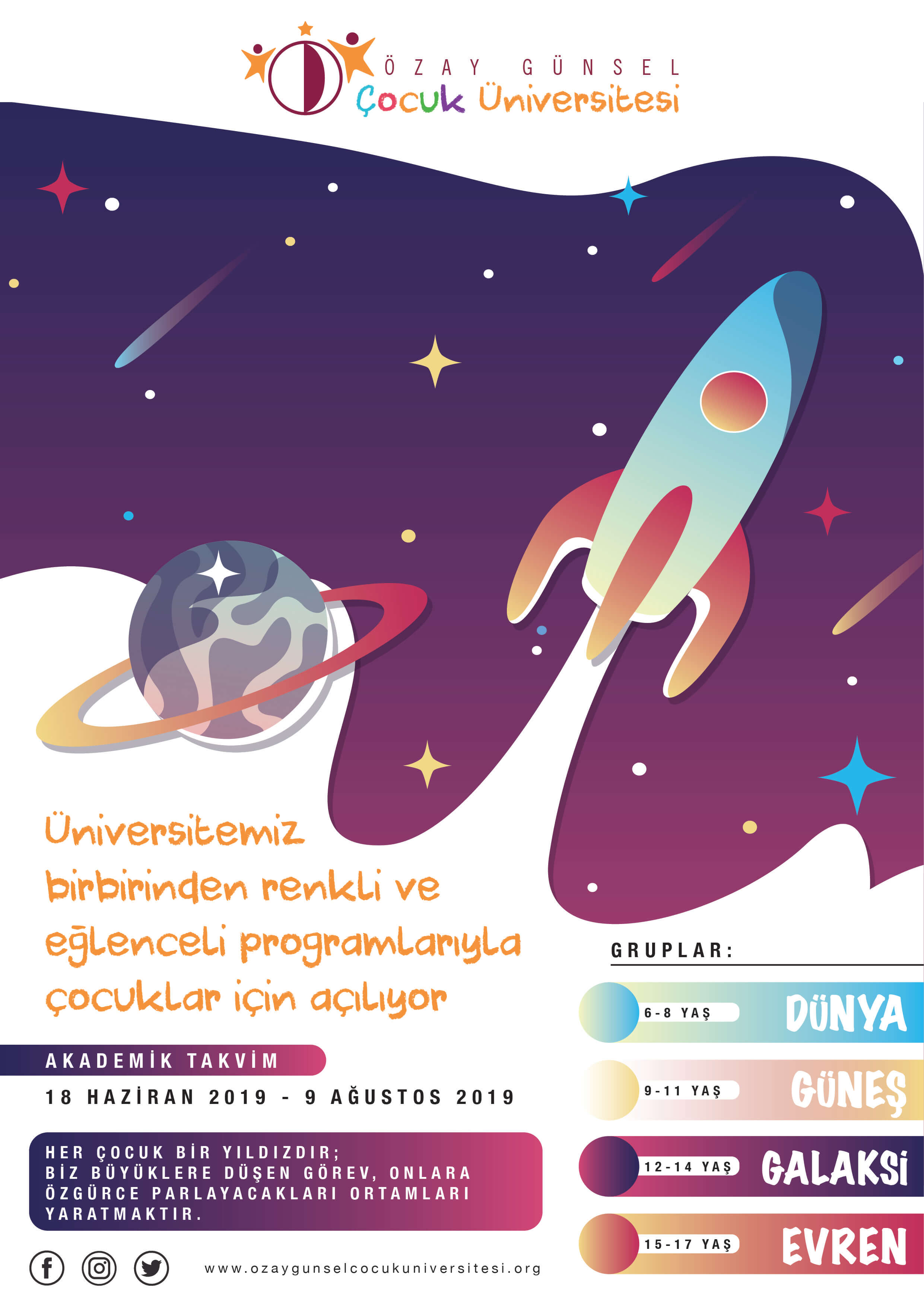 Information meeting regarding the university where 150 different programs will be implemented will be held on 17 and 20 May.
Registrations to Özay Günsel Children University, which is the first and the guiding model for our country and which aims to educate children through an interactive learning environment including experiencing and having fun.
According to a public announcement from Özay Günsel Children's University, which was established with the purpose of helping children to discover their interests and talents and to give them qualified trainings in the fields of science, technology and skill development, 2018/2019 summer semester records for children aging between 6-17 years will start on 15 May 2019.
The registrations which will take place on the ground floor of the Faculty of Health Sciences of the Near East University can also be carried out through the pre-registration form provided at ozaygunselcocukuniversitesi.org. Detailed information can be obtained by filling in the contact form on the web address.
150 Different Programs with Modern Education Curriculum Prepared…
During the summer program, which will be held between June 18 and August 9, 2019, the children will be given training in line with the world's most developed countries education systems and practices by a qualified staff. In the training program, where the children will have the opportunity to get to know the university and the academic education through the modules appropriate to their interests, 150 colorful and entertaining practices and training where they can discover their own talents, they can draw their own cartoon and play computer games and even design and make their own furniture, write their own books, discover the profession that they will be happy with, and even study on the DNA to micro-organisms, as well as discovering the drug making process from plants.
Will serve children with qualified education staff…
Özay Günsel Children's University, which aim to provide children with basic life skills such as scientific and critical thinking, questioning and problem solving, to children who are important in terms of the future development and progression of our country. The trainings will be given by professors, associate professors, assistant professors and doctor academicians.
Bronze, Silver and Gold Certificates will be given along with Student Passport Application…
For students who are enrolled to Özay Günsel Children's University and participate in the training programs, a Student Passport will be issued and applied into the program. With the application, the programs which the children like and are interested in will be recorded to their passports for each group and in total, children will select 50 programs out of 150 programs and will participate in a 200 hours program.
Students who collect 100 credits during the summer term of 2018/2019 will receive a Bronze Certificate. The students who will continue to Özay Günsel Children's University will receive 100 credits in the following period and will collect a total of 200 credits and be conferred upon a Silver Certificate. Students who continue to Özay Günsel Children's University by completing a total of 300 credits will be awarded the Gold Certificate. Students who will prepare projects in the field they want in the last semester will be able to participate in activities to be held at the children's universities of the world.
Children will be given Academic Titles…
Students who will graduate from Özay Günsel Children's University with the Gold Certificate, will be conferred upon a PhD degree. Continuing their programs at the university, they will later be consequently promoted to the ranks of Assistant Professor, Associate Professor and Professor for each new gold certificate they obtain. As a young academician, each child will create his own happiness and success story.
Information Meeting for Parents…
A presentation and an information meeting will be held for the parents about the Özay Günsel Children's University on Friday, May 17, 2019 and at 17:00 on Monday, May 20 at the Near East University Atatürk Culture and Congress Center. Everybody interested in the Children's University is invited to the meetings where information will be provided on the aim of the education, activities, the application process of Özay Günsel Children's University.