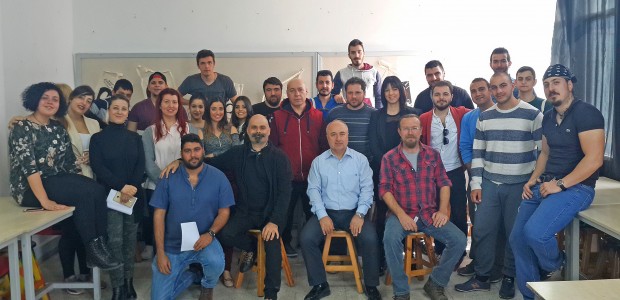 3rd year students of the Department of Graphical Design of the Faculty of Fine Arts and Design of Near East University have opened a new exhibition, exhibiting their work produced at the Fall Term of Academic Year of 2015-2016.
According to the press info release issued by the Directorate of Press and Public Relations of Near East University, third year students are exhibiting their typographic printed bags. At the exhibition, it is possible to see the work of: Berkiye Saif,Atakan Hacikadiroğlu, Berk Özsöz, Deniz Aksoy, Tılsım Demiroğlu, Ayten Erses, Bekir Ruso, Burak Eyigün, Raci Ulutaş, Emre Türk, Deniz Gezmiş Yeşilada, Güner Özyay and Burak Ercan.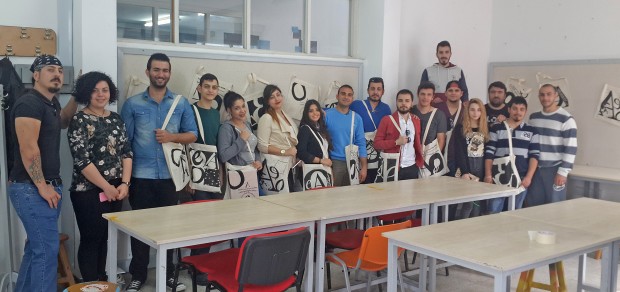 Making a short speech at the opening of the exhibition, Deniz Aksoy spoke on behalf of all contributing students and said: "We have added to the knowledge and experiences on Basic Art Education module with our Typography module. We have scrutinised dots, lines, stains and similar elements with the light of typography. We have printed onto clothing with relief printing technique and later, we used these to make bags. Obtaining a final product of a design, observing and experiencing the whole process from beginning to the end was a significant gain for us all."
Making a short statement on the matter, Academic Member in charge of the Typography Module, Dr. Gökhan Okur, expressed that typography was an applied module and that they wanted to reveal the products of their applications through an exhibition; motivating the students throughout the term to produce products to exhibit at an exhibition. Furthermore, preparing for an exhibition also helped the students to gain the relative skills needed.
Also making a statement Representative Dean of the Faculty of Fine arts and Design, Prof.Dr. Uğurcan Akyüz congratulated the students and the academic member in charge of the module for preparing such a fruitful exhibition and added that this exhibition was exemplary to everyone.