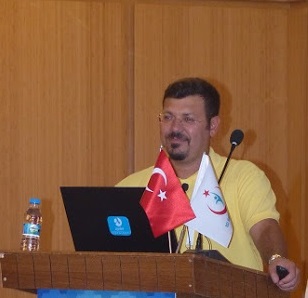 Near East University Social Sciences Institute Director, Information and Document Management Department Head Prof. Dr. Mustafa Sağsan attended the fifth of the webinar series held by Başkent University, Department of Technology and Information Management as an online guest.
According to the information given by the Press and Public Relations Directorate of Near East University, Prof. Sağsan made a presentation titled "The Dark Side of Information Management" in the webinar event. Prof. Dr. Sağsan spoke about the misconceptions in the field of information management, the importance of the implicit knowledge of the individual in the management of organizational information and the fifth generation information management.
Stating that the dark face in the field of information management focuses on three main points, Prof. Dr. Sağsan said that these are diverting from the real meaning of the information, trying to cover up the information and inappropriate use or abuse of the information. Emphasizing that information management is not just a technology problem or information engineering business, Prof. Sağsan pointed out that companies cannot establish information management strategies with a one-time investment because information is a living organism in the body of companies and it is constantly developing and growing.
Prof. Dr. Sağsan stated that especially the document management system and information management systems are mixed in organizations. Prof. Dr. Mustafa Sağsan emphasizing that the information management has evolved paradigmatically from the interdisciplinary point of view towards a transdisciplinary approach and listed the reasons of this evolution. Prof. Dr. Mustafa Sağsağan mentioned that only 3-4% of the total amount of human information is exposed, the remaining amount is implicit in the individual's mind, and that this large-scale implicit information should be exposed in companies and evaluated in the knowledge management discipline.