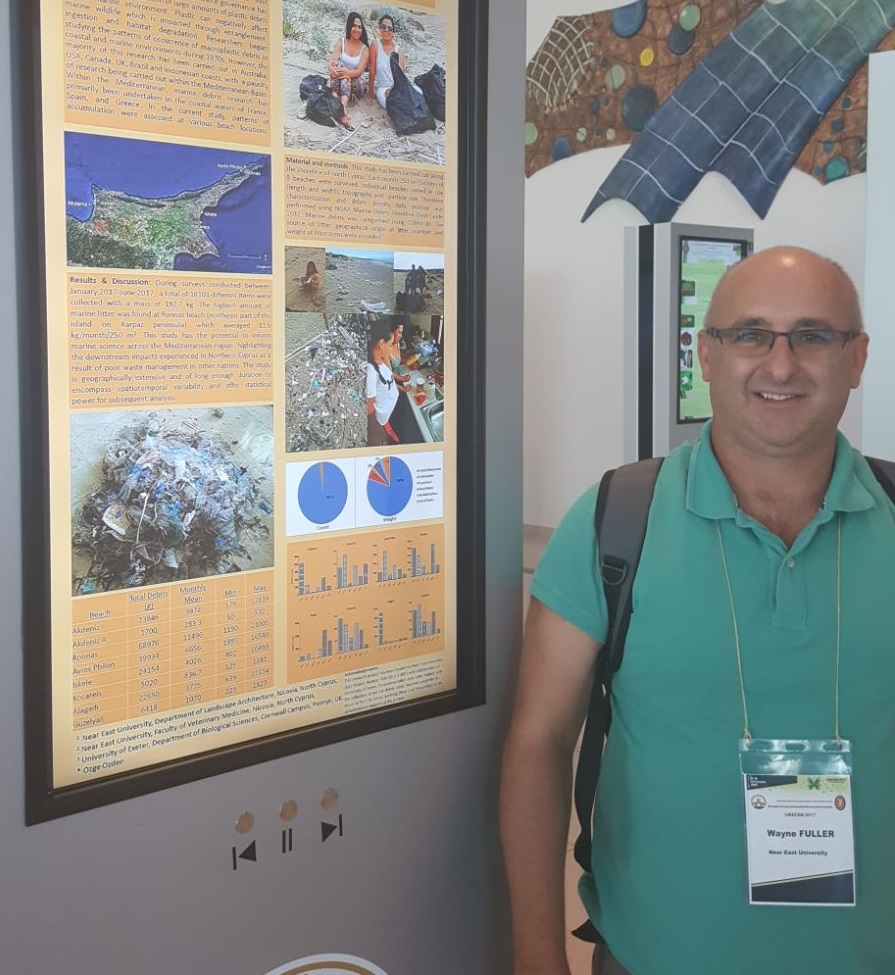 Near East University Scientific Research Project (BAP) has been represented at the XIII. Congress of Ecology and Environment in Edirne, Turkey. Assoc. Prof. Dr. Wayne John Fuller from NEU Veterinary Medicine Faculty attended to the XIII. Congress of Ecology and Environment Congress in Edirne with a poster presentation. Poster article entitled `` Preliminary survey of Marine Debris Accumulation along the North Cyprus shoreline`` was prepared by Özge Özden, Sinem Yıldırım, Wayne Fuller from Near East University and Stephen Pikesley, Brendan Godley from University of Exeter. A total number of 1500 national and international participants attended to the Congress and environmental issues were discussed.
Near East University Project Coordinator Assoc. Prof. Dr. Özge Özden Fullerwho is Head of Department of Landscape Architecture at Faculty of Architecture said that: Our project entitled ``Spatiotemporal patterns of Marine Debris Deposition along the shoreline of North Cyprus`` started in January 2017 with five academic team membersand will finish March 2019. Three academics from Near East University and two academics from University of Exeter UK are carrying out this research project. The study aims are 1) to determine composition of marine debris, 2) to identify spatio-temporal trends, 3) produce recommendations for future marine debris research within the Mediterranean region.
She also added that: There is growing evidence that the eastern Mediterranean is among the most polluted seas in the world in relation to anthropogenic debris. This region has, however, been understudied and our study has the potential to inform marine science across the Mediterranean region, highlighting the downstream impacts experienced in Northern Cyprus as a result of poor waste management in other nations.
Near East University Marine Debris Scientific Research Project funded by Near East University collaboration with University of Exeter Cornwall Campus. Brendan Godley who is a Professor of Conservation Science at University of Exeter emphasized that the study is geographically extensive and of long enough duration to encompass spatiotemporal variability and offer statistical power for subsequent analysis.