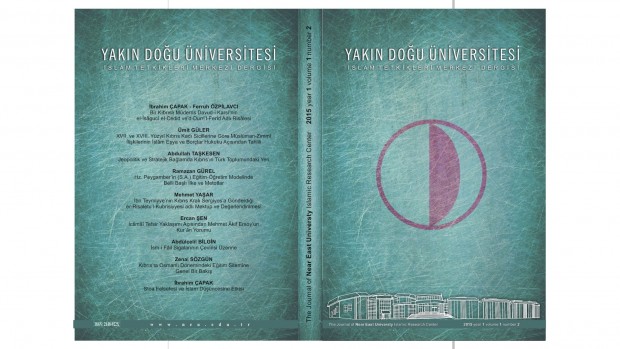 Released by Near East University, The latest issue of the Islamic Studies Center Magazine comprises 10 articles most of which are concerned with Cyprus.
According to the press release issued by the Directorate of Press and Public Relations Office of Near East University, the latest issue of the magazine includes the introduction written by Dr. Şerafettin Adsoy for "Mira'âtü'l Fevâid Fi Terâcimi Meşâhiri Âmid Diyarbakır Ulemâ ve Eşrâfı". The magazine also comprises the following articles:
Dr. İbrahim ÇAPAK – Assoc. Prof. Dr. Ferruh ÖZPİLAVCI, "El-Îsagucî el-Cedid ve'd- Adlı Durri'l-Ferîd"; a leaflet of the Cypriot Professor Davud-i Karsî.
Assoc. Prof. Dr. Ümit GÜLER, "Analysis of Muslim – dhimmi (non-Muslims) relations in terms of Property and Obligations Law according to XVII. and XVIII. Century Cyprus Kadı Registry"
Assoc. Prof. Dr. Abdullah TAŞKESEN, "Geopolitical and strategic importance of Cyprus for Turkish Cypriot Community"
Assoc. Prof. Dr. Ramazan GÜREL, "Prophet Mohammad's (SAV) Certain Principles and Methods in the Education Model"
Research Assistant Mehmet YAŞAR, "Er-Risaletu'l-Kubriyye, a letter sent to Sergios, the King of Cyprus, by İbn Teymiyye and its assessment"
Assoc. Prof. Dr. Ercan ŞEN, "Interpretation of the Koran by Mehmet Âkif Ersoy for social commentary approach"
Assoc. Prof. Dr. Abdülcelil BİLGİN, "On the sigas derived by derivational affixes"
Zenal SÖZGÜN, "An overview on the education system during Ottoman Period in Cyprus"
Dr. İbrahim ÇAPAK, "Stoa Philosophy and its influences on Islamic thought"
Published by Near East University Cyprus Islamic Studies Center, Cyprus Islamic Studies Magazine will continue to be released in Spring Term and Fall Term of every academic year.