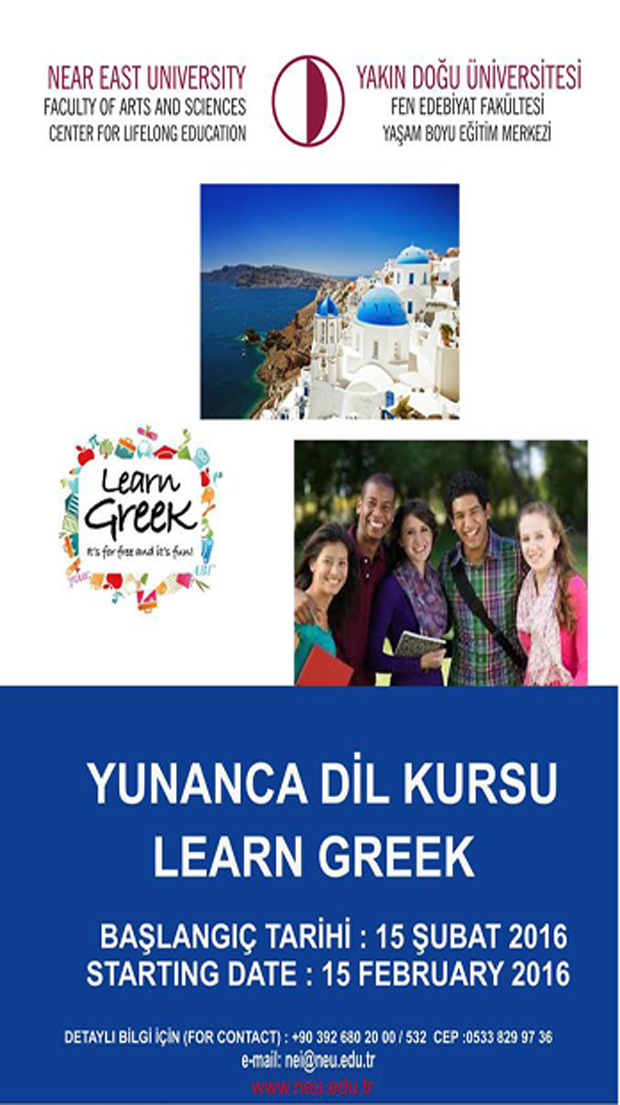 The Lifelong Education Center of Near East University is continuing to offer new, high quality and social benefit oriented programs to respond to the diverse lifelong learning needs of the people from all walks of the society. Within this scope, short-term Greek language training courses will begin on February 15, 2016 under the execution of Dr. Şevki Kıralp; lecturer at the Faculty of Economics-Administrative Sciences.
According to the press statement issued by the Directorate of Press and Public Relations Office of NEU, (Near East University Nicosia, Cyprus), the Lifelong Education Center, which has provided hundreds of participants with a variety of short-term education programs so far, rolled up its sleeves to offer short-term Greek language education program. The program will be held by the Lifelong Education Center from February 15 to June 2, 2016. Beginning from the alphabet, grammar, the basic principles of the language, reading-writing and understanding techniques, basic conversational phrases that used in daily life will be taught to participants through programs covering both theoretical and practical training applications.
Dr. Şevki Kıralp: Modern Greek language program will cover basic grammar and daily speech patterns
Dr. Şevki Kıralp, lecturer at the Faculty of Economics-Administrative Sciences and the executer of the program, indicated that Modern Greek Language education Program would be open for participants of all ages from all walks of society. "During our courses, we will cover basic grammar rules, reading-writing and speaking at basic level. At the end of the course, the participants will be able to speak Greek at basic level and have a command on written language" said he.
Assoc. Prof. Dr. Umut Koldaş: Language training programs are important means contributing to intersocietal cultural interaction and professional development
Expressing his views regarding the course, Assoc. Prof. Dr. Umut Koldaş, Director of Near East Institute and Lifelong Education Center, stated that learning Greek language would be beneficial for communities living on the island in terms of interacting and understanding each other better and it would also provide contribution to professional careers of the participants.
Short-term Greek language courses will begin on February 15, 2016. All courses will be held between 18:00 and 20:00 on Tuesdays and Thursdays. The venue of the courses is the D-119 lecture hall at Atatürk Faculty of Education.
Those, who want to register in short term Greek language education program or other short term education programs, can get more detailed information from www.neu.edu.tr web page, [email protected] e-mail address, Near East Institute Facebook page, 223 64 64 (extension 532) and 0533 829 97 36 phone numbers.