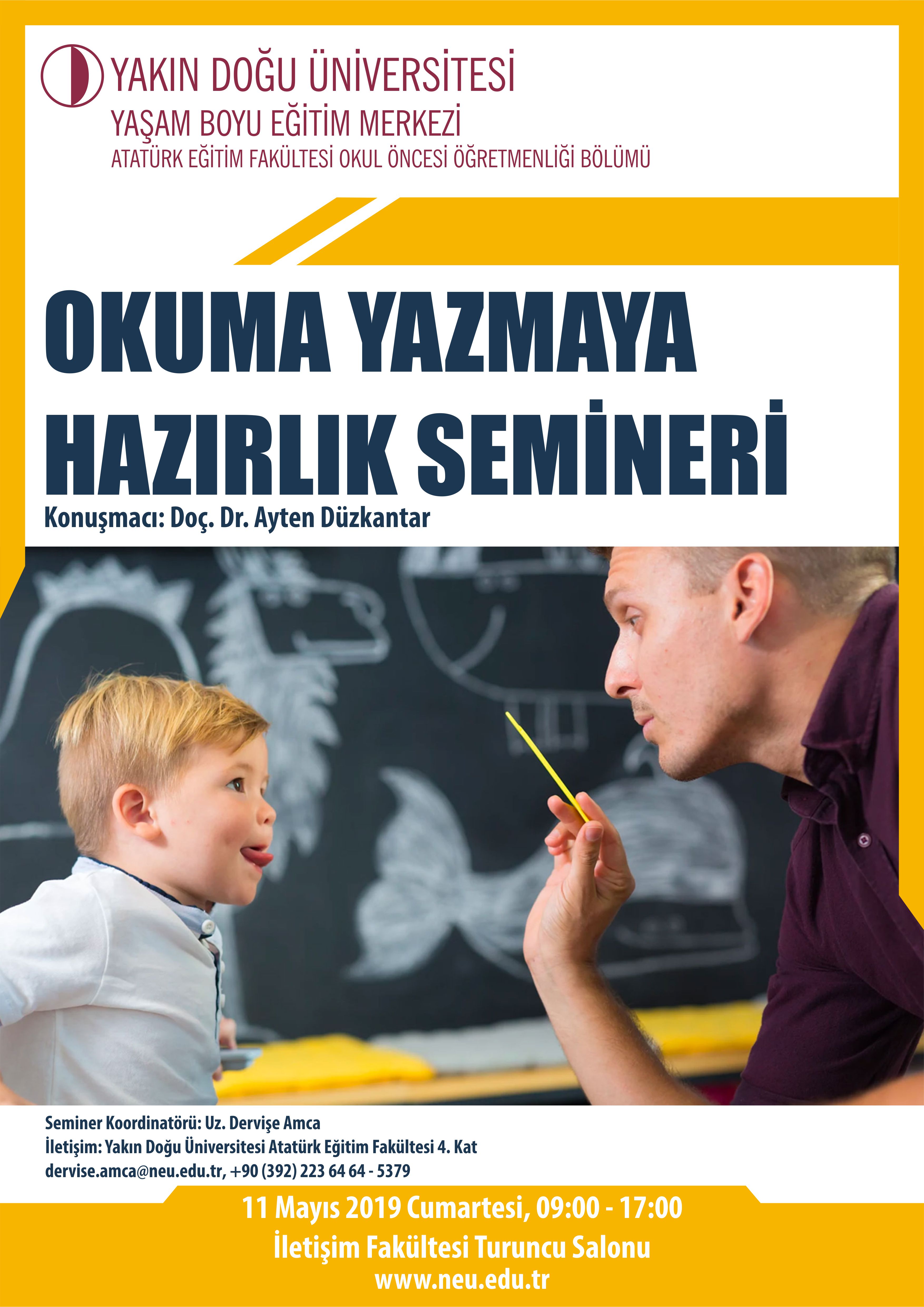 The Lifelong Education Center (YABEM) and Atatürk Faculty of Education of Near East University is organizing a short-term training and certificate program themed "Preparatory Seminar on Reading and Writing" for all stakeholders of educational and social life.
The Directorate of Press and Public Relations Office of Near East University released that the Preparatory Seminar on Reading and Writing would be given by Associate Professor Ayten Düzkantar at the Orange Hall at the Faculty of Communication between 09:00 and 17:00 on May 11, 2019. The seminar will be devoted to solving problems encountered in reading and writing nowadays. At the end of the training, participants will be given certificates.
Assoc. Prof. Dr. Düzkantar: "Adaptations for the Elimination of Pre-School Risks of Learning Difficulties will be included..."
Emphasizing that students with special needs are in need of systematically structured inputs to learn all skills and concepts, Associate Professor Düzkantar underlines the necessity of gaining many skills and concepts, which are prerequisite for academic skills, during preschool.
Drawing attention to the necessity of controlling whether the children with special needs, who couldn't have reached qualified special education services in early childhood period, have completed these prerequisite skills at the time of school or not, Associate Professor Düzkantar highlights the necessity of an accurate performance assessment.
Expressing that it will be exemplified which methods and tools are required to be used for which tuition for each performance level at the Seminar on Reading and Writing, Assoc. Prof. Dr. Düzkantar states that the seminar will also give coverage to adaptations for the elimination pre-school risks of learning difficulties.
"We have to raise our children as Well-Equipped Individuals..."
Indicating that pre-school education, which constitutes the first step of education and training, has a key importance in raising the children as well-equipped individuals, Baysen, the Head of Basic Education Department of Atatürk Faculty of Communication of Near East University, states that preparing her students for the upper learning step in the primary school is one of the duties of the pre-schools.
Emphasizing that the pre-school education is also the first step in educating our children who are our future, as the literates of the new era, Baysen indicates that it is necessary to have the skills of reading and writing primarily in the mother tongue in order to access the information and to make sense of the information as well as to use it for the benefit of human kind and nature.
Highlighting that it is of great importance for pre-school teachers and pre-service teachers to prepare their students for reading and writing by using the novel methods and techniques based on the latest findings on scientific and educational researches, Baysen underlines that the seminar to be realized will shed light for the pre-school teachers and pre-service teachers in terms of professional development.
Participants will share information about Reading and Writing Problems Experienced in Pre-School Education...
Director of Lifelong Education Center Assoc. Prof. Dr. Çiğdem Hürsen states that pre-school education has a very important place in the development of children and emphasizes the importance of well-planned educational activities in these stages. Referring to the necessity of solving the problems of children especially in the process of reading and writing, Hürsen stated that it is important that parents, teachers and pre-service teachers have some competencies in solving these problems. Associate Professor Hürsen states that the Preparatory Seminar on Reading and Writing, which will be held in cooperation with the Lifelong Education Center and Atatürk Faculty of Education, aims to share the participation and experiences of different stakeholders in the education process, Drawing attention to the crucial role of the 21st Century's learning-teaching competencies in our days, Associate Professor Hürsen notes that the seminar aims to contribute to the professional developments of preschool teachers and pre-service teachers.
Those, who want to register in "Literacy preparatory Seminar" or other short term education programs to be realized during Spring Term of the Academic Year 2019 , can get more detailed information from www.neu.edu.tr web page, [email protected] e-mail address, Lifelonf Education Center Facebook page (facebook: ydüyaşamboyueğitimmerkezi ), +90 (392) 223 64 64 (extension 5379) phone number.