Organised by the Badminton Federation of Turkish Republic of Northern Cyprus (TRNC) and sponsored by Carlton, the 4th week matches of the league was held on Friday, December, 18th, 2015, at Atatürk Sports Hall and Near East University both men's and women's badminton teams became champion. It was revealed that the first runner up of women's league became Akdeniz Sports Union and the second runner up was Hedef Badminton; whereas the first runner up of men's badminton team was Gençlik Gücü, and the second runner up was Gönendere badminton.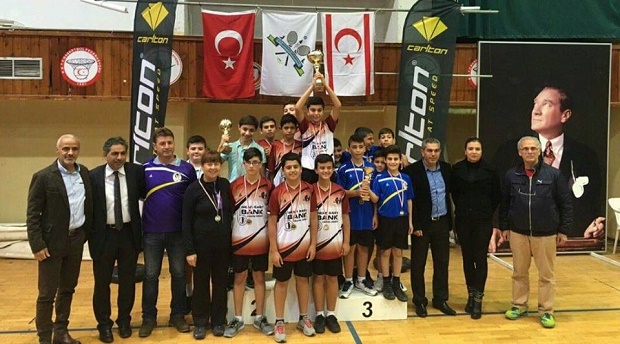 Youth League is up next...
Chairman of the TRNC Badminton Federation; Fırat Deniz, made a statement and expressed that subsequent to the last week of the league, another league was to follow-the youth badminton league. Furthermore, Deniz thanked all participating teams and athletes, and they were working to actualize the next league of badminton for the youth. Subsequent to his speech, Vice Manager of the Sports Office, Haldun Oktay made a speech, congratulating the athletes for being a 'gentlemen' after the matches, and also thanked the families for the support they provided at the matches. Oktay emphasised that once opportunities are created, it was possible to hold organisations for different branches of sport other than football...
Award Ceremony
Subsequent to the above mentioned speeches, the teams were awarded their awards.The champion of women's badminton league, NEU Women's Badminton Team was awarded their medals and cup by Vice Manager of the Sports Office, Haldun Oktay; the first runner up of the league Akdeniz Sports Union received their awards by Director of Anıl Sports Engin Anıl; and the second runner up Hedef Badminton received their awards by Head of AKdeniz Sports Union and in charge of Sports Office Training, Dr. Serhat Deniz.
On the other hand, Champion of the Men's Badminton Team, NEU Men's Team received their cup and medals by Chairman of the Federation Fırat Deniz; the second runner up of the league, Gençlik Gücü received their awards by Vice President of the Federation Ertan Sevgin; and finally the second runner up of men's badminton league, Gönendere, received awards by' Finance Director of the Badminton Federation Levent Dağaşan.
It was added that members of the press had also received gratitude plaques: Yenidüzen Newspaper Sports Director, Burhan Gürkan and BRT HD Sports Plus programme production and presenters Yeşim Tuncel Kotak and Tonguç Kotak received a gratitude plaque for their contributions in the field of sports.