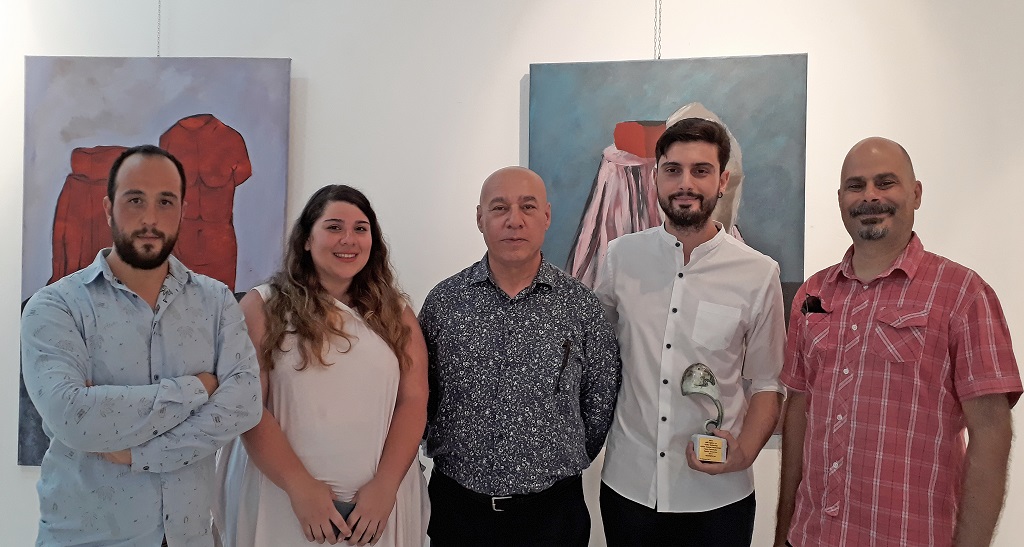 The 'Young Artists' Painting Contest', which is organized traditionally every year by the Directorate of Cultural Office of the Ministry of National Education and Culture of Turkish Republic of Northern Cyprus, has been held for the 9th time this year.
According to the press release issued by the Directorate of Press and Public Relations office of the Near East University, 21 works out of 42 works were deemed worthy to be exhibited in the contest that aimed at encouraging young generation painters.
As a result of evaluation without regard to difference in education and perception, 'Bull', the work of Selma Jasmin Devin and 'No 4', the work of Burçin Pehlivan, students at the Department of Plastic Arts, were deemed worthy for achievement award by the contest jury consisting of Assoc. Prof. Dr. Ümit İnatçı and artist Oya Silbery.
In his explanation regarding the issue, Hasan Zeybek, teaching staff at the Department of Plastic Arts of NEU FFAD, stated that the unique works of the students and their ability in receiving achievement awards filled the Near East Family, particularly their teachers with pride.
Touching upon the integrative and unifying power of art in paving the way for all dissociated forces to work together, FFAD Vice Dean Assoc. Prof. Dr. Erdal Aygenç expressed his views. "At similar contests that held every year, not only our undergraduate students but also our graduates demonstrate that they move forward by developing themselves in the field of arts and design. This year, along with Selma Jasmin Devin and Burçin Pehlivan, our graduates, Behçet Kemal Caymaz and Tünay Özyay, received honorable mention and performing award respectively. I thank our students and my colleagues who prepare them for such competitions" said he.
Following the award ceremony at Nicosia Atatürk Culture Center Exhibition Hall, the exhibition was opened for art lovers. The exhibition is open within the working hours till 30 June, 2017.