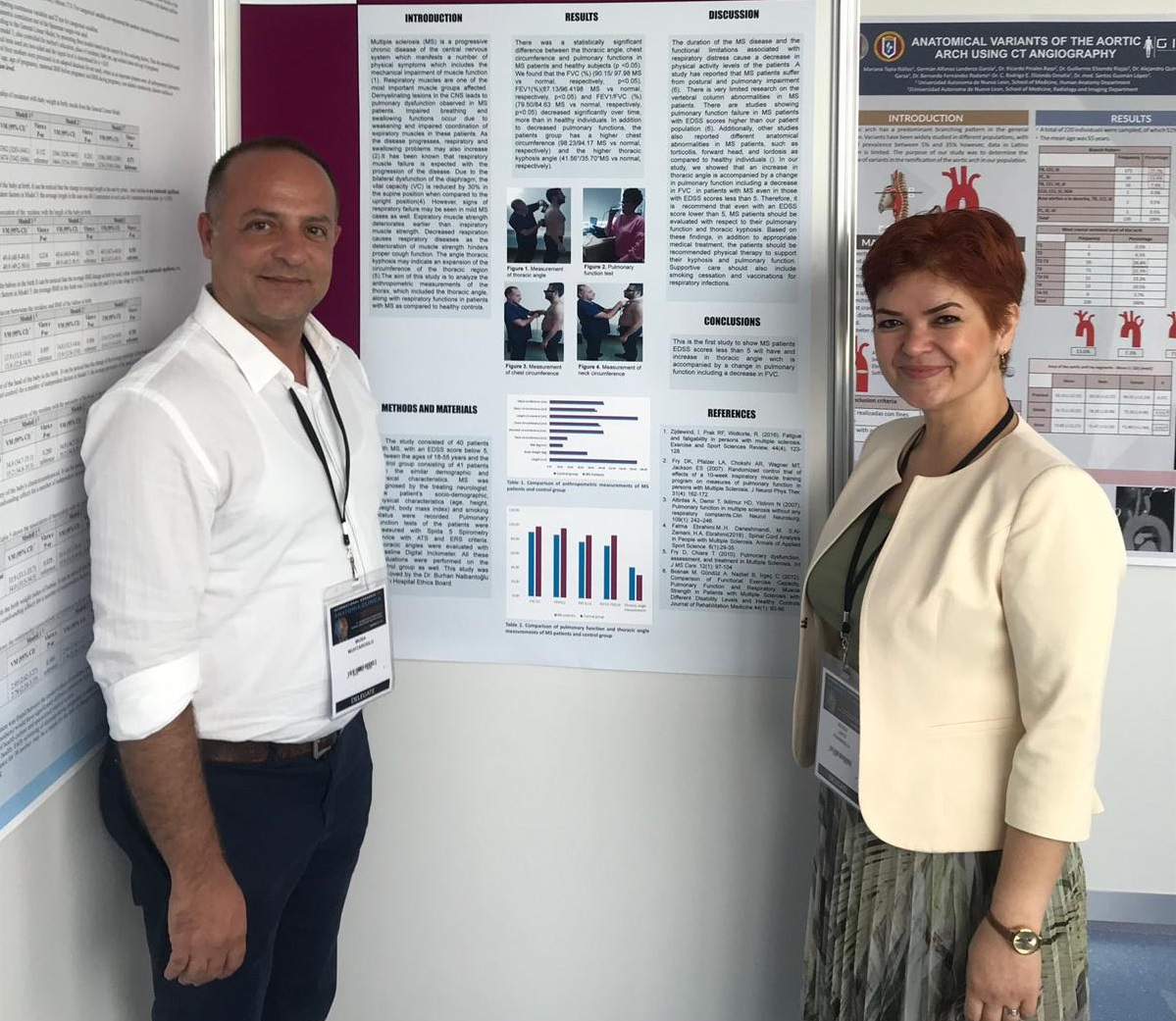 Having been organized jointly by the European Association of Clinical Anatomists and the International Symposium of Clinical and Applied Sciences, the International Congress of Clinical Anatomy was held in Madrid, Spain on 24-26 June, 2019. The congress provided a scientific platform for the scientists to share the latest scientific developments in the field.
The Directorate of Press and Public Relations Office of Near East University released that Associate Professor SevdaLafcıFahrioğlu, lecturer at the Faculty of Medicine of Near East University, PT Musa Muhtaroğlu, PhD student at the Department of Anatomy, and Dr. ObenAcay participated in the International Congrees of Clinical Anatomy that held in Madrid, Spain and made five presentations consisting of one oral and 4 poster presentations.The press release underlined that Near East University was the only university from Cyprus that participated in the event.
Associate Professor SevdaLafcıFahrioğlu,PT Musa Muhtaroğlu and Dr. ObenAcay made four poster presentations on follows: "The Evaluation of Thoracic Angles with Anthropometric Measurement of the Thorax and Pulmonary Function in Patients with Multiple Sclerosis", "Anatomic Postural Evaluation of the Turkish Cypriot Women with Beta Thalassemia Major", "Stereological Evaluation of the Transvers Foramen and Vertebral Foramen in Atlas", and "Ectopic Pelvic Kidney and its Renal Artery from the Common Iliac Artery: A Case Report".
A case report regarding an anomaly, which is one of the important causes of sudden cardiac death at an early age, was presented orally under the title of "An Unusual Right Coronary Artery Emerging from Distal Circumflex Artery".
The oral and poster presentations of Near East University Faculty of Medicine attracted great interest at the congress that attended by hundreds of academics from many countries of the world. Congress abstracts will be published in the Journal of Surgical and Radiological Anatomy that scanned in WoS.