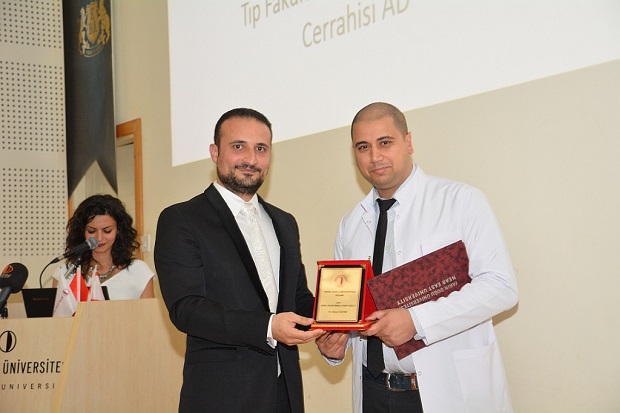 Organized by Experimental Health Sciences Research Center, the first Scientific Awards ceremony was held at Near East University.
Previously scheduled music recital for the ceremony was cancelled due to terrorist attack that took place in Ankara.
"NEU offers high level education opportunities"
In his opening remarks, Prof. Dr.Tamer Şanlıdağ, NEU vice Rector and Director of DESAM, touched upon the significance of a systematically organized body of knowledge on all domains. "Universities are institutions that integrate different elements such as education and science that based on the philosophical foundations of idealism. From Plato and Aristotle to our present day, universities have been generating and disseminating knowledge for the benefit of mankind. University education should never be construed solely or even primarily as a path to employment. University teaching, therefore, differs from other modes of education not only by seeking the highest levels of sophistication, but also by deriving its vitality from the studies, researches and other social and cultural activities that on-going within university body. As the leading gear of higher education in our country, Near East University attaches the upmost importance on ensuring the highest level education opportunities. Without detracting from its primary missions, Near East University serves as a cultural touchstone as well by organizing and hosting artistic performances, exhibitions, conferences, open debates and other events that excite interest in intellectual pursuits. With all its educational, cultural, sports, and scientific activities, Near East University demonstrates an identity that sounds across the world" said he.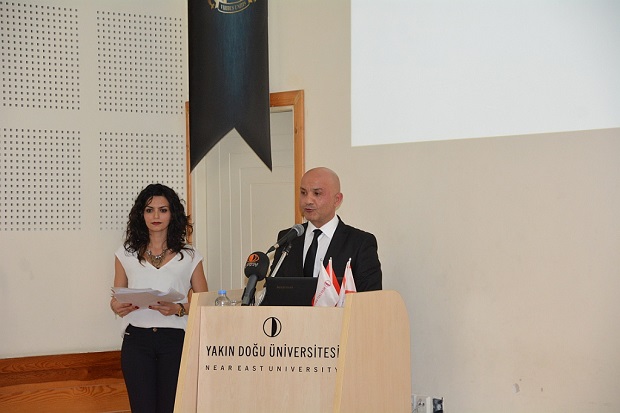 "Our university is a member of 118 international organizations"
Prof. Şanlıdağ: "Being committed to offering high level education opportunities for almost 27,000 students from 109 different countries that studying at 160 departments affiliated with 16 faculties, 2 schools and 3 vocational schools of NEU, Near East University is a full member of 118 international organizations such as the European
University Association (EUA), UNESCO-based International Association of Universities (IAU), Federation of the Universities of the Islamic World (FUIW) International Society for Engineering Pedagogy (IGIP), Joint Commission International (JCI), and other prestigious bodies. The Near East University, which has been developing with an exceptional speed through gigantic investment in infrastructure and manpower, has become not only the largest, the most comprehensive and the best-equipped educational institution but also the most important scientific and cultural leading center in the country. With a focus on encouraging academic research studies, Near East University spares no sacrifices to provide a high-tech equipped ideal research environment for academicians. The majority of project applications in 2015 were supported by funds that allocated for research activities and put into practice quickly. Having a pledge committed to conducting research in all scientific domains Near East University has established a broad range of research centers under the umbrella of NEU Center of Excellence. Housing labs that quipped with the latest and most advanced technological systems, Experimental Health Sciences Research Center (DESAM) and Experimental Animal Research Center conduct very significant scientific studies with an innovative approach as well as in compliance with standards set by international bodies. Since well-conducted research is the key factor to achieve good results, Near East University adopts the reward system and provides incentives in order to improve performances of the academic staff and encourage them in their scientific research studies".
When was DESAM founded?
Şanlidağ provided information regarding the establishment of DESAM: "Experimental Health Sciences Research Center (DESAM) was established upon the decision of NEU Senate on June 23, 2015 and came into service as a unit affiliated to the rectorate. Adopting institutionalizing and respect to ethical values as well as holding human life and honor forefront, DESAM has undertaken it as a mission to cultivate creative and inventive individuals, generate universal, quality, valid and reliable knowledge by attaching importance on national and international cross-disciplinary. Having its construction completed in a short time, DESAM was founded by Prof. Dr.Tamer Şanlidağ, Prof. Dr. N. B. Önder, Prof. Dr. Seda Vatansever and Assoc. Prof. Dr. Murat Sayan".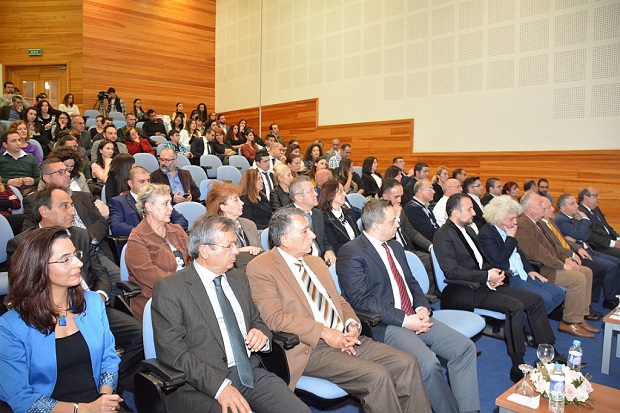 DESAM Scientific Awards were given in 3 categories
This year, DESAM Scientific Awards were presented to the academics involved in the field of health. The awards were given in three categories; Young Researcher Award, Young Researcher Honor Award and Scientific Success Award. Following Şanlıdağ's opening remarks, 46 scientists were awarded with Scientific Success Award and Young Researcher Award. Asst. Prof. Dr. Barçın Özcem from the Department of Cardiovascular Surgery of NEU Faculty of Medicine was awarded with Young Researcher Honor Award, which is presented to the candidate with the very most academic activities. Özcem was presented the award by NEU Board of Trustees Chairman Assoc. Prof. Dr. İrfan S. Günsel.