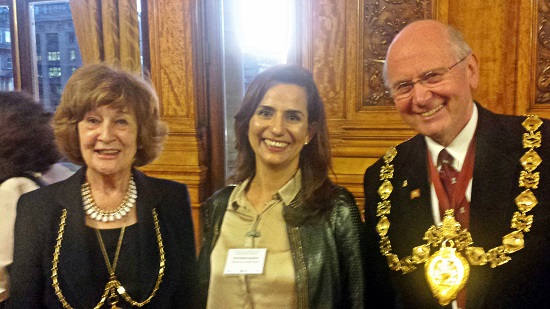 Near East University, Center of Excellence and Genetics & Cancer Diagnosis Research Center Chairperson Prof. Dr. Nedime Serakıncı did her country and the Near East University proud once again. Due to her scientific research studies and accomplishments on cancer issues in world literature, Prof. Dr. Nedime Serakıncı took her place among the elite scientists who were invited to the 2nd Annual Circulating Biomarkers 2015 Glasgow Conference.
Delivering information to the Directorate of Press and Public Relation Office of the Near East University, Professor Doctor Nedime Serakıncı stated that around 120 attendees participated in the Circulating Biomarkers Conference which took place on 30th September & 1st October 2015 at Beatson Institute for Cancer Research and in partnership with the Institute of Cancer Sciences, University of Glasgow. Professor Doctor Serakıncı added that the conference brought together the researchers working on circulating DNA, RNA, exosomes, or cell biomarkers, Translational Medicine researchers, and other scientists involved in biomarkers applications, microRNA, cfDNA as emerging biomarkers, the latest Oncology diagnostics and liquid biopsies to aid in early disease diagnosis. Delivering information about the goal of conference, Serakıncı indicated that the conference provided platform for biomarker experts to converse with attendees in an interactive format about cutting edge technologies for capture and analysis of biomarker molecules, contributions to the understanding of tumor biology from circulating tumor cells, and the debate on CTCs versus cfDNA. Prof. Dr. Serakıncı summarized the aim of conference as to discuss each of the items on the agenda and place a global standard for both research and clinical applications by setting up a consensus on rules, criteria and research in the field of cancer and biomarkers. She added that the agenda also featured updates on cfDNA, miRNA and CTC's as well as other kinds of biomarkers such as exosomes that show the promise of clinical utility. The debates held during the conference aimed to gain a consensus on techniques, analysis, key research areas and clinical strategies.
Professor Doctor Nedime Serakıncı along with other elite scientists from all over the world was attended a reception at City Chambers hosted by the Lord Provost of Glasgow. Professor Doctor Nedime Serakıncı stated that they were thanked and honored for their contributions to science. Taking place among such elite scientists made Serakıncı feel proud on behalf of her country and the Near East University.