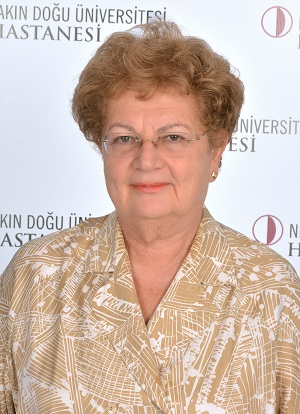 Near East University Publications released the "Examination Guide on Clinical Diagnosis" book that prepared by Prof. Dr. F. Tümay Sözen with the contributions of the faculty members of NEU Faculty of Medicine.
Near East University Publications continue to provide contribution to the world of science by new books.
Near East University Publications released the book that prepared by Prof. Dr. F. Tümay Sözen, Head of the Department of Internal Medicine of NEU Faculty of Medicine. Since diagnosis is usually revealed in the patient's history and physical examination is at the very core of clinical practice, Professor Sözen compiled the relevant lecture notes of the teaching staff at NEU Faculty of Medicine in her book.
The book comprises the lecture notes prepared by the following lecturers: Dr.Deniz Granit, Dr. Kaya Süer, Dr. Ufuk Gençalp, Dr. Ümit Aykan, Dr. Tunis Özdoğanoğlu, Dr. Serap S. İnançlı, Dr. Finn Rasmussen, Dr. Fadime Tütüncü, Dr. Serhat Sığırcı, Dr. Ertuğrul Okuyan, Dr. Mehtap Tınazlı, Dr. Figen Batman, Dr. Senem Ertuğrul, Dr. Mehmet Özmenoğlu, Dr. Ali Ulvi Önder, Dr. Tekin Durukan, Dr. Didem Mullaaziz, Dr. Aslı Kaptanoğlu, Dr. Kamil Gülşen and Dr. Barış
A guide to physical examination for healthcare professionals….
According to the press release issued by the Directorate of Press and Public Relations Office of Near East University, the book that prepared by Professor Sözen with contributions of NEU Faculty of Medicine teaching staff, is a useful guide book for physical examination, history taking and health assessment with an emphasis on clinical medicine. The book conveys a patient-oriented approach to physical examination methods used in diagnosing disorders concerning with head and neck, ophthalmology, ear-nose-throat, lymph glands, thyroid gland, breast, abdomen, extremities, respiratory, cardiovascular, neurology, genitourinary, gynecology and dermatology. The book also provides information on Basic Electrocardiography. The book is basically a guide for all healthcare professionals.
Prof. Dr. F. Tümay Sözen: "While listening to the patient's history of presenting complaint or whilst examining him/her, even a facial expression can give the physicians very important clues that no diagnostic lab method can give. Therefore, history taking and physical examination processes are extremely important".
Delivering information regarding the book, Prof. Dr. Tümay Sözen, Head of Internal Medicine Department, stated that they prepared a general publication by gathering all examination and diagnostic methods together. "History taking and physical examination are two mutually complementary processes. History alone often reveals a diagnosis. Sometimes it is all that is required to make the diagnosis. During history taking, patient's body language, facial expressions and other non-verbal expressions may give significant clues to the doctor to support the process of reaching a diagnosis. Following history taking, a good physical examination facilitates the diagnosis. The entire process provides an effective communication between the patient and the doctor and ensures patient's trust in his/her doctor. Trust is one of the central features of patient-physician relationships in managing treatment procedures. In this context, this issue is extremely important for the success of the treatment. I am sure that the book will be useful particularly for medical students and healthcare staff. I would like to extend my appreciations to my colleagues for their unique contributions and to the respective units that published the book" said she.