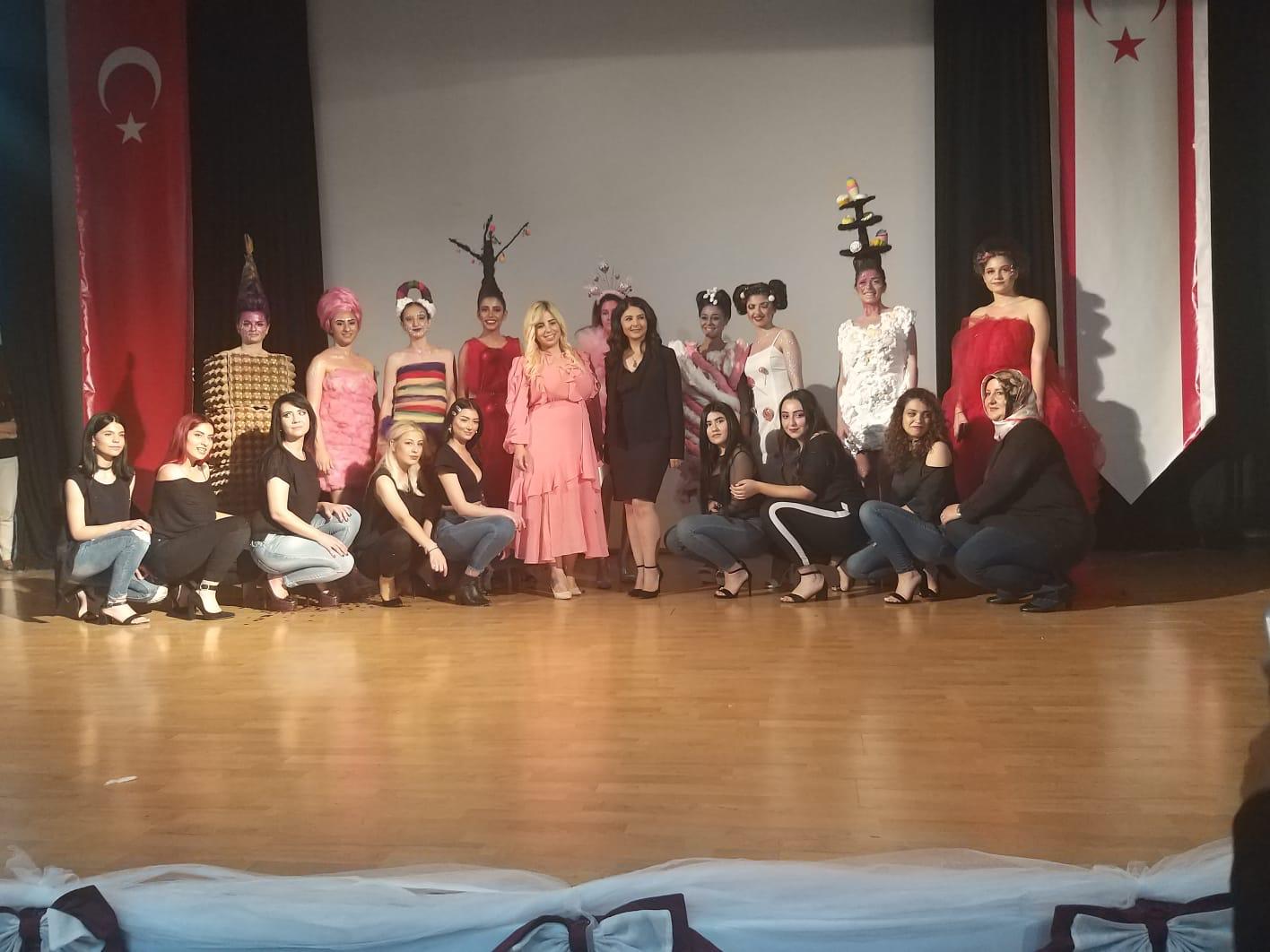 The end-of-year show of the Near East University Department of Hair Care and Beauty titled as "Candy Show" was well-liked.
According to the press release issued by the Directorate of Press and Public Relations of Near East University, the show was held as part of the "Graduation project" module at the NEU Grand Library. It was stated that the most attractive feature of the show that was highly liked by the audience was the candy-themed hair and make-up fashion show and candy-themed costume designs prepared by department students and faculty members.
Furthermore, it was stated that Dj Bora and Dj Halil Eren played their music, alongside fashion designer Ali K. Yahi, and the candy themed fashion show and a makeup show was held by the Department of Hair Care and Beauty Students. Additionally, the department students offered candy-themed food and drinks to the audience and the event included dance and ballet dance shows.
"Students are acquiring the skills and knowledge related to their profession in the best possible way…"
Head of Department of Hair Care and Beauty Services, Assist Prof Dr Yeşim Üstün Aksoy, stated that they were very proud since they realised the event after a long and challenging process. She said that a rather good end-of-year show was prepared and expressed many thanks to everyone involved in its realisation.
Assist Prof Dr Aksoy further stated that since the date of foundation, the academicians and students of the department realised many activities and social responsibility project through cooperation with various institutions and organisations in Turkey and abroad.
Assist Prof Dr Aksoy expressed gratitude to particular individuals including: Department of Hair Care and Beauty Services, Hair Academician Safiye İyikalp; Makeup specialist Safiye Yalnız; Near East University Dance Instructor Nezihe Erken; Head of Department of Music Teaching Emine Kıvanç Öztuğ and students Mehmet Türkmen and Berk Dengiz; Tango Club and Akdeniz Tango instructors Ali Denker and Fatoş Mayın; Cranberries Dance School Instructors İnanç Uçaröz and Eda Türmen Kutruza; Ballet Teacher Seray Selan; Ali K. Yahi for candy-themed costume designs; Dj Bora and Dj Halil Eren for their music, presenter of the event Melek Arabacıoğlu; Department of Radio-TV personnel Hüseyin Dağlı, Hasan Keskinel and Behcet; Assistant Melek Moda and Emre Adak.