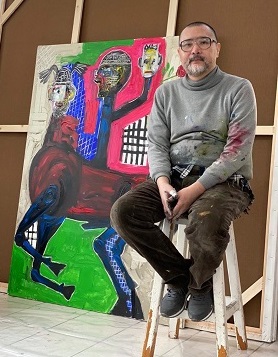 With the spread of the new type of coronavirus (Covid-19) worldwide, artists reflect their feelings on the canvas in order to draw attention to the epidemic and support the struggle from a different perspective.
According to the information provided by the Press and Public Relations Directorate of Near East University, artist Kanat Bukezhanov reflected his feelings on the canvas to draw attention to the epidemic and infectious coronavirus spread around the world and to support the struggle from an artistic perspective.
In the statement, it was reported that it will be continued to share the consequences of Covid-19 with different perspectives by different artists every day for the Cyprus Museum of Modern Arts.
Who is Kanat Bukezhanov?
He was born in Almaty, Kazakhstan in 1967. He is a writer and artist. His artworks focus on Expressionism and situational abstraction in art movements. He writes prose for children and adults. His stories are published in electronic literature magazines such as "Snowball", "Russian Life", "Foreign Backyard", children's magazine "Pampas" and "Literra nova magazine". He obtained his education at the workshop of artist Gani Bayanov from Kazakhstan. He thinks that writing and painting are different ways of thinking. He drew noosphere paintings for many years. He participated in the Central Asia group contemporary art exhibition titled "Alternative Theses". He participated in an exhibition dedicated to victims of political pressure in Astana. He constantly organizes solo art exhibitions at the «Ev Q» Theater in Almaty.