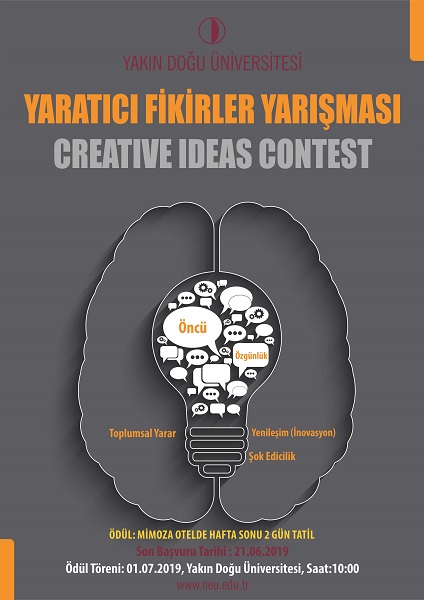 In order to enable the youth to put forward, develop and support the ideas revealing social values and to contribute to the realization of sustainable social change models, Near East University is holding a competition titled as "Creative Ideas Competition."
According to the press release issued by the Directorate of Press and Public relations of ear East University, the competition is being held to offer an opportunity for individuals who have creative ideas, to enable individuals' higher-order thinking skills to function effectively. Also, the competition is to be held to stimulate the creation of the original, ground-breaking, intellectual, sound-generating creative ideas.
It was announced that applications to the competition have already started and participants had the opportunity to participate as a group or individually, in Turkish or English. Furthermore, participation to the competition can only be through a maximum of two ideas; one as an individual idea and/or one as a group member. Also, those who are participating as a group were required to be group of no more than three members.
Deadline of application was revealed as 21st June 2019…
It was stated that the deadline of application to the competition was 21st June 2018 by 17:00 and applications after this will not be accepted. Additionally, it was stated that participants were required to complete the Participant Form fully and correctly so as to be eligible to participate in the competition. Also, the questions must be answered within the character limited spaces provided.
Those who are interested are advised to contact [email protected]  for further information.
Privacy Rights will be Protected …
The projects of the applicants will be evaluated by the Competition Board, and the ideas sent will only be accessible by this Board and the privacy rights will be protecting via a confidentiality agreement.
 The Award Ceremony will be held in July…
It was revealed that a ceremony will be held on 1st July 2019 for the award winners and those who achieve awards will have the opportunity to accommodate at Mimoza Hotel for two days.