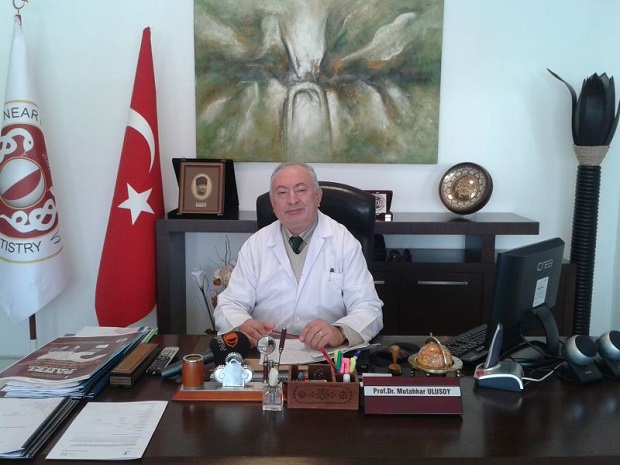 Since its establishment in the year of 2007, Near East University Faculty of Dentistry has been carrying out its functions effectively at all levels and with the responsibility of being the first and only dentistry faculty of Cyprus that has a strategic location in near east geography. With the excitement and honor of producing its 5th term graduates this year, NEU Faculty of Dentistry continues to offer quality education beyond the standards set by national and international bodies.
According to the press release issued by the Directorate of Press and Public Relations Office of Near East University, Prof. Dr. M. Mutahhar Ulusoy, Dean of NEU Faculty of Dentistry, delivered information regarding the faculty and expressed his views. "A total of 270 dentists and 20 doctoral students have graduated from our faculty so far. A total of 809 students that composed of 45 students enrolled in orthodontics supportive staff associate degree program, 532 students enrolled in undergraduate programs in Turkish, 188 students enrolled in undergraduate programs in English, and 44 students enrolled in doctoral programs currently receive education at NEU Faculty of Dentistry. Located in the campus, our faculty building houses administrative, educational, and clinical and research units, first diagnostic center that equipped with the latest imaging and monitoring instruments, computer aided 3D modeling lab, sedation unit for problematic patients, clinics offering advanced services for 8 departments and fully equipped operating rooms. Our Faculty with its highly trained staff and high-tech equipped infrastructure and superstructure has already become a dental hub that preferred by patients. Since our faculty is under the coverage of Turkey's Social Security Institution (SSI), our trainees can conduct more efficient clinical studies in the integrated clinic that has come into service this year in the line with the increasing patient capacity.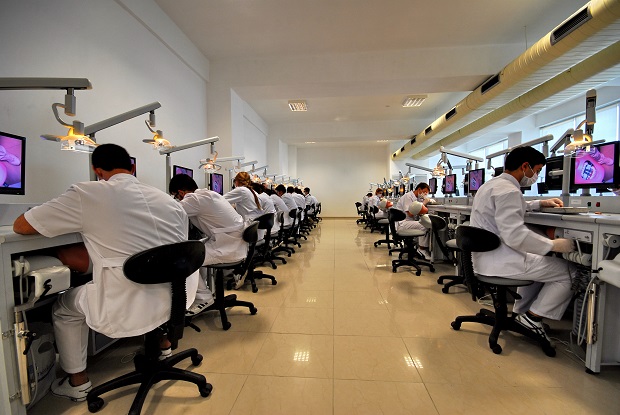 NEU Faculty of Dentistry, which is a young, dynamic and new generation faculty, provides high quality pre-clinical education on basic medical and dental sciences in the first three years through learning oriented methods in order to equip students with adequate knowledge and skills required to cope with the most complicated dental cases. In the final two years of undergraduate education, students assist the services in clinics under the supervision of specialist staff.
We offer some revolutionary solutions in restoration of lost natural teeth by fixed and mobile prosthetics according to the highest global standards. Our dental centers have access to their own dental laboratories where all types of fixed and mobile prosthetics applications can be performed. Our computer aided design and production center is in the process of coming into service.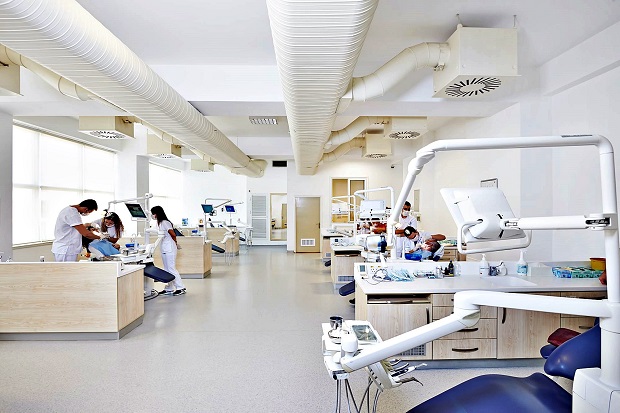 We intend to improve the quality of life for our students and foster them to involve in social activities besides having an extensive training in the field.
Our educational Curricula are constantly revised in compliance with European and international accreditation standards in order to ensure the highest quality education and train highly equipped dentists capable to achieve a cutting edge career over the others in this competitive era where the renewal rate of information is very high.
The vision of NEU Faculty of Dentistry with its prestigious academic staff and distinguished students is to prove itself nationally and internationally at all levels as a faculty of which graduates are preferred everywhere. Our mission is to respond students' educational expectations at the most contemporary level and provide all possibilities required for training self confident, respectful, critical thinking, tolerant, competitive, conscientious, successful, competent, socially and ethically sensitive dentists that equipped with scientific understanding.
Students, who have preferred our faculty for their higher education, live the proud of being in an environment where they embrace all universal values of Near East University. I hope that students will take full advantage of our distinguished education facilities and will always be proud of being a member of the world class Near East University. On behalf of my faculty, I congratulate all of them, peace be with you".