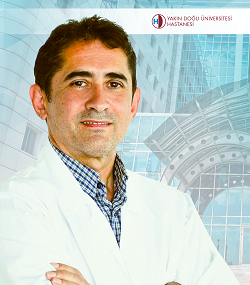 Vitrectomy is one of the most challenging surgical procedures carried out with the purpose of eliminating permanent vision loss. This challenging surgical procedure requires specific devices and experience. Being committed to offer the safest and the most reliable health services, Near East University Hospital attaches great importance on ensuring quality and safe eye surgeries. To this end, the ophthalmologist Mustafa Taşeli, who is an experienced specialist on vitrectomy, carries out vitrectromy surgical procedure in safe hands to treat and eliminate the pathology (abnormal condition) that is likely to cause vision loss. Vitrectomy surgery, which is carried out by using vitrectomy probe and a special device allowing a wide view of the most difficult points of the eye to be reached and seen, prevents vision loss and can improve vision quality as well.
Spec. Dr. Mustafa Taşeli: "Vitrectomy is not only a complicated surgical operation but it is also an important treatment method for diabetic patients."
Expressing that vitrectomy was a complicated surgical operation compared to other eye surgeries, Near East University Hospital Ophthalmologist Mustafa Taşeli delivered information regarding the issue: "Vitreoretinal traction is a common causative finding associated with aging, nearsightedness, severe diabetes, head or eye trauma. Vitrectomy is an operation performed to improve the pathological conditions in the nerve fiber layers behind the eye. Vitrectomy is required for the treatment of some complications such as vitreous hemorrhage and retinopathy in patients with longstanding diabetes, retinal detachment, eye injuries, retinal tear, macular hole, infections and the removal of intraocular foreign body" said he.
Spec. Dr. Mustafa Taşeli: "Severe visual loss and blindness might be inevitable in patients having no surgical operation..."
"Treatment of retinal disease caused by a retinal tear, diabetic retinopathy, a macular hole, an infection, eye trauma or a retinal detachment may be complex and sometimes urgent. If the pathological conditions particularly in patients with nearsightedness or severe diabetes are not treated via a surgical operation, it may result in irreversible blindness. If patients do not undergo a surgical operation, visual loss can occur by time and it may be inevitable that the eye will shrink and cause irreversible blindness in some patients" noted he.
Spec. Dr. Mustafa Taşeli: "Performing vitrectomy surgery in a fully-equipped hospital by experienced ophthalmologists and teams positively affects the outcomes of the operation..."
Underlining that vitrectomy is a complicated surgical operation that requires specific devices and experience, Ophthalmologist Mustafa Taşeli states that Near East University Hospital offers the safest and most reliable treatment options for retinal diseases at the most contemporary norms thanks to her ophthalmologists and medical teams, who are experienced and specialized in their fields.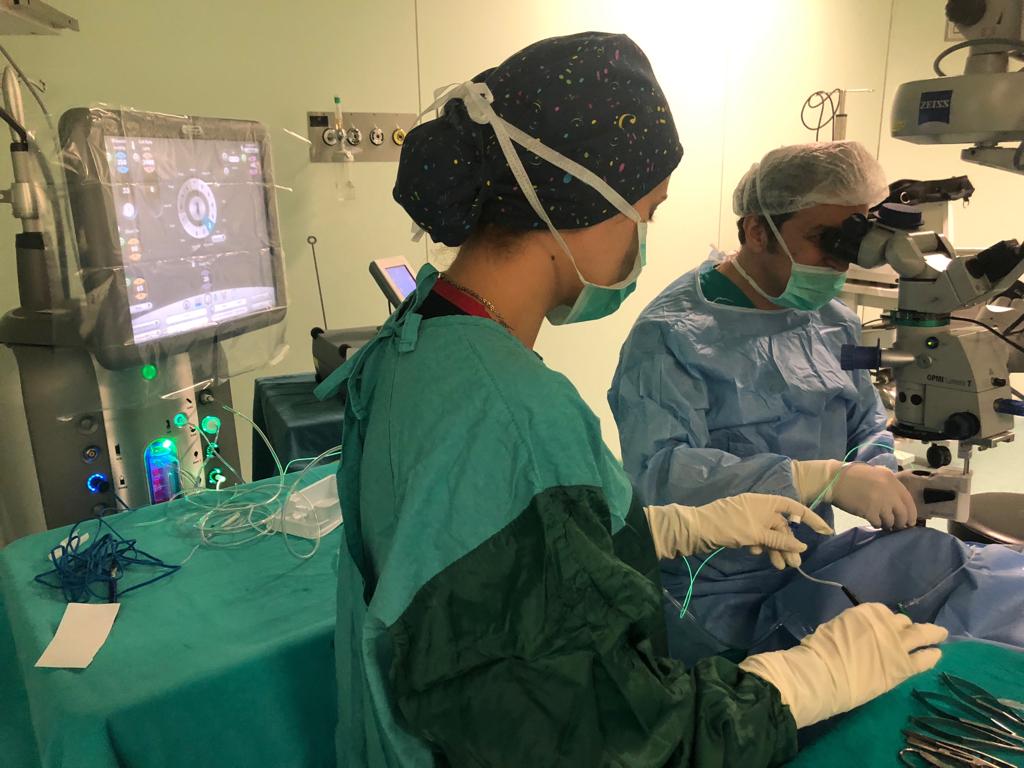 Spec. Dr. Mustafa Taşeli: "Thanks to the measures taken postoperatively, patients can return to their social lives quickly and safely."
Expressing that most vitrectomy surgery is performed on an outpatient basis, Spec. Dr. Mustafa Taşeli delivered further information about the post-operative procedure: "Following approximately an hour lasting surgery under local anasthesia, the eye is generally comfortable, patched, and shielded to protect from injury. When gas bubble or silicone oil has been used to treat the eye, the patient is instructed on how to do any required positioning. Maintaining head and eye positioning after a vitrectomy involving gas bubble or silicon oil is a very important way to contribute to the success of the eye surgery. Medications, eye-drops, positioning, the use of the eye patch for approximately 2-3 days are of importance to protect the eye from external factors and infection during the healing period. These specific measures instructed by the doctor allow a rapid recovery of the eye and enable the patients to return to their social lives in a shorter time.
Surgical eye operations other than vitrectomy that offered by Near East University Hospital...
Spec. Dr. Mustafa Taşeli also delivered further information regarding other eye surgical operations available at Near East University Hospital: "Equipped with the high-end ophthalmic instruments that produced by the latest technologies, Near East university Hospital offers ReLEx SMILE, world class laser eye surgery technology which allows to correct myopia and astigmatism in a matter of minutes and eliminate the need of using any kinds of glasses or contact lenses. Near East University Hospital also offers individual eye treatment options tailored precisely for each patient suffering from cataract, strabismus and eye pressure. Besides, Near East University Hospital with her experienced ophthalmologists and fully equipped infrastructure offers the most contemporary pediatric solutions for congenital nasolacrimal duct obstruction or and eye movement disorders such as eye-shift in children. Thanks to her first-end instrumentation, novel techniques, and understanding and experience in diagnosing, treating all eye diseases and disorders successfully, Near East University Hospital stands forefront not only in preventing vision loss, but also in restoring and enhancing the ability to see".