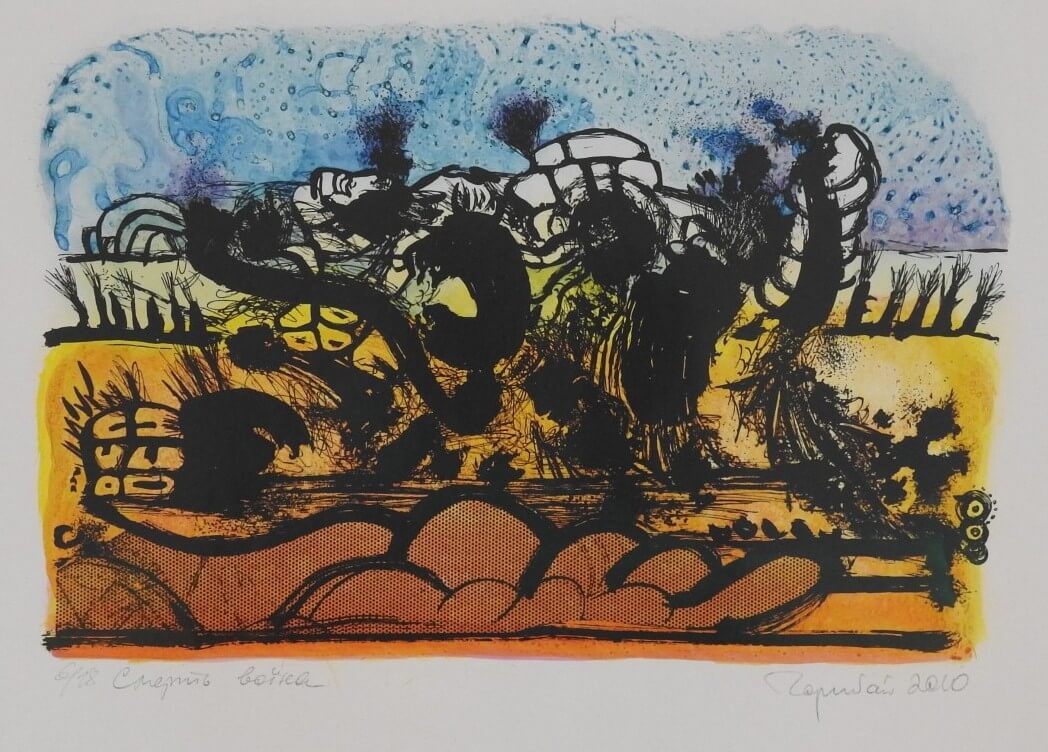 Two individual solo exhibitions consisting of Ukrainian artist Volodymir Chornobay's 100 print paintings and 25 artworks of Kazakh artist Orazbek Yessenbayev exclusively made for the Cyprus Museum of Modern Arts will be opened by Dr. Faiz Sucuoğlu, the Minister of Labor and Social Security.
According to the information provided by the Directorate of Press and Public Relations of the Near East University, the opening of two separate exhibitions will take place at the Exhibition Hall of İrfan Günsel Congress Center on Friday, July 12 at 09.00.
Using shadows in his works, Vladimir Chornobay will convey to the audience a reflection of the environment, the fantasies, experiences and thoughts associated with human and nature.
Orazbek Yessenbayev, who draws attention with the content, impressiveness and completeness of his works, conveys his vision of a unique Kazakh culture, his attitude towards his homeland, nature, life and soul.
Honored Artist of Ukraine…
Volodymir Chornobay was born on March 17, 1954 and graduated from the Lviv Ivan Trush State School of Applied Arts in 1973. In 1980, he studied at Lviv State Institute of Applied Decorative Arts. He is a member of the National Artists Association of Ukraine and the Polish Artists Association. In 2016, he received the title of "Honored Artist of Ukraine". The artist has received many awards; Diploma of "Christmas Mystery 96" exhibition, Golden Prize of First Modern Art Exhibition Competition, Third Prize of "Three Dimension: Yesterday, Today and Tomorrow" exhibition in Ukraine, Regional Mikhail Boichuk Art Prize, "Labor Omnia Vincit" Silver Medal Award, Kalish Award of City President, "Lviv Autumn Hall-High Castle 2015" International Art Exhibition Diploma. The artist is the owner of numerous solo exhibitions and has participated in more than 70 exhibitions in Ukraine, and over 90 exhibitions held in Polish and German cities and in Romania, Spain, Bulgaria, Italy and France. His works are in Ternopil, Chernivtsi, Sevastopol, Ivano-Frankivsk, Lutsk art museums in Ukraine, Kalisz, Goluhov, Maydanka, Pabianits, Opatowka museums in Poland, and 30 museums and galleries in Slovakia.
Who is Orazbek Yessenbayev?
He was born on February 27, 1960, in Madeniet State Farm, Kyzylorda, Jalagash County. He studied at Kyzylorda High School and graduated in 1983 from the Gogol Art School in Almaty. Yessenbayev worked as an artist designer in Kyzylor, and from 1986 to 1993 he studied at the Institute of Applied Physics named Zhurgenova. Between 2014-2015, he was the president of the Union of Young Artists of the Republic of Kazakhstan. He has been the president of Sardar Military Art Studio from 2015 to 2016. Since 1980, he has been a participant in United Nations, Republican, regional exhibitions. In 2004, he held a solo exhibition in Almaty; in 2012, he participated in exhibitions of A.Kasteev "Kazakhstan 20 years of independence", "Kazakhstan Epos", "Alma-Ata" "Childhood World", Sofia, Bulgaria, "Lessendra" International Competition Exhibitions, and in 2014 he took part in Kyzylorda, Turkestan Personal Exhibitions. In 2016 his solo exhibitions were held at the Moscow Art Hall Participation titled "Image of Time", "Artistic Attack" held in Astana, and his exhibition titled "Triple Memory" held in 2019.