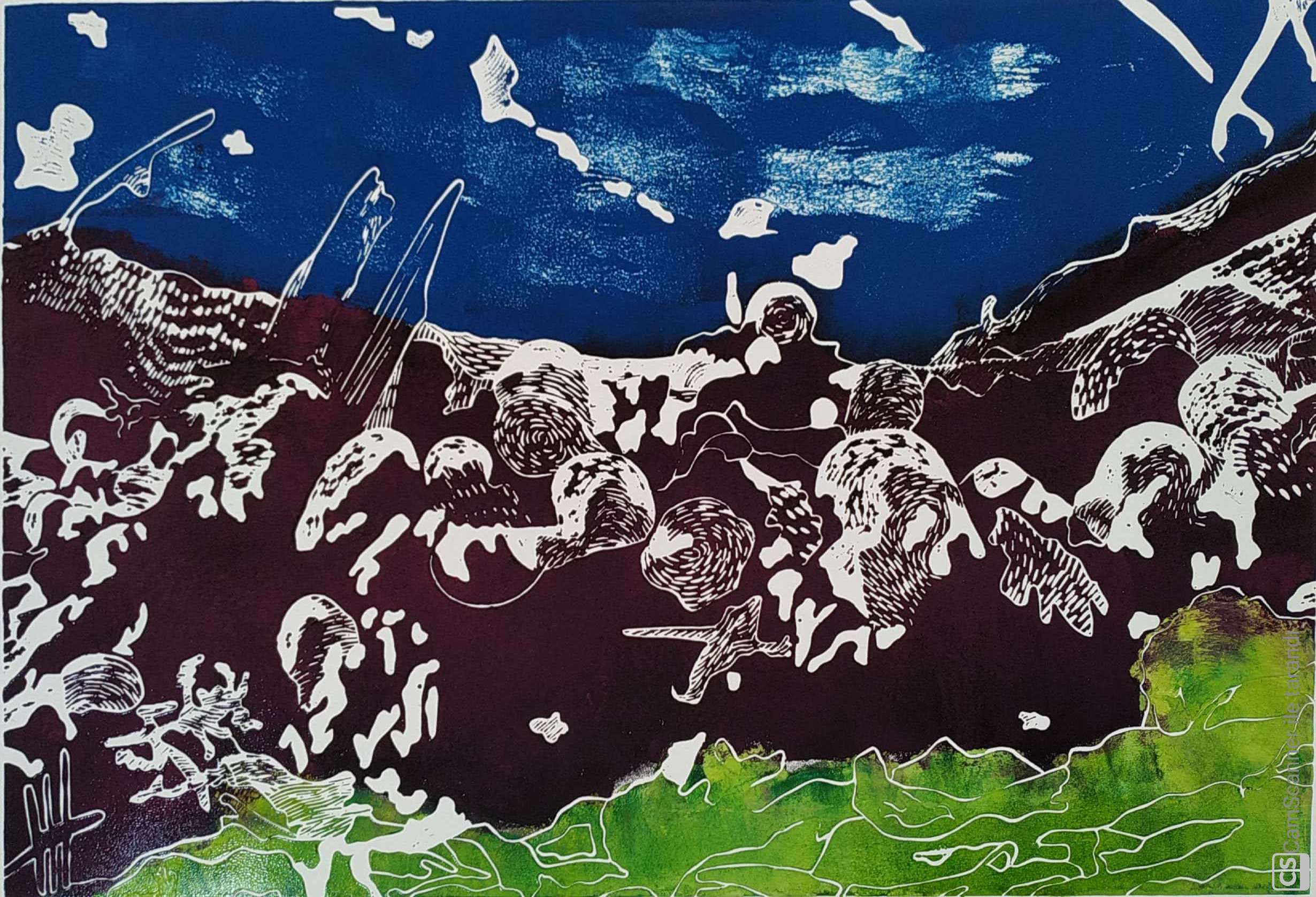 Due to the global pandemic of Covid 19 caused by new coronavirus (nCoV), artists continue to reflect the rapid spreading epidemic and the struggle against it on the canvases.
The Directorate of Press and Public Relations Office of Near East University released that artist Yücel Yazgın reflected his support by brushing the fight against coronavirus, which cause fear and anxiety over the globe, on canvas. Artist Yücel Yazgın noted that staying at home or even at workshop due to the pandemic caused by the new corona virus propelled him to produce with a special effort rather than not producing.
Assoc. Prof. Dr. Yücel Yazgın, the Head of the Department of Plastic Arts of the Faculty of Fine Arts and Design of Near East University, expressed his views regarding painting depicting the global pandemic CoVid 19. "I think, painting on an issue like coronavirus needs a very special effort. Staying at home and at the workshop propelled me to gain this special effort. Virus motivated me to produce instead of not producing.
Since I was a child, I have been observing deformed parts of leaf, branch or stem of many plants in nature. I have observed that these deformed parts of plants have been renewed and have regained their specific form in shape after a time.While drawing my pictures, this natural wonder, self-healing power, with my observations that I have accumulated for many years has always inspired me.
Across our country and the world, this new coronavirus has created a mismatch similar to this deformation in terms of our living conditions. I have tried to express the travel course of the coronavirus that collapsed on the humanity as a black stain with colors in this range of paintings that I titled as "Coronavirus Occasions".
Who is Yücel Yazgın?
He was born on July 17, 1960 in Magunda village of Paphos. He received his primary education at his village and continued his secondary education at Şehit Turgut Secendary School in Poli and received painting courses from Ali Atakan during this period. Following 1974, along with his family, he migrated from Magunda and settled in Nikita.He continued his education at Güzelyurt High School and received painting courses from Emin Çizenel. He received his undergraduate education at the Department of Painting Teaching of the Faculty of Education of Gazi University between 1978-1982.
Following his graduation, he worked as an art teacher at Bahçeliköy Primary School from 1984 to 1985. After working as graphic designer between 1985-1986, he was assigned to the Fine Arts Office of the Ministry of National Education and Culture. He was appointed as a teacher to Atatürk Teachers College in 1991 and as a lecturer to Atatürk Teachers Academy in 2000. In 2003, he received his master's degree in Near East University Institute of Educational Sciences with a thesis on "Teachers' views regarding the implementation of the 4th grade mathematics and art programs in a manner supporting each other". He started his PhD education at the Faculty of Fine Arts and Design of Near East University in the academic year of 2012-2013. He opened four solo exhibitions and participated in various group exhibitions. His works take place in various collections including private collections, Cyprus Museum of Modern Arts and State Museum. He worked as a part time lecturer at Eastern Mediterranean University, International Cyprus University and Lefke European University between the years of 2007-2017. He contributed to Değirmenlik "Aleminyo Martyrs' Monument" and "Cengiz Topel Monument" with his surface printing works. In 2018, he represented the Turkish Republic of Northern Cyprus at TUYAP ARTIST. In 2016, he retired from his post at Atatürk Teachers Academy. In 2017; he received his doctorate degree with his thesis on "Analysis of Cyprus Archaeological Cylinder Seals and Reflections on Print Making Art". He authored two books respectively titled "Art Education Method" and "Calligraphy Handbook" that published by Eğiten Publishing House. He was also edited and authored a chapter in "Communication in Education" that also published by Eğiten Publishing House.
Yücel Yazgın has many published articles in the fields of arts and arts education and papers presented at international congresses.
In addition, he was deemed worthy for award at the "2nd Kemal Yücel Honor Award" competition with their three-authored study on "The Evolution of Intergenerational Game and Toy in Northern Cyprus".
He is the holder of the HARIZMI award granted to print and painting masters within the scope of ALASYA grand art awards given to master artists whose works are exhibited in the museums of Near East University.
Yücel Yazgın, who continues his art studies, is a lecturer at the Faculty of Fine Arts and Design of Near East University and the Head of the Department of Plastic Arts.