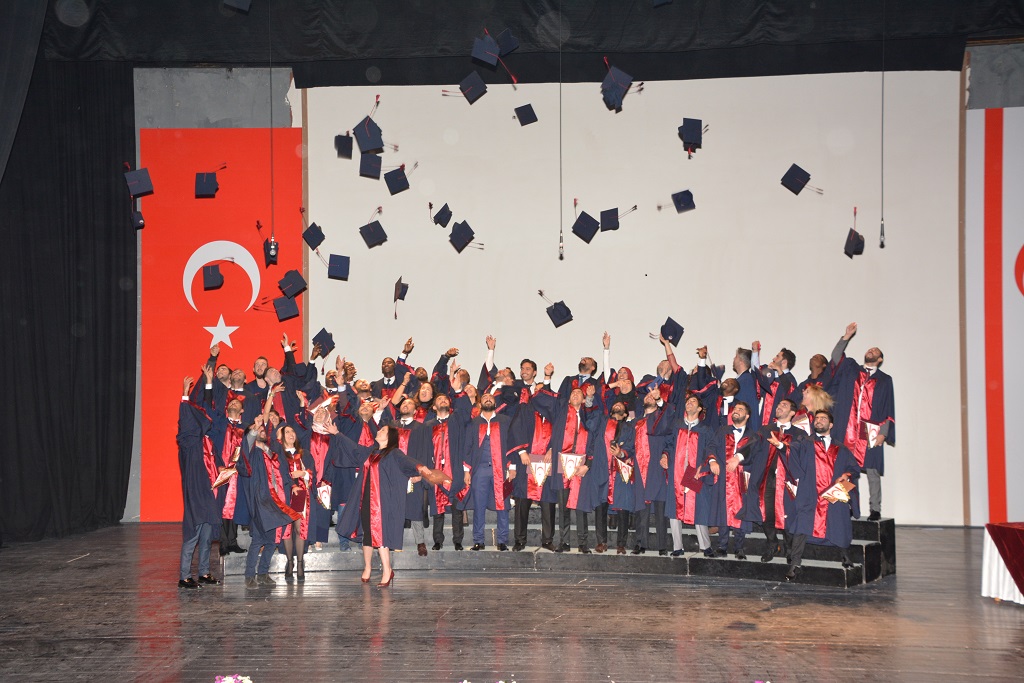 2017-2018 Academic Year Fall Term graduates of Near East University Faculty of Architecture received their diplomas with a glorious ceremony held at NEU Atatürk Culture and Congress Center (AKKM).
According to the press release issued by the Directorate of Press & Public Relations Office of NEU, the graduation ceremony was realized with the participation of NEU vice Rector Assoc. Prof. Dr. Şenol Bektaş, NEU Faculty of Architecture vice Dean Assoc. Prof. Dr. Zihni Türkan, University of Kyrenia Faculty of Architecture Dean Türkoz Kolozalı, Institute directors, vice deans, department chairpersons, faculty members, students and their parents.
The graduation ceremony began with a commemorative stand in silence for Mustafa Kemal Atatürk, Turkish Cypriot leader Dr. Fazıl Küçük, TRNC Founding President Rauf R. Denktaş and all martyrs and followed by national anthem.
Assoc. Prof. Dr. Zihni Türkan: "Architecture is Differentness. It's a Lifestyle"
In his opening remarks vice Dean Assoc. Prof. Dr. Zihni Türkan underlined that the Faculty of Architecture with its scientific, academic and physical structure offered architectural education and training at global standards befitting with the greatness of Near East University. "Our faculty offers our students an excellent and high-tech equipped educational environment required to acquire the best professional knowledge through participant-driven education. Besides the professional training programs, we also provide our students with appropriate knowledge relevant to laws and regulations in public sector and contribute them to be architects having comprehensive knowledge of zoning laws and labor laws and legislation. Our primary aim is to equip them with adequate information and skills required to ensure success in their fields. Near East University Faculty of Architecture is the training ground of many successful architects working across the globe" said he.
Addressing the graduates, Assoc. Prof. Dr. Zihni Türkan expressed his views: "Dear Students, you are graduating from a university known with its accomplishments across the world. First of all, I congratulate your beloved parents for their great devotion in supporting and enabling you to reach this significant day, and I would like to extend my appreciations to your teaching staff, who raised you in the best way throughout your education period, and to the Founding Rector Dr. Suat İ. Günsel for providing our faculty with all kinds of support" said he.
Underlining that they were sharing the same excitement with the graduates, Assoc. Prof. Dr. Zihni Türkan stated that architecture was a difference and it was a life style. "Dealing with the future; designing the future, requires great responsibility. This responsibility extends from your smallest occupational element to the future of your community, your country. Due to your profession, you must adopt free-thinking as a very important ethical value throughout your life, and you must work and design in the line with this On behalf of all your teaching staff, I wish you an architectural life full of designs of quality. Don't forget North Cyprus, Near East University and us" noted he.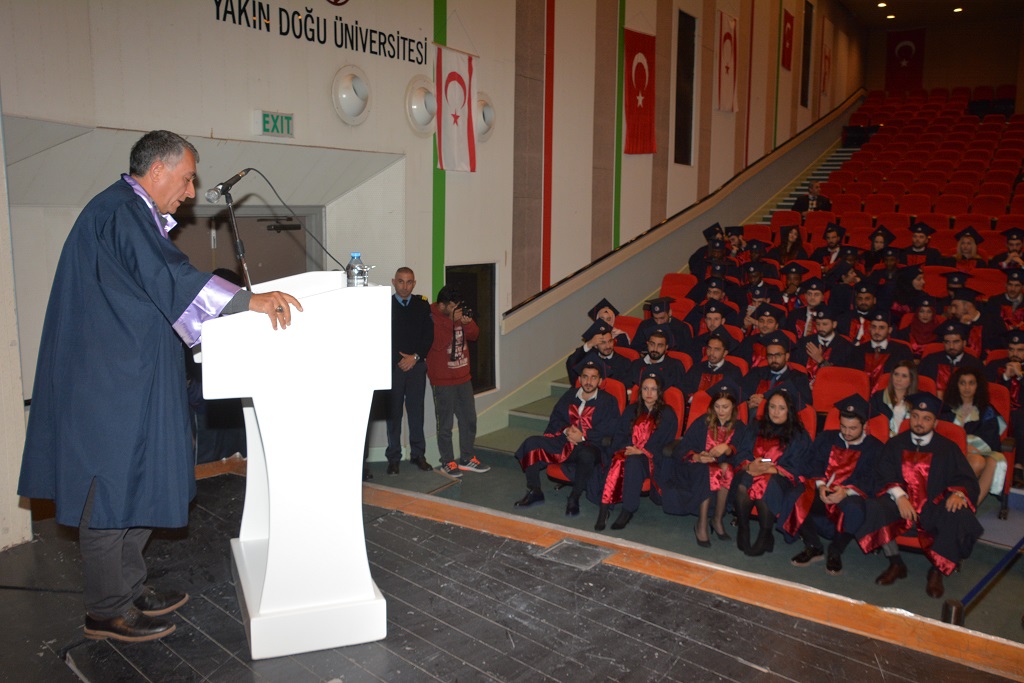 Prof. Dr. Şenol Bektaş "We are experiencing a day in which devotional work, exerted efforts and solidarity are rewarded"
In his opening remarks, vice Rector Professor Şenol Bektaş underlined that the Faculty of Architecture with its competent academic staff and dynamic structure was a vibrant intellectual community that follows the developments in science, art and design. "Today, we are here to present the diplomas to the graduates of this significant faculty. Today is a day that our graduates, their esteemed parents and their faculty members feel proud of. It is a day that devotional work, exerted efforts and solidarity are rewarded"
"To graduate and receive a diploma is the dream of every student studying at a university. Today, your dreams are coming true. While one is closing, a new era is opening in your lives. This new era will be a challenging one; you will be in a competitive life. You will try to be employed in institutions that you can make your dreams come true. We have proven quality and excellence in education. Our graduates have left their marks on many outstanding projects in the field of architecture, interior architecture and landscape architecture in various countries across the world. Their accomplishments indicate the power of our faculty in exceeding the boundaries of our country. It's possible that you will encounter challenges; I firmly believe that you will overcome all challenges thanks to quality education that you received at Near East University. I congratulate you and wish outstanding success" said he.
Then, Obayda Khattab and Sena Şeyma delivered a speech on behalf of foreign and native graduates respectively.
Before the presentation of diplomas, the participants experienced joyful and unforgettable moments with the music recital performed by faculty students Yağmur Çoban and Can Ahmet Kayrala.
Then, the graduates have presented their diplomas. Upon receiving their diplomas, the graduates experienced the joy of the graduation by throwing their caps…