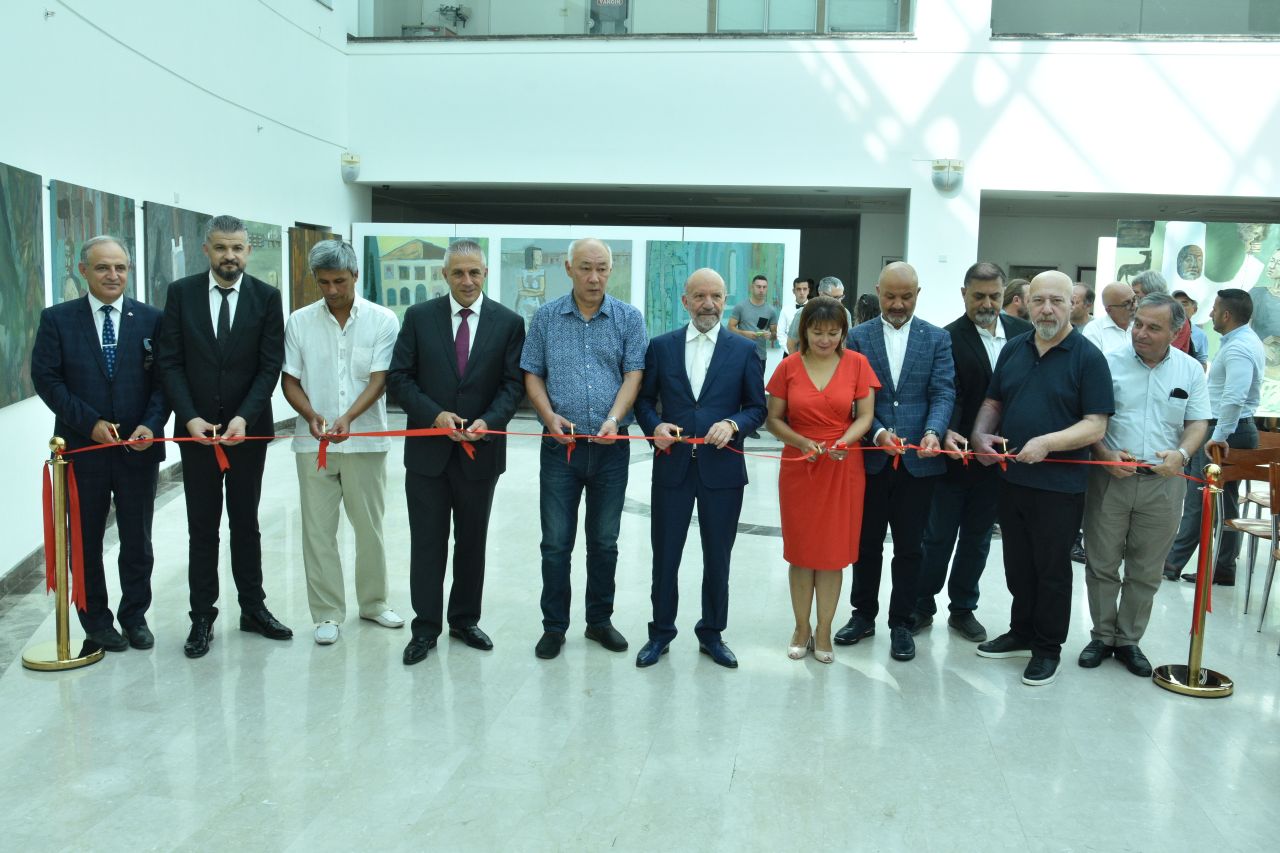 The three separate personal exhibitions of Kazakh artists Bakytkali Urazov, Askar Akhamanov and Rashida Mugaveyeva consisting of 50 art pieces, especially created for Cyprus Museum of Modern Arts, have been opened by the Minister of Economy and Energy Hasan Taçoy.
According to the press release issued by the Directorate of Press and Public relations of Near East University, the opening ceremony of the three personal exhibitions were held at the exhibition hall of the Near East University Hospital to which Minister of Economy and Energy Hasan Taçoy, Founding Rector of Near East University Dr. Suat İrfan Günsel, Deputy Secretary of National Unity Party Dr.Ahmet Savaşan, vice rectors, academicians, artists and guests attended. Furthermore, it was stated that Vice Rector Prof. Dr. Tamer Şanlıdağ and Minister of Economy and Energy Hasan Taçoy each made a speech at the opening ceremony.
Prof. Dr. Şanlıdağ: "Scientific data is being used for the benefit of the society…"
Making the opening speech of the ceremony, Vice Rector of Near East University Prof. Dr. Tamer Şanlıdağ expressed that as part of the Cyprus Museum of Modern Arts project, more than 60 exhibitions have ben held within the last 9 months. He added that 7 museums in the Museum District of the Near East University will meet art lovers with the Cyprus Museum of Modern Arts, which is to be opened on November 15, 2020.
Prof. Dr. Şanlıdağ stated that philosophy, science and art are the three areas of culture, and they are mediums in which humans seek themselves and create opportunities for the development of humanity. He pointed out that science is concerned with truth, philosophy deals with both truth and the good whereas art directs to good in a way that it does not exclude the truth and the good. Therefore, he said that all three areas illuminate and transform our lives. Moreover, he emphasised that universities, that produce, disseminate and provide information to society, integrate different elements such as science and education based on the philosophical principles of idealism. He also stated that Near East University has adopted the 4th generation university model and together with the academic studies and the R &D, was collecting data later to be used for the benefit of the society.
Patent and Product Commercialization Work is continuing…
Prof. Dr. Şanlıdağ stated that with the certificate of being a science-producing campus, the Near East University campus houses different research centres and laboratories. He said: "The first and only Scientific Research Projects Coordination Unit in Cyprus (BAP) has produced 300 scientific research projects in the last 3 years. Near East University comprises a Grand Library that offers 24/7 service, and has more than 2.5 million books and 500 million electronic resources; has a supercomputer which has supported the CERN and WHO projects, which has a capacity of 1.5 trillion data processing per second and is ranked 13th in the world in terms of capacity; in addition to R & D and innovation work which are converted into a product. We have brought the Technopark NERITA to life. The umbilical clamp project developed by our researchers is one of these early examples. Our researchers who obtained the approval of Design Registration of their products from the Turkish Patent Authority have obtained an intellectual right on behalf of our university and have also completed their applications to protect the technology of their designs with patents."
Vice Rector of Near East University Prof. Dr. Tamer Şanlıdağ, continued by expressing that Near East University uses its energy derived from its accumulations on education and research, science, innovation and art to contribute to the economic, social, psychological and cultural development of societies on a local and global scale.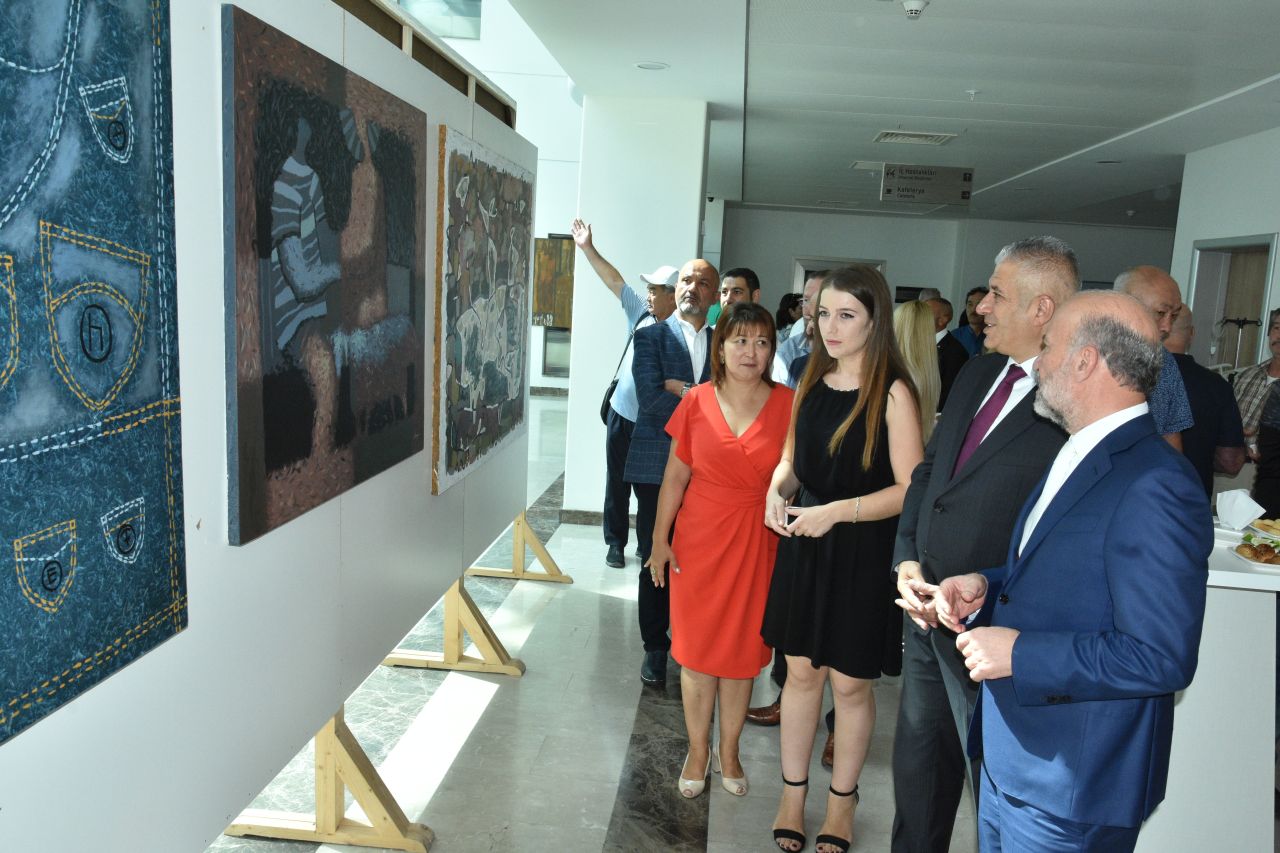 Bakan Taçoy: "Peerless treasure is being created…"
Minister of Economy and Energy Hasan Taçoy made a speech and said that he attends each exhibition opening of Near East University with excitement and that each time he ended up in a different world with different essences and thoughts. He said that the richness of art is experienced in every sense. Furthermore, he expressed that the Cyprus Museum of Modern Arts, which will be opened on November 15, 2020, and they were rather excited since something unique and unbelievable was being created. He emphasised that it is truly a piece of great wealth and great treasure to see the exuberance of beauties and colours expressed on a piece of paper or cloth as a reflection of one's own social life, from his/her own philosophy, logic and emotions. Moreover, Hasan Taçoy stated that art is a treasure and that it is unique and could not be found anywhere and that observing all living beings coming from nature, their historical process, merging with culture, how the elements that human beings need in the culture, how hand work can be done, dealing with prey, and demonstrating the evolution of elimination of needs from animal and plant extracts have affected our life horizon. In this regard, he pointed out that thanks to the evolution of mankind, the 4th Generation era has been reached and ended his speech by congratulating the artists who reminded us of the periods from past to present through art.
Silver Key Honour Awards were presented…
Subsequent to the speeches, Minister of Economy and Energy Hasan Taçoy presented Silver Key Honour awards to Kazakh artists Bakytkali Urazov, Askar Akhamanov and Rashida Mugaveyeva.
We never met anyone who cares about his people, his land and art as much as Dr. Suat Günsel…
Making a speech after the presentation of the awards, Rashida Mugaveyeva stated that he has never met a person who thinks so much about his land, his people and art as Dr. Suat Günsel and thanked the Founding Rector for the atmosphere he created. In addition to the above Mugaveyeva, said that they had the opportunity to touch the history of Cyprus, the architectural and cultural heritage of the island and meet old and new friends from different countries; pointing out that all these impressions motivated the creation of new art-work. Rashida Mugaveyeva : "I hope that our works will leave a mark on the soul and soul of each visitor. I would like to express our pride and happiness that our works will take place in Cyprus Museum of Modern Arts"
Cyprus Museum of Modern Arts will present new names and discoveries to the world! 
Also making a speech, Bakytkali Urazov emphasised the vale given to the creativity of artists at top level and that they witnessed the respect of art that could be shown by a society that is civilised and rich in cultural and moral terms.
Urazov: "We had a great opportunity to get to know Cyprus, admire its beauty, learn its history and find many friends. I express my deepest gratitude for giving us the opportunity to learn about our work, to share our ideas, and to share with our colleagues everything that exists in today's art. I strongly believe that the Cyprus Museum of Modern Arts project will introduce new names, new artwork, new discoveries to the world and I find initiative very exciting, interesting and necessary."
Expressed his delightfulness…
In his speech, Askar Akhamanov began his words by thanking Dr. Suat Günsel for inviting them to Cyprus and its most hospitable people. He stressed how pleased and honoured he was to be a part of this project, and that he was sharing his artwork with us all. Moreover, he expressed that this had been a wonderful experience for him. He said: "Your contribution to the Turkish world and internationalized culture is valuable. This is a nice organization, thank you for the interest you have shown."
The Exhibitions were visited with great pleasure…
Then, the three separate personal exhibitions were opened, and symbolism and decorative artwork were presented to the appreciation of the art lovers. It was pointed out that the exhibitions will be available to visit until end of 2nd August 2019 at 08:00-16:00 on weekdays.