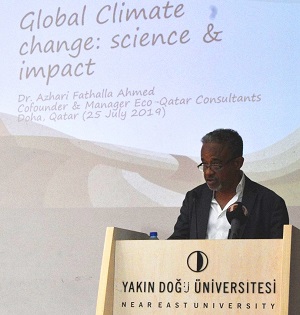 Near East University is continuing on its path of 4th Generation University model that produces science, transforms what it produces into the benefit of society and transforms society with what it produces, Near East University is conducting further academic and innovative studies. In addition to its first Nobel Laureate academic member, Prof. Dr. Aziz Sancar, Prof. Dr. Azhari Ahmed is now a academic member of Near East University as well.
According to the press release issued by the Directorate of Press and Public Relations of Near East University, it was announced that Prof. Dr. Azharı F. M. Ahmed, who is member of the Intergovernmental Panel on Climate Change (IPCC), and who won a Nobel award in 2007 has recently joined the academic staff of the Near East University. Furthermore, it was stated that Prof. Dr. Azharı F. M. Ahmed will be lecturing at the Faculty of Engineering, Departments of Civil Engineering and Environmental Engineering.
In addition to the above, it was announced that Near East University has 5 faculty members among 100 Turkish scientists who direct science in the world. Moreover, 2 faculty members were included in this list in the last month. Therefore, the Near East University has 7 faculty members who are also among the 100 scientists leading science that are teaching courses in related faculties and continuing their research and projects under the umbrella of Near East University.
He Conducts Group Leadership of National Climate Change Studies…
Providing further details, it was stated that he is EKO Qatar Consultancy Executive Director and Founding Partner, alongside being a Nobel Laureate he is also a group leader working on studies on air quality and climate change.
Prof. Dr. Ahmed acts as a consultant to the national climate change committee and conducts extensive research in the fields of air quality, air pollution emissions, transportation, transformation, distribution, deposition and modelling and atmospheric chemistry and air pollution in the field of environmental science. He is a specialist on energy policy and environmental regulations, eco-toxicology and climate change; and has published widely in international refereed journals and classified technical reports on atmospheric chemistry, air pollution emissions, ambient air quality, toxicology and climate change.
Aziz Sancar Scholarship will be granted…
Subsequent to his visit to the island, Prof. Dr. Aziz Sancar was renowned for his works on DNA repair and cell cycle, and acknowledged for his invention regarding Circadian clock (Rhythmic clock) in the treatment of cancer, and academic member of Department of Biochemistry and Biophysics of North Carolina University, Prof. Dr. Aziz Sancar received his Nobel award in 2015. He was initially the first Nobel Laureate to be included in the Near East University academic personnel. Moreover, Professor Dr. Aziz Sancar is a student mentor at the Near East University, Faculty of Arts and Sciences, Department of Molecular Biology and Genetics. Also, it was revealed that the Near East University is granting a doctorate education scholarship with the supervision of Prof. Dr. Aziz Sancar.