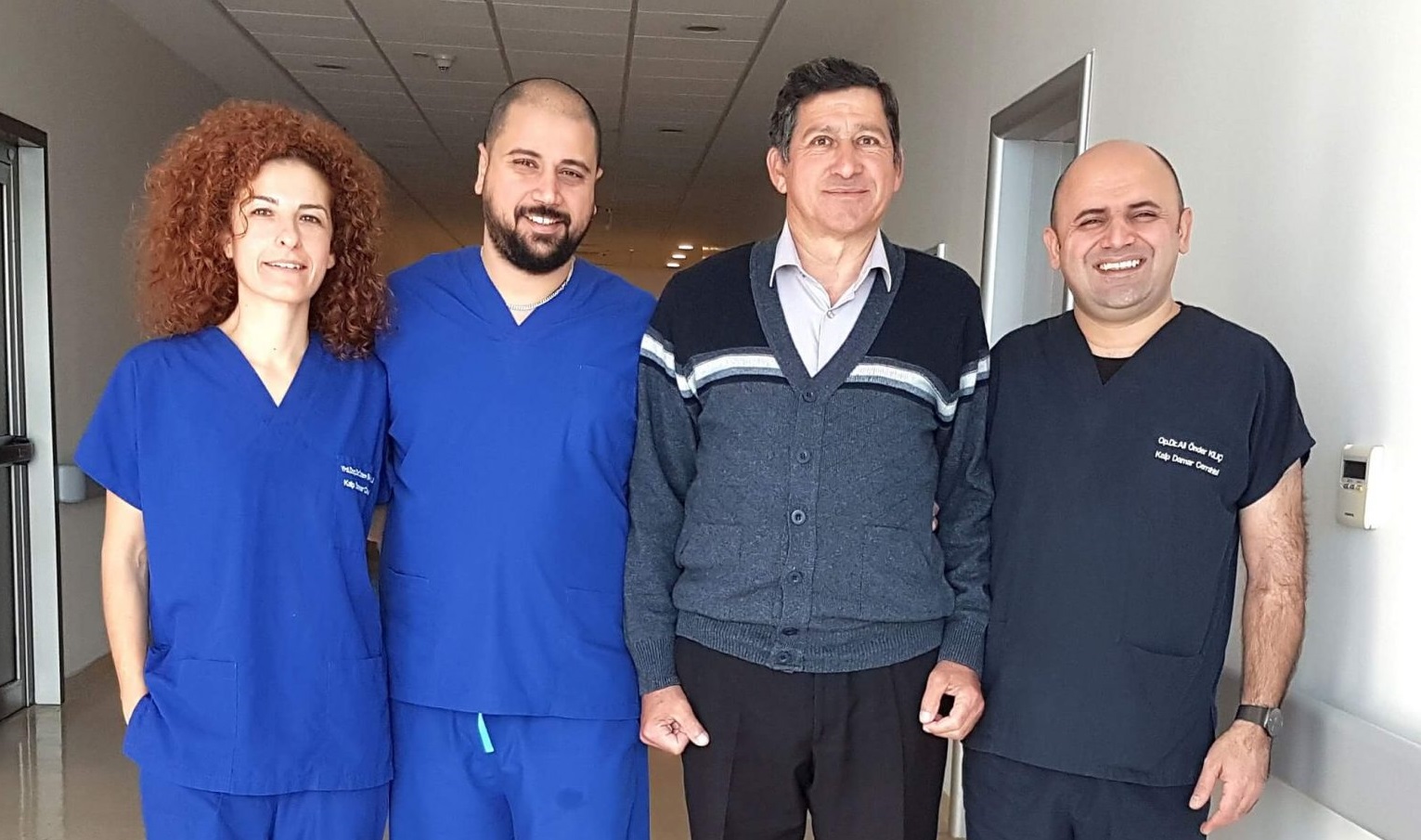 The 57-year-old patient Zeki Atakan complaining of shortness of breath has undergone a check-up at the Near East University Hospital and was diagnosed that his organs, including the heart, were found to be on the opposite side. Zeki Atakan who was suffering from serious insufficiency in his aortic vein width and aortic valve, was admitted to the Near East University Hospital Cardiovascular Surgery Department for advanced examination and surgical treatment.
The surgery performed by the specialists of the Department of Cardiovascular Surgery has taken its place in the international scientific publications since it is a rare case in the literature. Despite the high risk, the patient was discharged healthy after successful operation.
Zeki Atakan, who was admitted to the Near East University Hospital with dyspnea, was diagnosed with dilatation of the aorta and severe insufficiency of the aortic valve at the heart check-up.
Assist. Prof. Dr. Özlem Balcıoğlu; "We replaced the patient's aortic vein with synthetic vein and heart valve with a mechanical valve."
Diagnosing that all the organs of the patient, including the heart, were on the opposite side, required a specific treatment programming in order to determine the surgical strategy. Assist Prof. Dr. Özlem Balcıoğlu said, "Unlike other patients, Zeki Atakan's organs were on the opposite side and posed a challenge to predicting the course of the surgery. The need for surgical approach could be different because the organs were on the opposite side. We intervened in the patient with the approach that we believe to be the most accurate."
Stating that such operations fall into the high-risk operation class, Assoc. Prof. Dr. Barçın Özcem said, "It is a very rare case in the literature, and the number of operations we have performed on the patient is only a few in the world."
Near East University Hospital Department of Cardiovascular Surgery Specialist Assoc. Prof. Dr. Barçın Özcem, in his statement regarding the rare case said, "Facing with a very rare case as all the organs of the patient were in the opposite direction, including his heart, Zeki Atakan's surgery strategy was difficult to be planned and such an operation is classified in high risk of surgery. When we look at the literature, there are very few cases in this case. It is a very rare case in the world that people's organs take place on the opposite side. At the same time, aortic dilatation and aortic valve insufficiency with the reversal of organs makes this rare condition even less common. Therefore, the number of such surgeries that have been performed in the world to date is quite small and the number of the samples performed by our department in the world does not exceed the fingers of one hand. Therefore, we shared this patient's case with our colleagues as a publication in international articles."
Dr. Ali Önder Kılıç also made remarks on the case and said that, following the decision of the council on the surgical approach, experienced cardiovascular surgery specialists, as well as experts in the field of anesthesia, surgical nurses and staff consisting of the surgical team, conducted the operation which was successful. Dr. Kılıç reported that no complications were encountered during the operation, that the patient was followed up in the intensive care unit for 3 days after the 6-hour operation, and that he was discharged fully recovered. While usually only a few organs are found on the opposite side, it is very rare that all organs to be found in the opposite direction as in this case. Dr. Ali Önder Kılıç said "Our patient continues to receive routine outpatient controls after surgery in a very healthy way. As my colleagues have noted, we are proud to have successfully completed a case that cardiovascular surgery specialists all over the world may encounter very rarely."