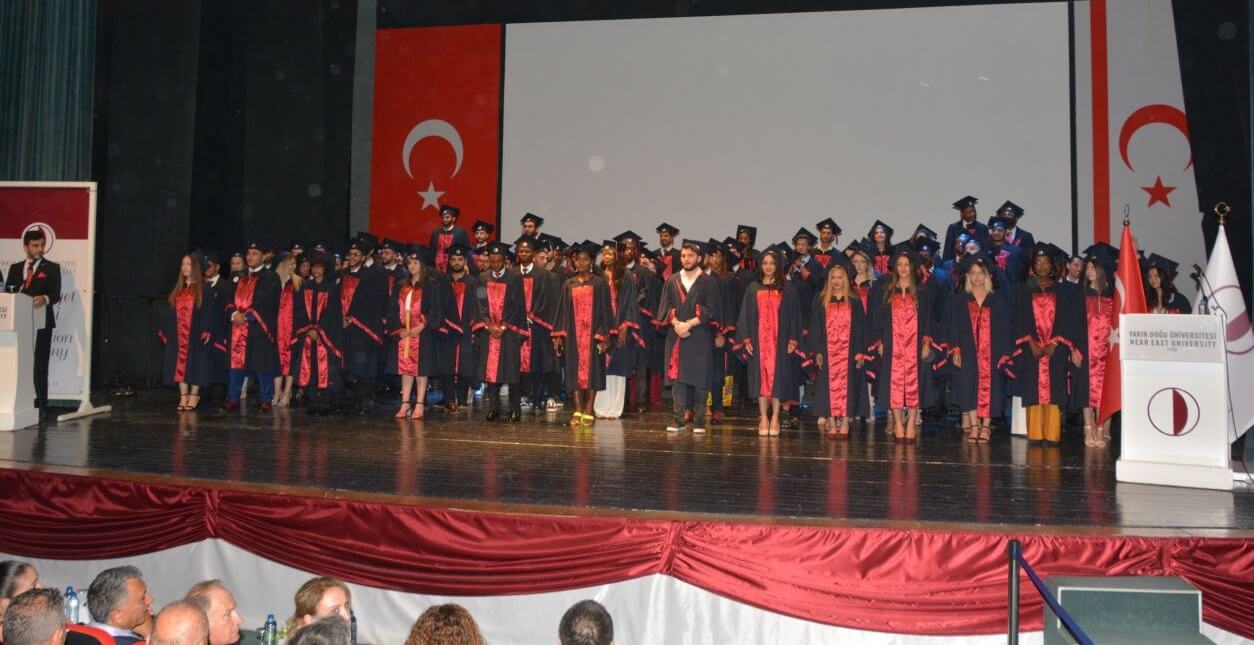 The graduation ceremony for the academic term of 2018-2019 of the Faculty of Economics and Administrative Sciences of Near East University has recently been realised with great joy and excitement.
According to the press release issued by the Directorate of Press and Public Relations of Near East University, the graduation ceremony was held at Atatürk Culture and Congress Centre to which Member of Parliament from the National Unity Party Aytaç Çaluda, Vice Rector of Near East University Prof. Dr. Şenol Bektaş, Dean of Faculty of Economics and Administrative Sciences Prof. Dr. Şerife Eyüpoğlu, Heads of Departments, academicians, students and families attended.
The ceremony commenced with a minute's silence in memory of great leader Mustafa Kemal Atatürk, Turkish Cypriot Leader Dr. Fazıl Küçük, Founder of the Turkish Republic of Northern Cyprus Rauf R. Denktaş and martyrs. This was followed by the national anthem. Then, there was a musical performance by the students of Faculty of Law which made its mark on the ceremony since it was highly liked. Subsequently, on behalf of the graduates, a speech was made by Selin Demirtaş.
Their academic knowledge will change world perspective…
In her speech, Selin Demirtaş stated that they were graduating from the Near East University as individuals equipped with skills and knowledge to change wold perspective, and in fact find solutions to problems rather than seeking solution via wars.
Additionally, she said that they would work to make the world a better place. Demirtaş said that they were aware that it was a difficult process to raise a well-educated individual such that much effort is needed. She emphasised that their families provided full support throughout their entire university life and their teachers sometimes held their hands like a friend, brother, sister and try to teach them everything they know. Therefore, she said that at this point they wanted to express many thanks to them all. She ended her words by wishing for a cleaner, fairer world without wars.
We raise individuals who can meet needs in world markets and who are competitive individuals…
Making a speech, Dean of Faculty of Economics and Administrative Sciences Prof. Dr. Şerife Eyüpoğlu stated that they aim to train graduates who can meet the needs of national markets and have the characteristics to compete on a global scale.
In addition to the above, Prof. Dr. Eyüpoğlu said that 5 programs of the faculty are accredited by international accreditation institutions. Moreover, their business, banking and finance, economics and international relations programs are accredited by FIBAA, also Computer Informatics program is accredited by ASIIN. Furthermore, she emphasised that the fact that they received quality approval from these prestigious institutions is a very important indicator of the quality education provided by their Faculty.
Prof. Dr. Şerife Eyipoğşu addressed the graduates and said that graduation was not to be perceived as an end but rather seen as a new beginning. She stated that as of that day, the struggle for life begins and graduates will represent the NEU in the best places in the best possible way. She reminded the graduates that as the Faculty of Economics and Administrative Sciences, they had supported them as much as they could; and assured them that they will continue to do so after graduation.
A father presents a diploma…
After the speeches, medals and diplomas were given to the students who graduated with honours from the faculty by the Vice Rector of Near East University Prof. Dr. Şenol Bektaş and Prof. Dr. Şerife Eyüboğlu. The ceremony began when Member of Parliament from National Unity Party Aytaç Çaluda proudly presented diploma to his son Mustafa Çaluda who was graduating from the Department of Political Sciences. Then, diplomas were presented to all graduates and the ceremony ended when the students threw graduation caps in the air.