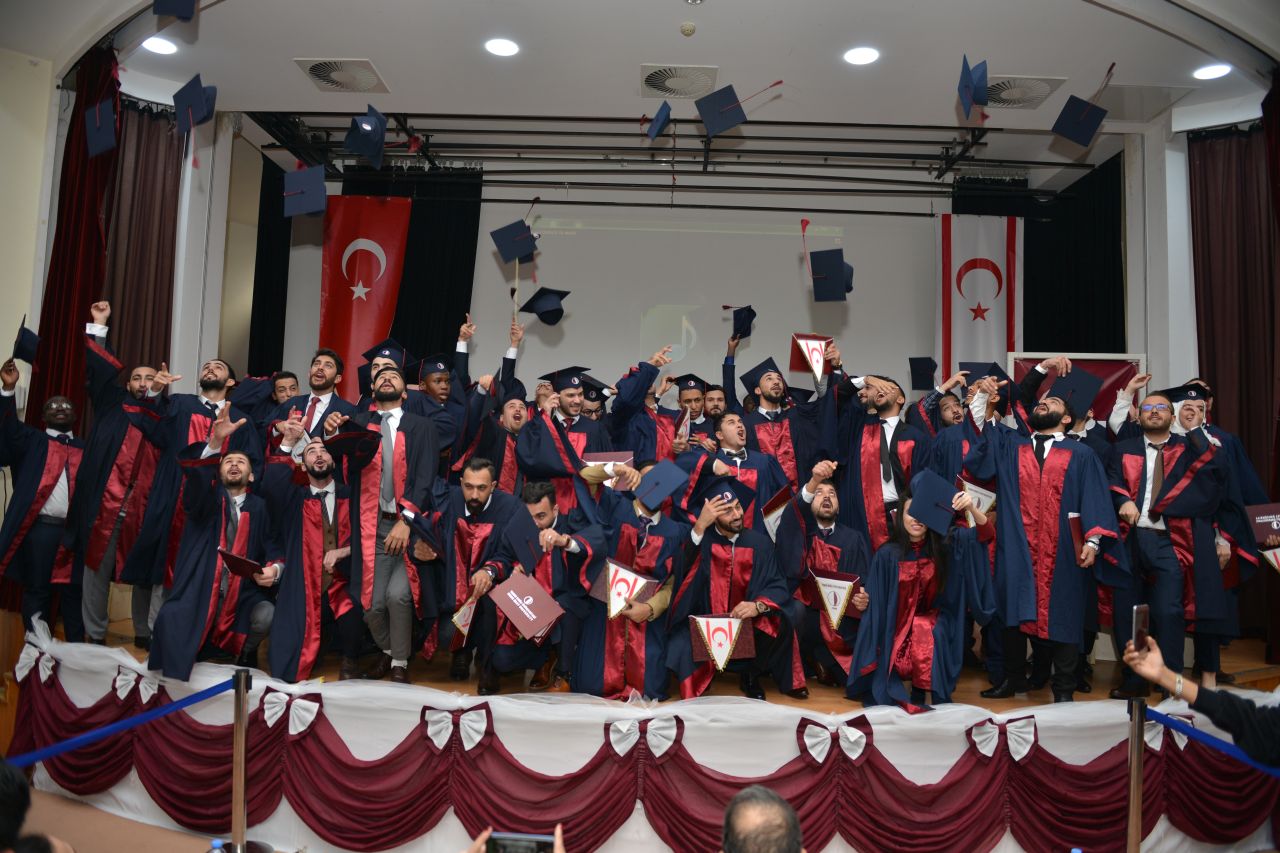 2018-2019 Academic Year Fall Term graduates of Near East University Faculty of Civil and Environmental Engineering received their diplomas with a glorious ceremony held at NEU Grand Library Hall 4.
According to the press release issued by the Directorate of Press & Public Relations Office of NEU, the graduation ceremony was realized with the participation of NEU vice Rector Assoc. Prof. Dr. Mustafa Kurt, NEU Faculty of Civil and Environmental Engineering Dean Prof. Dr. Hüseyin Gökçekuş, department chairpersons, faculty members, graduates and their parents.
The graduation ceremony began with a moment of silence in mourning for Mustafa Kemal Atatürk, Turkish Cypriot Leader Dr. Fazıl Küçük, TRNC Founding President Rauf R. Denktaş and all martyrs and followed by national anthem. Then, the vice Rector Associate Professor Mustafa Kurt, Faculty Dean Professor Hüseyin Gökçekuş and on behalf of the graduates Mehmet Erdim and Lasrus Yapomo delivered their opening remarks.
"It Will Be Our Greatest Pride to See You Performing Your Profession Successfully…"
In his opening remarks, the Faculty Dean Professor Hüseyin Gökçekuş wholeheartedly congratulated the 22th Fall Term graduates and wished them continuing success in their new lives.
"Dear graduates, you are graduating from a faculty that proven its quality in education. Our faculty is the educational ground of many successful professionals working all around the world. Graduates should be well trained and equipped with contemporary professional knowledge and skills in order to be able to walk confidently into a number of careers. No doubt that you are well trained and equipped with comprehensive engineering knowledge and skills required to address the needs of the sector. You have qualities, skills, knowledge and capacity to accelerate change towards a more sustainable environment and society.  Congrats! You have reached this significant day by covering a long and arduous path. We feel the bitterness of your leaving. However, it will be our greatest pride to see you performing your profession successfully.
Dear colleagues, all of you have a great deal of effort in paving the way for our faculty and university towards being a leading educational ground. No doubt that you are having one of the most enjoyable moments of your profession today. Your students are here in front of you as graduates. No doubt that you are proud of them. You have exerted great efforts and done your best to educate your esteemed students in the best way.  While we had students from 36 different countries in the last semester, this number has increased to 40 this semester.  My esteemed colleagues, I would like to take this opportunity and extend my appreciations to all of you in recognition of your devoted efforts in providing quality education for our undergraduate, master's and PhD degree students. Besides, I would like to congratulate all my colleagues for achieving a notable increase in our scientific publications. And what more important is; we have achieved to be a family. I wholeheartedly congratulate all of you" noted he.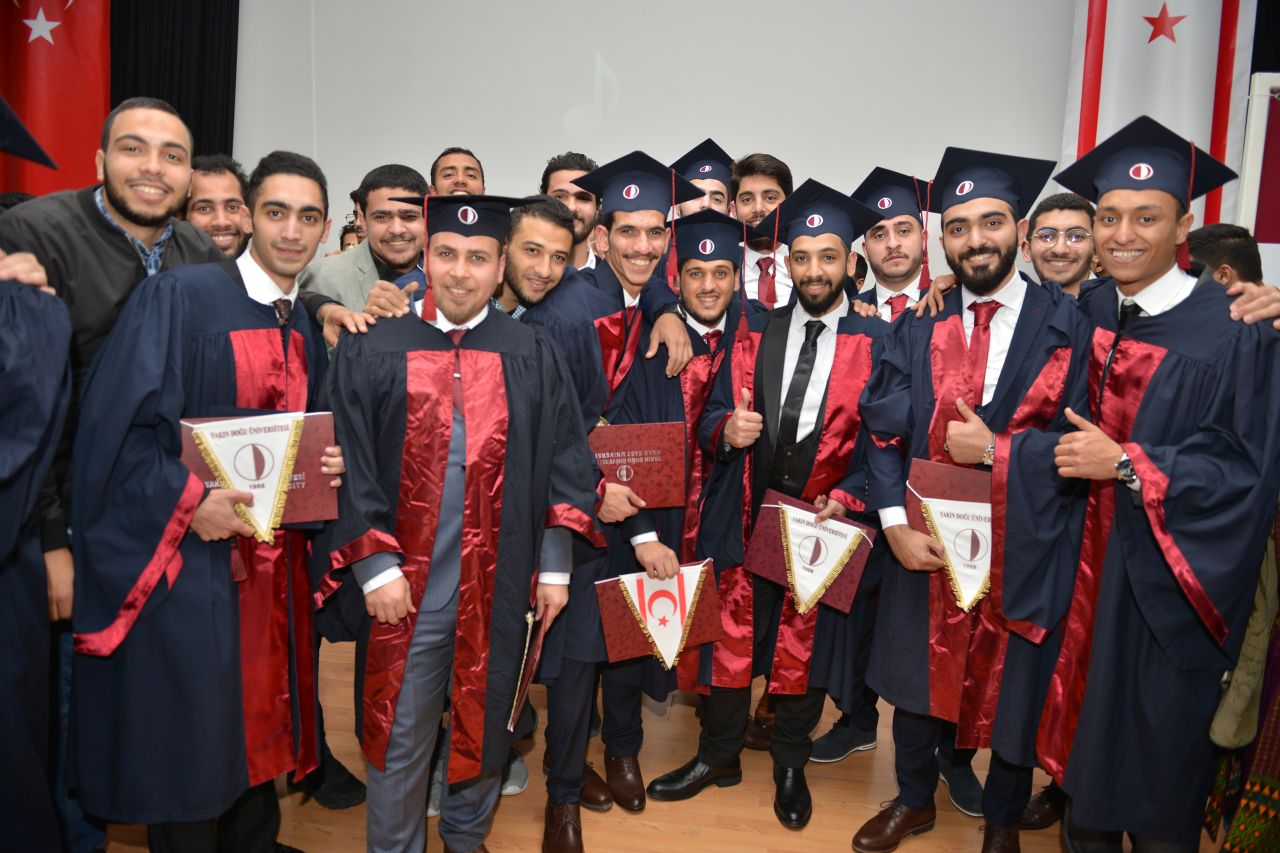 The Main Function of Universities Is to Produce Science and Provide Its Contribution to the Mankind…
Talking about the foundational functions of universities, NEU vice Rector Associate Professor Doctor Mustafa Kurt stated that the main function of universities was to produce science and ensure the contribution of that produced science to the public, to the society and to the globe.
"Dear graduates, we consider all of you as individuals equipped with comprehensive knowledge and skills and who are capable to create their own values and change the world. You are graduating from the greatest university of the Turkish Republic of Northern Cyprus. Near East University with its renowned academic staff and high tech equipped infrastructure has proven her quality in education and has become a world brand university. The greatness of a university is always assessed by taking into consideration the science that it produces and therefore the number of scientific articles published in high index journals. Considering the number of scientific articles published in 2018, Near East University ranks among the top five universities in Turkey. As of 2018, more than 1200 articles of faculty members of Near East University were published by prestigious journals scanned by Web of Science and Scopus, the largest abstract and citation databases of peer-reviewed literature covering tens of thousands research topics across all scientific disciplines" said he.
Underlining the importance of learning the system design, which is considered as the application of systems theory to product development, vice Rector Associate Professor Mustafa Kurt stated that a good project should be sustainable, accessible and functional. He ended his words by wishing the graduates lasting success in their new lives and advising them not to allow others' opinions to control their lives.
We Will Also Have Say in the Future of Our Countries…"
Delivering a speech on behalf of domestic graduates, Mehmet Erdim stated that they had completed a hard and arduous educational process successfully and reached this significant day of graduation. "We have all come here with the aim of receiving the best education and becoming a fully equipped competent engineer. Finally, we have achieved this and I have no doubt that we will also have a say in the future of our countries. I would like to extend my appreciations to all my teaching staff, my friends and my parents; I am greeting them with respect and love" said he.
"Choosing Near East University for My Undergraduate Education Was a Right Decision that Prides Me…."
Delivering a speech on behalf of foreign students graduating from NEU Faculty of Civil and Environmental Engineering, Lazarus Yapomo stated that he made a right decision by preferring to have his undergraduate education at Near East University in the Turkish Republic of Northern Cyprus. "It was a right decision that prides me. "I feel the excitement of going back to my country and the sadness of leaving here. Throughout our education process in TRNC we faced bravely the hardships of life and regained our self-confidence. I would like to extend my thanks to my lecturers and my student fellows for making my education enjoyable. I wish success to all my friends in their new lives" said he.
Before the presentation of diplomas, a music recital was performed by pianist Gözdem Oktay and soprano Vasfiye Çakıltaşı. Then the graduates received their diplomas and experienced the joy of graduation by throwing their caps.