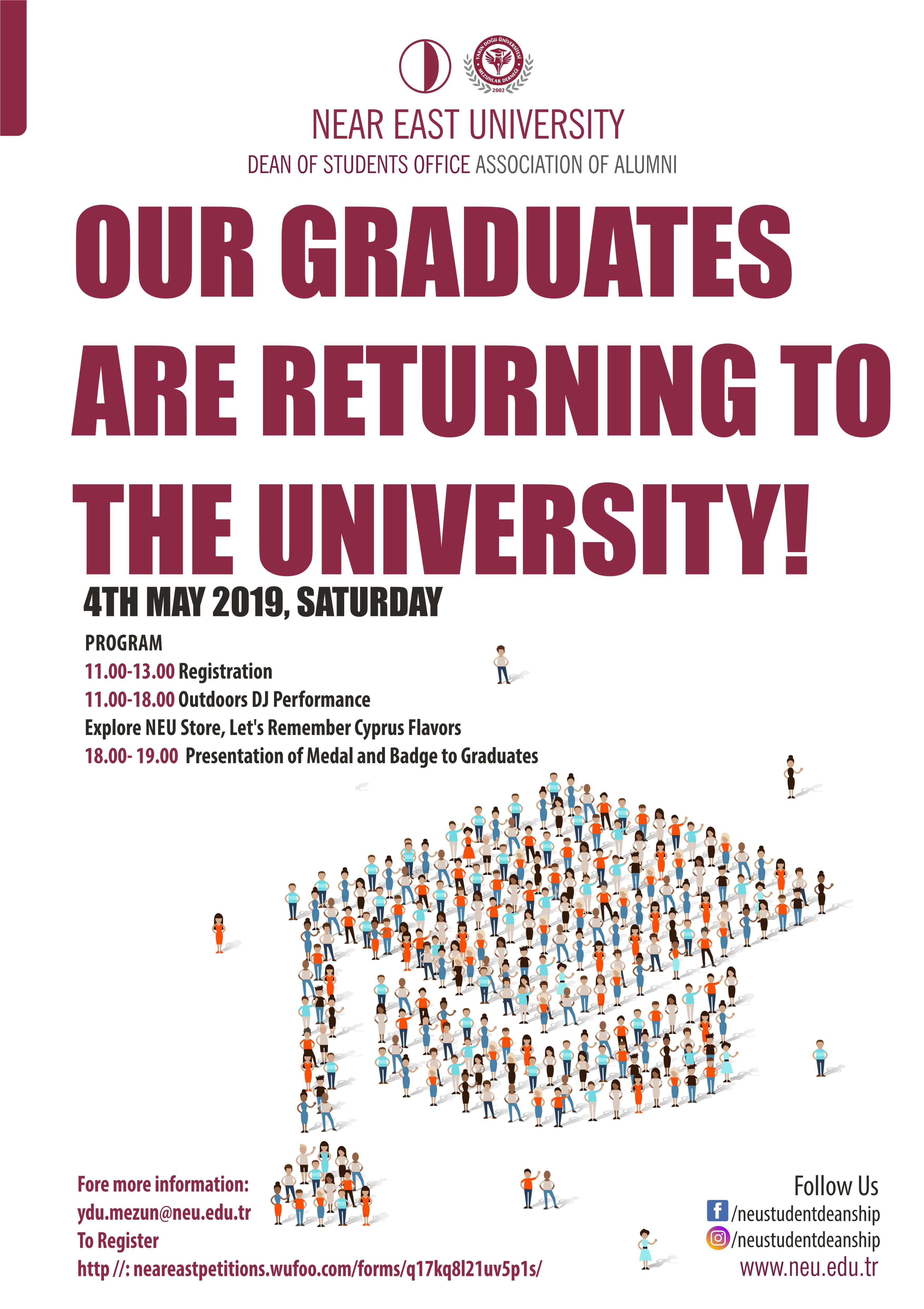 Completing its 31st year in the education sector, the Near East University is getting ready to hold its 1st graduates' meeting to bring graduates of different specialization areas around the world together.
According to the press release issued by the Directorate of Press and Public Relations of Near East University, the event is the organisation of Student Dean Organization and Alumni Association and as a member of the Near East University family the graduates from all over the world are to be brought together on Saturday 4th May 2019 on NEU Campus. It was pointed out that the event was planned in such a way that graduates together with their peers and faculty members will enjoy the day via various activities, excursions and chats.
Day long music, conversations, laughter and new memories…
It was announced that the "Graduates' Meeting" will include day long open-air DJ performance, various games and fun activities, NEU Sore trip and the graduates will be offered flavours from the Cyprus Kitchen.
At the event where music performances will take place during the night, the graduates will share their lives regarding their careers after university and their education experiences at the Near East University.
Assoc. Prof. Dr Dudu Özkum Yavuz: "Graduates will renew their memories …"
Making a statement on the matter, Near East University Student Dean Assoc. Prof. Dr. Dudu Özkum Yavuz, expressed that subsequent to the education they undertook at the Near East University, the graduates who are currently continuing their careers in many important companies or organizations will have the opportunity to meet with academics and to refresh their memories with their friends who share the same queues.
In addition to the above, Assoc. Prof. Dr. Dudu Özkum Yavuz stated that a university's alumni acted as a reference of that university and that they were aware of coming together was a beginning coexistence was a progress, and finally working together meant success. Furthermore, she stressed that through the get together event, they will be able to meet different generations and enable the NEU's values to be experienced once again. She said that initially, they set out with the idea of an organisation which enables to keep Near East University alumni together; alongside maintaining the relationship between the NEU graduates and the Near East University. She ended her words by emphasising how happy and proud they were of offering the alumni an opportunity to get together and strengthen bonds.