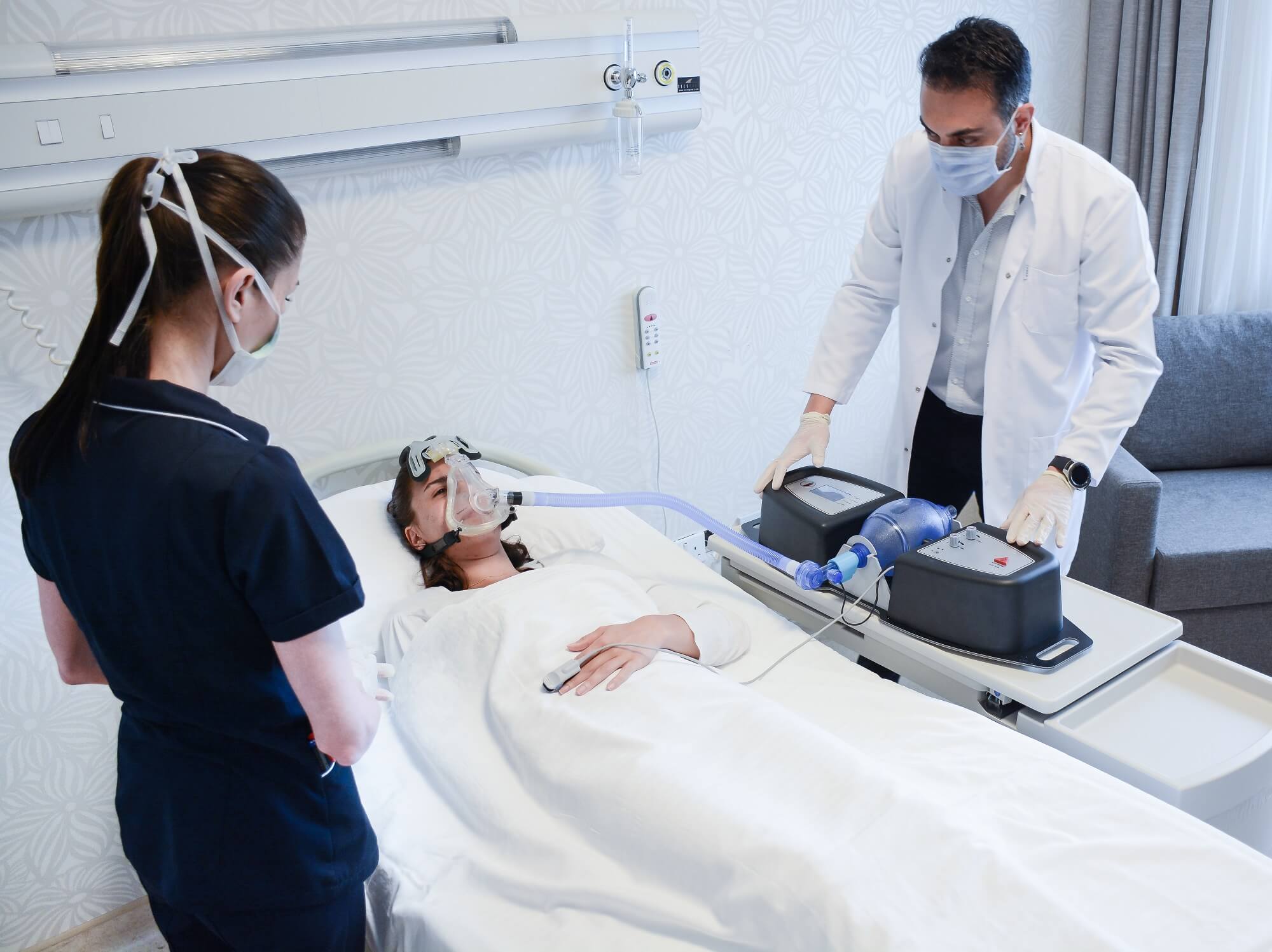 The alternative breathing device (ventilator) was developed and manufactured by Near East University engineers for use in the Covid-19 treatment process, where respiratory support was and is still vital. It was announced that this ventilator was produced in accordance with international standards with 5 quality certification obtained by the International Organisation for Standardization (ISO), which is a global organisation that works to provide standardization across an array of products and companies worldwide.
According to the press release issued by the Directorate of Press and Public Relations of Near East University, Near East University produced an alternative breathing device to prevent patient losses due to device failure in combating the COVID-19 pandemic, in other words, in order to eliminate vital respiratory distress. Recently, the device was certified with ISO 13485:2016 Medical Devices – Quality Management Systems); ISO 9001:2015 Quality Management Systems, ISO 14001:2015 Environmental Management Systems; ISO 45001:2018 Occupational Health and Safety Management System; and ISO 10002:2014 Quality Management – Customer Service certificates; all indicating that the alternative breathing device has been produced at international standards.
It provides ease of use in emergency situations with its portable feature…
The alternative breathing device was developed and produced by the Near East University and University of Kyrenia scientists, Günsel engineers, innovation teams, 3D Lab and engineers and doctors and due to its portability feature, it offers great ease of use in emergency situations. Furthermore, it was designed to be easily moved from one place to another (portable) and is currently ready to be mass produced as its tests have been completed. Thanks to its fitted battery, it can operate without being dependent on any energy source, and offers easy use in ambulances, health centres, health institutions and environments with insufficient infrastructure. Furthermore,the device can measure the patient's heart rhythm, blood oxygen rate, respiratory rate and lung pressure controls 60 times per second with the artificial intelligence sensors on it.
Specialist Doctor Tarık Öztürk: "We have achieved a very important success…"
Near East University Hospital Anesthesiology and Reanimation Specialist, Specialist Doctor Tarık Öztürk, made a statement regarding the matter and stated that they had produced the ventilator in a short time, during the covid-19 period when trade, production and supply were disrupted globally. He emphasised that producing this device was an important success since it was a means to meet our own needs and especially since the quality of the device is certified with ISO certificate. He further emphasized that this success is a common success for everyone and that they will continue to work with their strengths for the best service. He added that thanks to the portability of the manufactured ventilator which may highly be needed during the COVID-19 period, it was a device that could also be used in emergency cases that require urgent intervention after COVID-19 pandemic. Moreover, Specialist Doctor Öztürk explained that in pandemic viral diseases, the need for respiratory equipment increases because they tend to intubate patients early. In this regard, the alternative breathing device produced by the Near East University can be used if the limited number of respiratory equipment available at hospitals is not sufficient to meet the needs, until the underlying problem encountered by patients is resolved and this is a vital need.
The ventilator will be used in Ambulances, Health Centres and in Institutions with Insufficient Infrastructure
In addition to the above, Specialist Doctor Tarık Öztürk expressed that as the Near East University innovation team and healthcare professionals, started to work on the alternative breathing device after the first case was seen in TRNC in March, foreseeing that the number of patients will be out of control in the COVID-19 pandemic. He pointed out that the device will be used not only during the covid-19 outbreak but also later in ambulances, hospitals, health centres and in health institutions with insufficient infrastructure; therefore making the device produced by the Near East University highly significant and relevant.
Put differently, Specialist Doctor Tarık Özdemir expressed that ventilators are a life-saver during the covid-19 period since they take over the body's breathing process, when the disease has caused the lungs to fail, and thus give the patient the time to fight the infection and recover. He said: "Ventilators, a medical device used in patients with difficulty breathing, are used in intensive care medicine, home care, emergency medicine and anaesthesiology. We have produced the alternative breathing device as a device for breathing in a patient who cannot physically breathe or is encountering inadequate breathing; so as to allow patients with lung-related respiratory diseases including pneumonia to breathe more easily. In short, this device is vital for a wide range of uses."