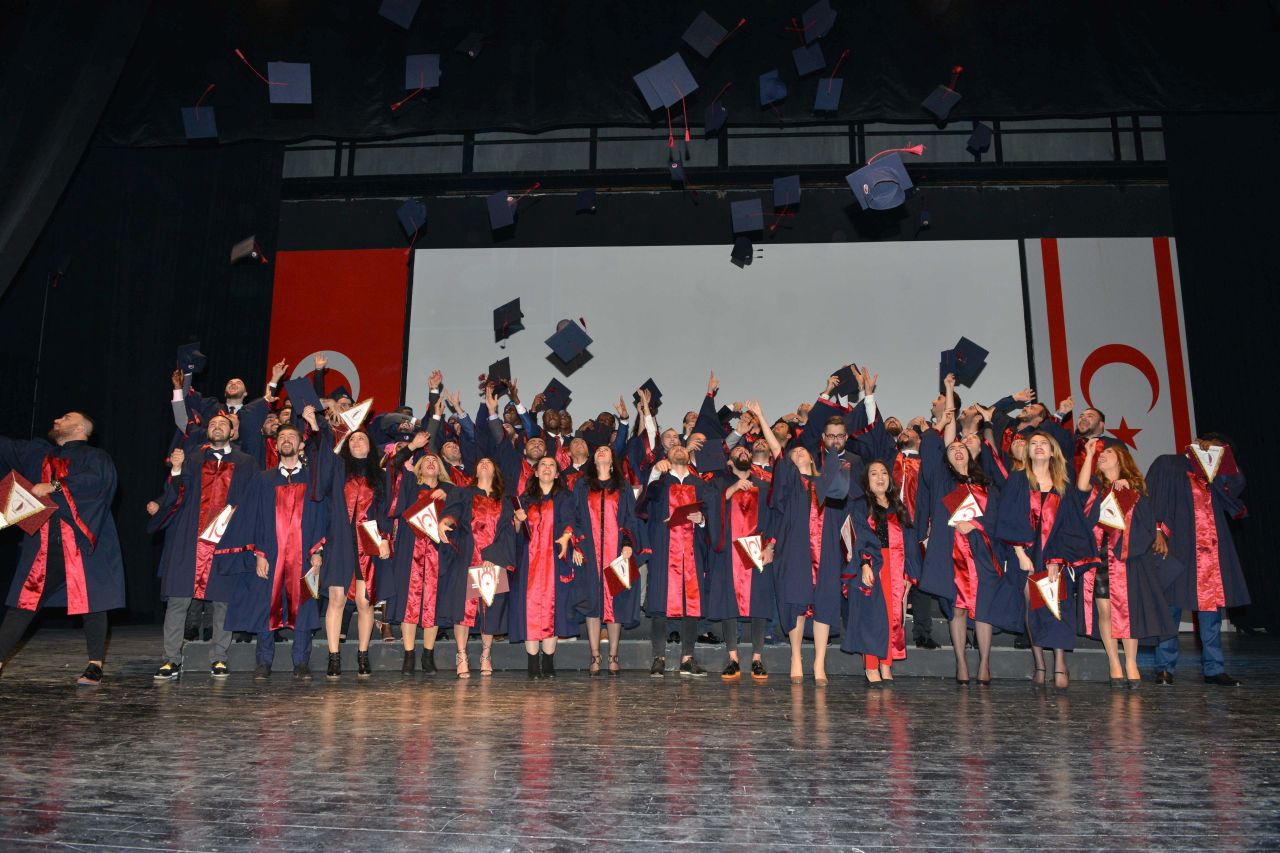 2018-2019 Academic Year Fall Term graduates of Near East University Faculty of Architecture received their diplomas with a glorious ceremony held at the Main Hall of NEU Atatürk Culture and Congress Center (AKKM).
According to the press release issued by the Directorate of Press & Public Relations Office of NEU, the graduation ceremony was realized with the participation of NEU vice Rector Assoc. Prof. Dr. Mustafa Kurt, NEU Faculty of Architecture Dean Prof. Dr. Zeynep Onur, department chairpersons, faculty members, students and their parents.
The graduation ceremony began with a moment in silence in mourning of Mustafa Kemal Atatürk, Turkish Cypriot leader Dr. Fazıl Küçük, TRNC Founding President Rauf R. Denktaş and all martyrs and followed by singing the national anthem. Then, vice Rector Associate Professor Mustafa Kurt, Faculty of Architecture Dean Professor Zeynep Onur, and on behalf of graduates, Ali Murat Avcı and Muhammed Taher Gazal delivered a speech expressing the meaning and importance of the day.
Prof. Dr. Onur: "It will be our greatest pride to see you performing your profession successfully…"
Making suggestions required for leading a successful and happy life, Professor Onur addressed the graduating students and expressed her views: "From now on, as men and women, you will be continuing your way by undertaking many roles in life. In order to ensure a successful and happy life, you need to learn more and add on the knowledge and experiences that you have acquired throughout your educational lives, you need to discover yourselves and go after your interests and dreams while setting out to shape the future.
As a designer, you are now a candidate for a long and endless challenge. Architecture is a difference and it was a life style. Dealing with the future; designing the future, requires great responsibility. This responsibility extends from your smallest occupational element to the future of your community, your country. Due to your profession, you must adopt free-thinking as a very important ethical value throughout your life. I hope that you believe the work you do and that you love it so much that you will have the belief, desire and joy to sustain this story for the rest of your life. We consider all of you as individuals equipped with comprehensive knowledge and skills who are capable to create their own values and change the world. You are graduating from the NEU Faculty of Architecture which has a proven quality and excellence in education. Our graduates have left their marks on many outstanding projects in the field of architecture, interior architecture and landscape architecture in various countries across the world. Their accomplishments indicate the power of our faculty in exceeding the boundaries of our country. It's possible that you will encounter challenges; I firmly believe that you will overcome all challenges thanks to quality education that you received at Near East University. To see or hear about your success will be our greatest pride as well as your parents who showed great devotion in supporting and enabling you to reach this significant day. Congrats all of you. May God speed your way" said she.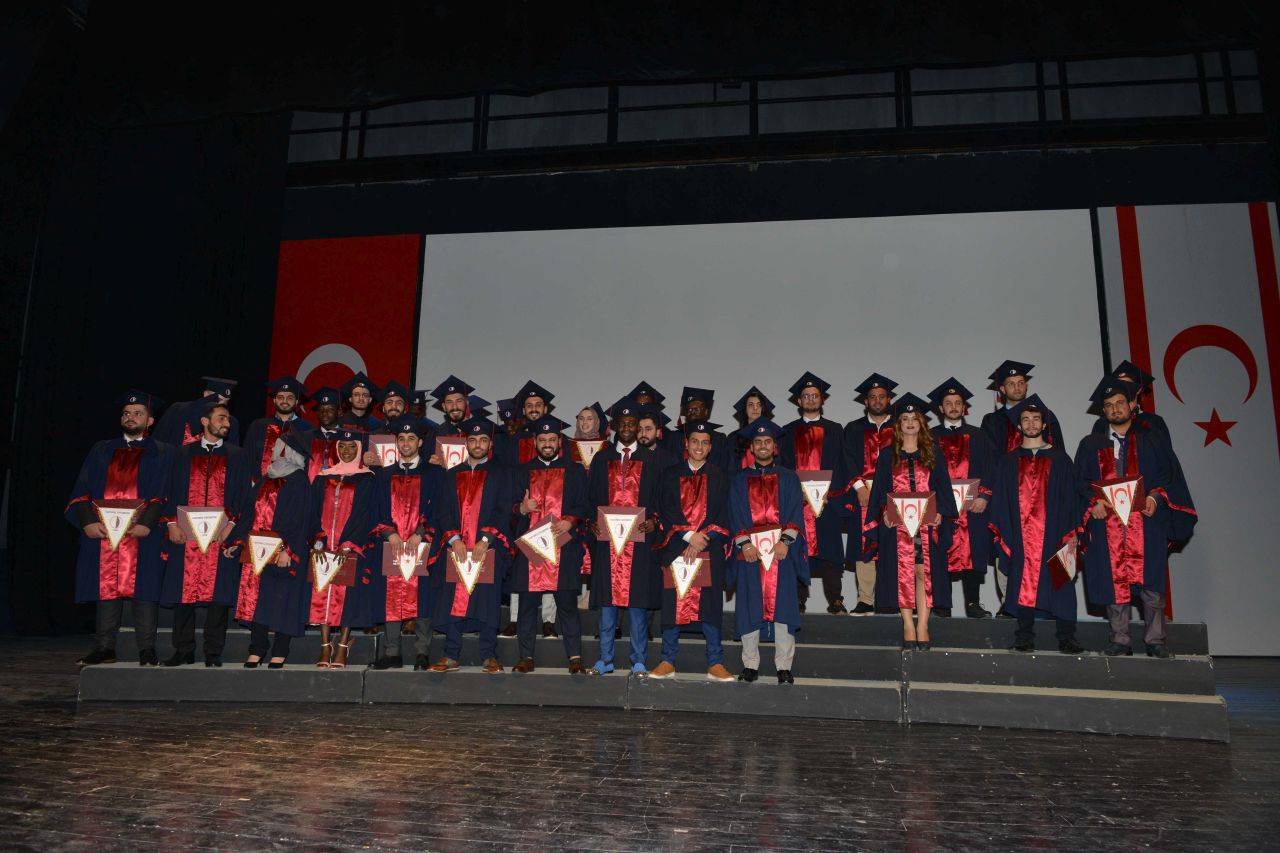 The main function of universities is to produce science and provide its contribution to the mankind…
Talking about the foundational functions of universities, NEU vice Rector Associate Professor Doctor Mustafa Kurt stated that the main function of universities was to produce science and ensure the contribution of that produced science to the public, to the society and to the globe.
"Today we are experiencing the excitement and enthusiasm of celebrating not an end but a new beginning. Our students, each of who has a distinguished value for us, will step into their professional lives as a part of Near East Family. Our graduates have received their education in the context of equality principle in a contemporary environment where they had the opportunity to combine practice with theoretical knowledge, have a say in academic debates, and participate in many activities. We know that the only treasure that cannot be taken from their hands, cannot be handed back and cannot be torn off from them is the education that they have received at the Near East University, the world brand educational institution that proven her quality and excellence in education. Near East University stands forefront as an internationally known prestigious university. The greatness of Near East University is not numerical; it is not physical either. The greatness of a university is always assessed by taking into consideration the science that it produces and therefore the number of scientific articles published in high index journals. Considering the number of scientific articles published in 2018, Near East University ranks among the top five universities in Turkey. As of 2018, more than 1200 articles of faculty members of Near East University were published by prestigious journals scanned by Web of Science and Scopus, the largest abstract and citation databases of peer-reviewed literature covering tens of thousands research topics across all scientific disciplines.
A good design needs to be sustainable, accessible, functional, emotional, permanent, socially beneficial, aesthetic and ergonomic. To graduate and receive a diploma is the dream of every student studying at a university. Today, your dreams are coming true. While one is closing, a new era is opening in your lives. This new era will be a challenging one; you will be in a competitive life. I have no doubt that the quality education that you received at Near East University will propel you to overcome all challenges. I wish outstanding success for all the students graduating from the departments of architecture, interior architecture and landscape architecture" said he.
We will also leave our marks in the future of our countries…"
Delivering a speech on behalf of domestic graduates, Ali Murat Avcı stated that they have not only acquired comprehensive architectural knowledge and skills but also learnt to distinguish good and bad and the value of human and humanity. We have become aware of the importance of being honest and trustful to each other; we have learnt how to be a good and useful individual for the country and nation, and I have no doubt that we will also have a say in the future of our countries" said he.
"Choosing Near East University for my undergraduate education was a right decision that prides me…."
Delivering a speech on behalf of foreign students graduating from NEU Faculty of Architecture, Muhammed Taher Gazal stated that he made a right decision by preferring to have his undergraduate education at Near East University in the Turkish Republic of Northern Cyprus. "It was a right decision that prides me. "I feel the excitement of going back to my country and the sadness of leaving here. Throughout our education process in TRNC we faced bravely the hardships of life and regained our self-confidence. I would like to extend my thanks to my lecturers and my student fellows for my making my education enjoyable. I wish success to all my friends in their new lives" said he.
Before the presentation of diplomas, a dance show was performed by dancers and dancing masters from the Health, Culture and Sports Office of Near East University. Then the graduates received their diplomas and swore the profession oath. Upon receiving their diplomas, the graduates experienced the joy of graduation by throwing their caps.