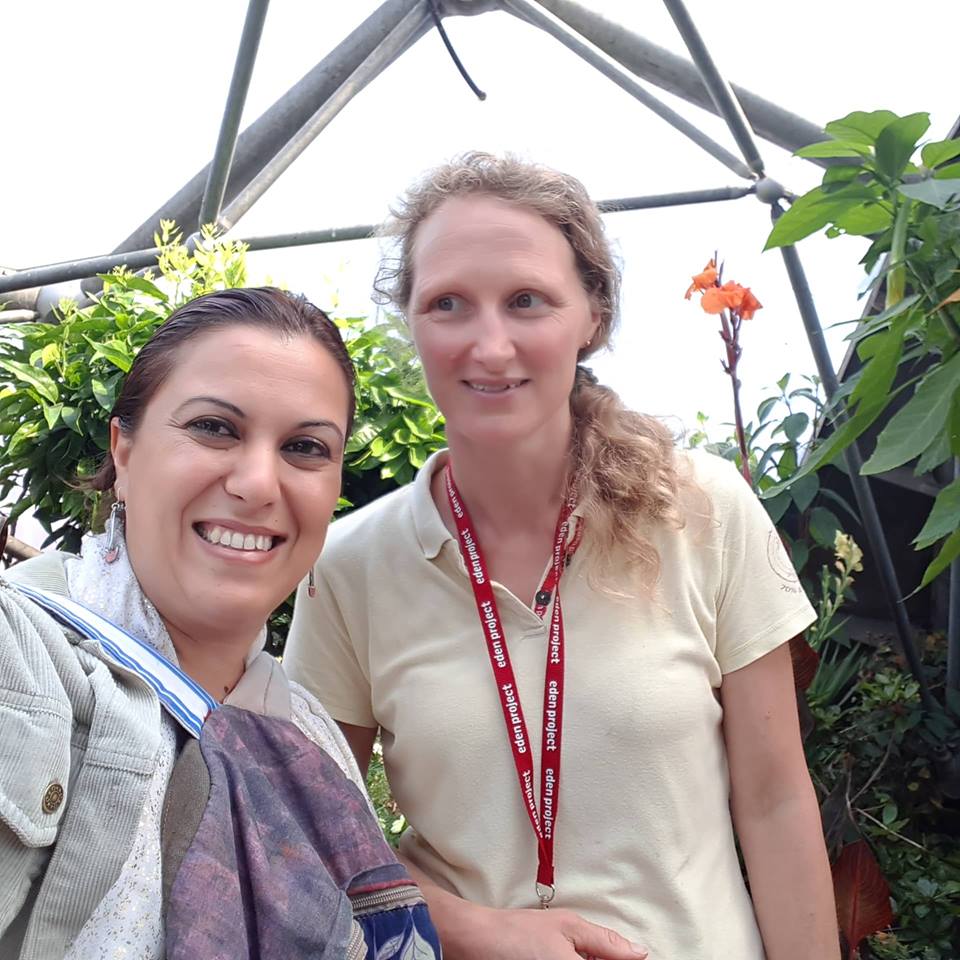 Head of Department of Landscape Architecture of Faculty of Architecture of Near East University Faculty, Assoc. Prof. Dr. Özge Özden Fuller, visited the Eden Project, which is situated in 160 year-old former clay mine at Cornwall UK and made official connections via meetings. It was stated that the Eden Project consists of 3 main biomes: the Mediterranean Biome, the Outdoor Biome which is directly connected to the environment outside, and the Rainforest Biome.
According to the press release issued by the Directorate of Press and Public Relations of Near East University, during her visit to Eden Project, Assoc. Prof. Dr. Özge Özden Fuller has a meeting with Catherine Cutler who is in charge of the Mediterranean Biome and resultantly, they have reached an agreement that the Near East University Department of Landscape Architecture will be carrying out their internships at the Eden Project starting from the Fall Term of the Academic Year 2018-2019. Additionally, students will also be taught contemporary techniques in horticulture.
Making a statement regarding the matter, Assoc. Prof. Dr. Özde Özden Fuller stated that students with at least 2.72 CGPA and who have a good level of English are eligible to apply to Department of Landscape Architecture Authorities if they are interested. She further explained that there are around 500 people who work at the Eden Project and 300 who are volunteers. Since the Eden Project was opened to the public in 2001, they received more than 18 million visitors and the Eden Project has made 1.7 billion Sterling contributions to the UK economy.
Comprises 7 thousand 253 Plant Projects…
Assoc. Prof. Dr. Özde Özden Fuller stated that the Tropical Biome of Eden Project covered an area of 15590m2 and had a dome structure. Furthermore, visitors are able to see a density of tress bamboo, banana and rubber trees. She added that the highest point of the dome was 50 meters high and had around 1200 species of plants. On the other hand, although the Mediterranean Biome was laid over 6540 m2 it comprised 1100 different species of plants. Assoc. Prof. Dr. Özde Özden Fuller further added that the Eden Project was one of the most beautiful botanic gardens in the world and that more than 500 people worked there. In fact, it housed a total of 7253 plants and subspecies.
Aiming to explore our dependence on the natural world…
The mission of Eden Project was explained to be focused on the connection with the natural world and that they aimed for people to internalize this as a perception and try to visualize what our future and possible problems can be like in the future. In other words the mission of this project is to explore our dependence on the natural world, to use that understanding to excite people into delivering transformation where they live and ask to really serious questions about what a great future might look like for all of us.
Eden Project has international partners all around the world…
The Eden Project is designed in such a way that it cooperates with many international partners around the world. That is, Eden Project is partnering with like-minded organizations to establish collaborative projects across the globe such that there are currently three different projects which are being developed in China. One of the projects is named as Eden Qingdao and this project involves the significance of water. There are similar projects in Australia, New Zealand, Norhern Ireland and the USA.