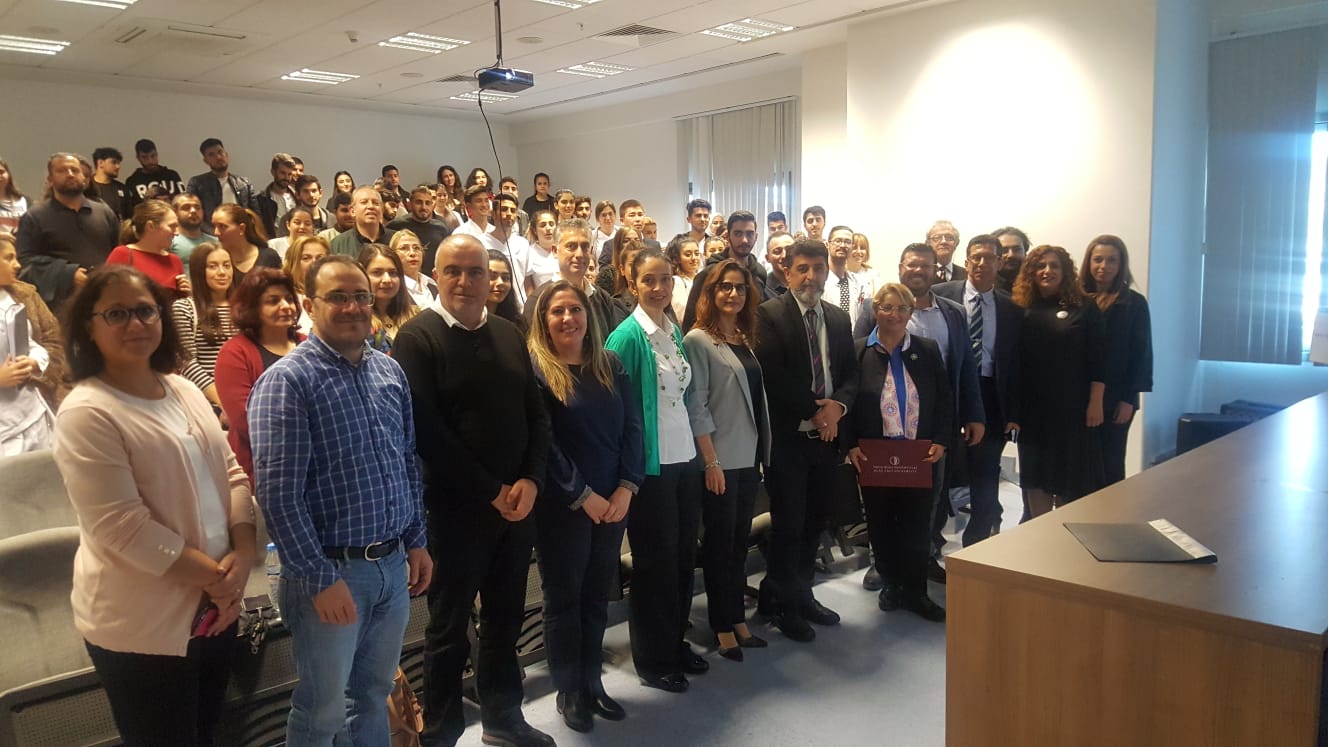 Near East University Knowledge Management Research Centre, which is affiliated to NEU Centre of Excellence, organised a conference titled as "Artificial Intelligence Technologies in Management".
The guest speaker of the conference was Prof. Dr. Türksel Kaya Bensghir, who is an academic member of Department of Business Administration Faculty of Administrative Sciences, Ankara Hacı Bayram Veli University and member of Turkey Informatics Association Executive Committee. The conference included focus on "Cyberog-Cyberorgans and Humanity in the Valley of Insecurity"; issues on artificial intelligence technologies were discussed. It was pointed out that Vice Rector of Near East University Assoc. Prof. Dr. Mustafa Kurt had also attended the conference.
According to the press release issued by the Directorate of Press and Public Relations of Near East University, at the conference Prof. Dr. Kaya Bensghir informed the conference attendees on historical development of artificial intelligence, basic dimensions, dynamics of change in management, national artificial intelligence strategies and opportunities and threats associated with artificial intelligence.
Artificial Intelligence Technologies have the potential to produce solutions to social problems
Prof. Dr. Bensghir expressed that Artificial Intelligence should be studied multi-disciplinary including different disciplines such as Computer Engineering, Philosophy, Mathematics, Psychology, Biology, Management and Linguistics. He explained that artificial intelligence has features such as learning, reasoning and adaptability and emphasized that the effects of artificial intelligence studies on society are still in its early stages. He pointed out that artificial intelligence will enter life in the future and that this would require several reforms in public administration and various legal arrangements.
Prof. Dr. Kaya Bensghir pointed out that Artificial Intelligence technologies have a serious potential in generating solutions to social problems and generating value in the knowledge economy. Moreover, stressed the importance of developing national artificial intelligence strategies by countries. On the other hand, he also pointed out that artificial intelligence comprised both certain opportunities and risks. Prof. Dr. Bensghir provided details regarding artificial intelligence made at countries such as Canada, Australia, Japan, South Korea, India, China, EU countries, OECD countries and Turkey. Additionally, Prof. Dr. Bensghir touched upon current developments in artificial intelligence studies. He discussed the concept of "The Valley of Insecurity" that provides a framework to understand the emotional reactions of human beings to robot-like objects and introduced concepts of digital twin and cyber organisms, which will take part in the business sector of the future "and the concept.
Artificial Intelligence will be made compatible with humanity
In the results section of the conference, Prof. Dr. Bensghir expressed that there are plans and strategies that can make artificial intelligence compatible with humanity, in addition to making mankind compatible with artificial intelligence. Furthermore, he underlined the need for new approaches and regulations on artificial intelligence in the fields of ethics and law, management and organization. At the end of the conference, Prof. Dr. Türksel Kaya Bensghir answered the attendee's questions and he was presented a thank you plaque by the Vice Rector of Near east University Assoc. Prof. Dr. Mustafa Kurt.