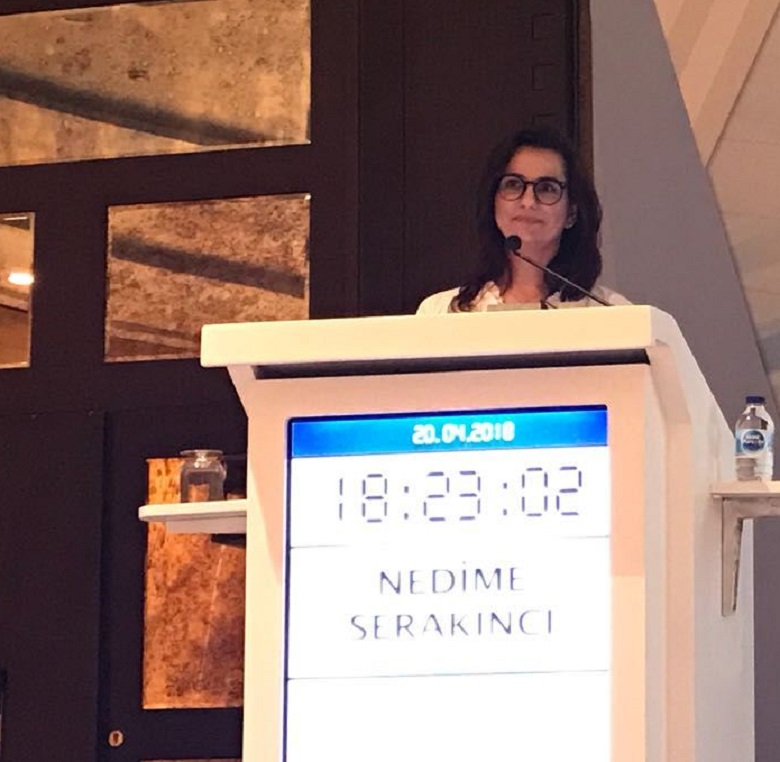 Chairperson of Centre of Excellence of Near East University, Head of Department of Medical Genetics of Faculty of Medicine, and also Head of Department of Molecular Biology, and Head of Department of Genetics of Faculty of Arts and Sciences, Prof. Dr. Nedime Serakıncı participated in the 4th Bioscience and Industry Conference as a guest speaker.
According to the press release issued by the Directorate of Press and Public Relations of Near East University, a conference was held by Chemical Technologies Club of Yildiz Technical University on Industry 4.0 to which Prof. Dr. Nedime Serakıncı was invited to teleconference to provide information on her study in the field of "Genetics of Aging and Telomere Therapy". She informed the audience on two different methods she developed to assess telomere lengths. As a keynote speaker of the conference, Prof. Dr. Serakıncı made a presentation on "The use of Telomere Biology in Industry and Reflections" and that around 350 participants listened to her.
The possible benefits and disadvantages of Anti-Aging Medicine used as part of Telomere Therapy…
Prof. Dr. Serakıncı explained that telomeres are the caps at the end of each strand of DNA that protect our chromosomes, like the plastic tips at the end of shoelaces. Without the coating, shoelaces become frayed until they can no longer do their job, just as without telomeres, DNA strands become damaged and our cells can't do their job. Furthermore, she explained that the DNA at the ends of chromosomes erode. More visible signs of thus include aging skins and greying hair. When telomeres become very short, cells can no longer divide and die. In human cells, shorter telomeres indicate a higher probability of risks of diseases of aging. Moreover, Prof. Dr. Serakıncı explained the relationship between telomere length and many diseases was clinically proven. She added that anti-aging drugs were used as part of telomere therapy and these had certain benefits as well as certain drawbacks. She provided details regarding risks involved in these treatments.
She will be a Scientific Consultant of the National Medical Congress…
In addition to the above it was stated that Prof. Dr. Nedime Serakıncı was invited to be the scientific consultant of the 13th National Congress of Medical Genetics with International Participation. It was explained that, organised by Medical Genetics Association, the aim of the congress was to bring scientists together to share latest developments and contemporary approaches to issues through multidisciplinary scientific meetings.