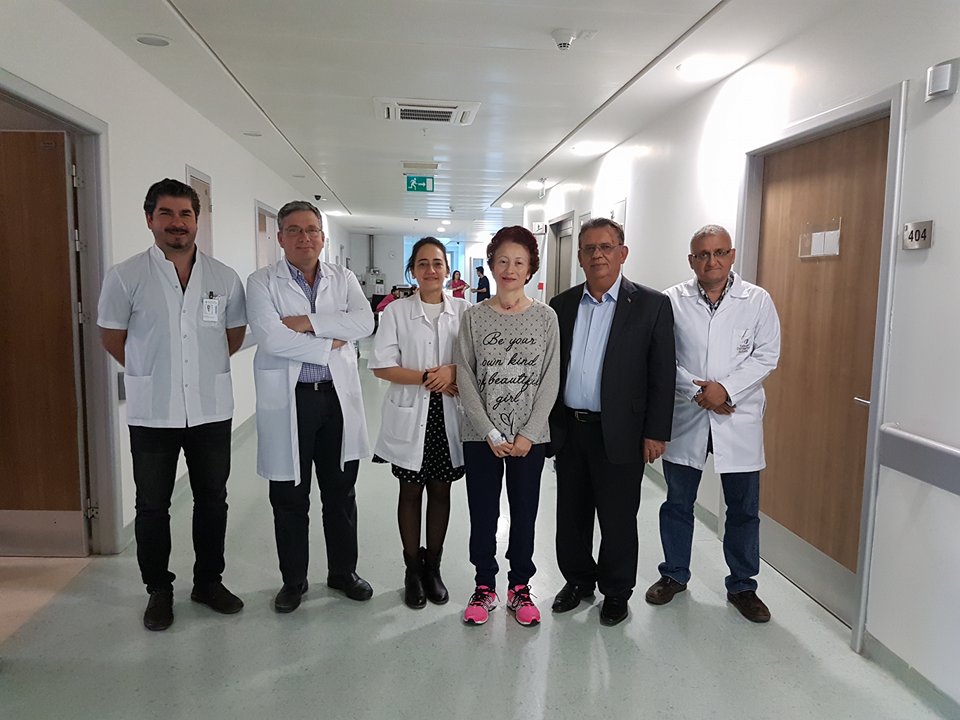 Neşe Arsu, a 47-year-old survivor of cardiac arrest that lasted 25 minutes, delivered to emergency service of the Near East Hospital by ambulance and after the first intervention at the emergency service, was transferred to relevant departments of NEU Hospital for further diagnosis and treatment. The Neurology and Chest Diseases departments examined the patient and diagnosed that the patient was suffering from multiple health problems including neurological and pulmonary damages as well as a tracheoesophageal fistula which is a hole in the esophagus.
A multi-directional treatment was carried out for Mrs. Neşe Arsu and the tracheoesophageal fistula was closed through a tissue transplantation from her leg. The operation, which is a very rare case in medicine, was carried out by Prof. Dr. Ferhat Erişir, the Chairman of Department of Otolaryngology and the hole in the esophagus was treated with a very rare method.
Neşe Arsu, a 47-year-old, who had suddenly fainted when he spent time in the garden of his house a while ago, suddenly started to suffer from irregularities such as irregularity in her breath, sudden foam coming out from her mouth and contraction. Neşe Arsu, her consciousness lost and her heart was stopped for 25 minutes and brain left asphyxiated, was first taken to the emergency service of the state hospital from where transferred to the Near East University Hospital.
The patient was taken into the intensive care unit of the Neurology Department at the Near East University Hospital where immediate examinations were carried out and the patient was treated and stabilized respectively. She then was transferred to the Department of Pulmonary Diseases for treatment of developing lung infection. In the examination performed by Specialist Fadime Tülücü, it was diagnosed that there was a hole in esophagus. The patient, whose case required multidisciplinary treatment at the Near East University Hospital, was taken to the Department of Otolaryngology Department for treatment of tracheoesophageal fistula.
Prof Dr. Ferhat Erişir; "Tracheo-esophageal fistula was closed with a hard tissue transplanted from the leg front of the patient."
Prof.Dr. Dr. He said that the fistula was closed through a rarely applied method, which is very rare in adults, and that the facia lath, which was taken from the front of the patient's leg and placed on tracheo-esophageal fistula which is a very hard tissue, and was glued with tissue adhesive.