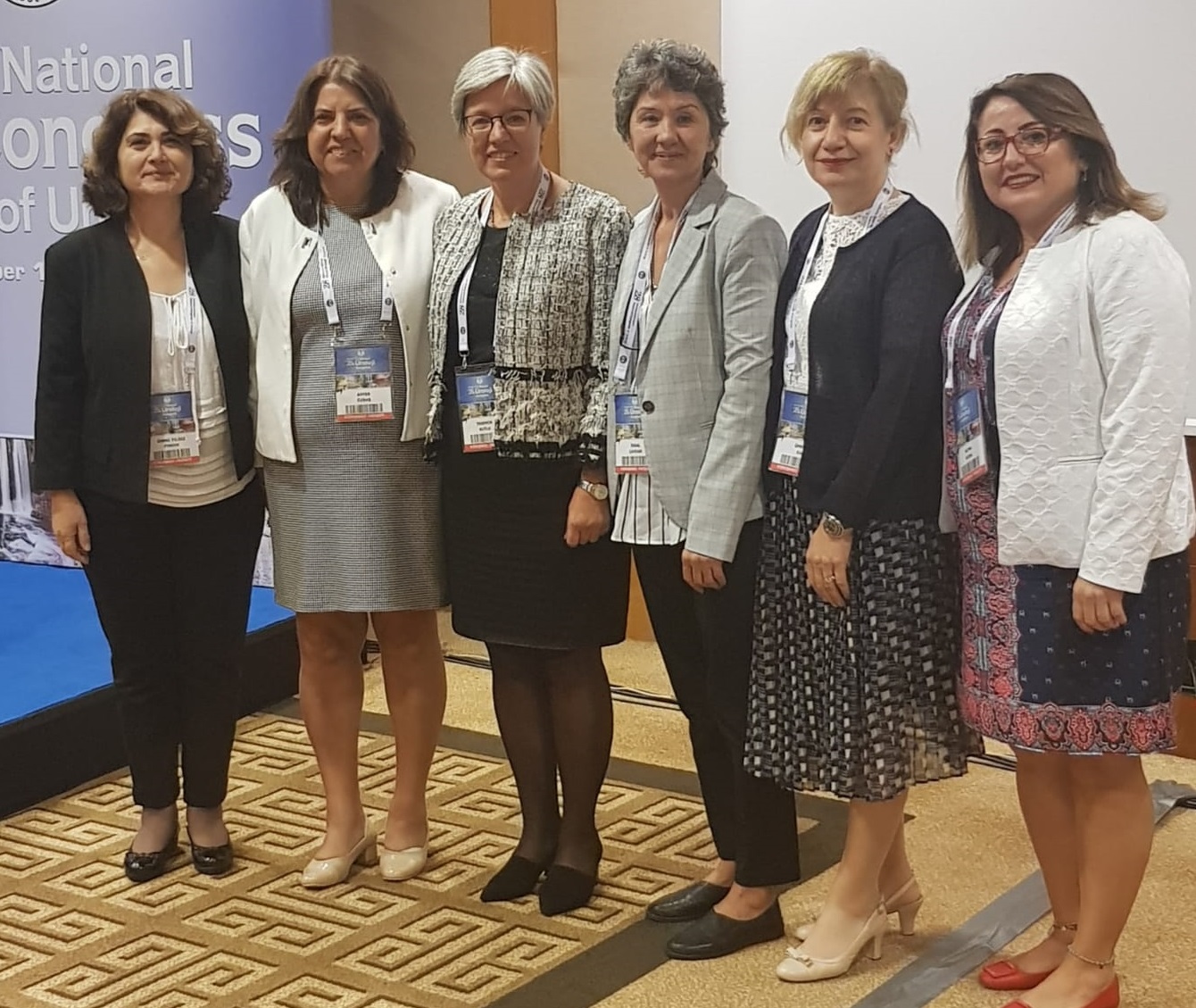 Dean of Faculty of Nursing of Near East University Prof. Dr. Ümran Dal Yılmaz attended the 9th National Urological Nursing Congress, held in Antalya, and gave a conference titled as "The Effect of Patient Participation on Care".
According to the press release issued by the Directorate of Press and Public Relations of Near East University, during the conference Dean of Faculty of Nursing Prof. Dr. Ümran Dal Yılmaz stated that taking a patient participation approach, improves the health care and treatment process by activating the individual's role in health care, help to achieve better health outcomes and reduce health care costs; in addition to attaining more effective health policies.
At the conference Prof. Dr. Yılmaz said that according to the Declaration of Alma-Ata of world Health Organisation in 1978, is related to people's right to participate individually and collectively in the planning and implementation of health services. He said that thus, patients' participation in health care has improved significantly. Therefore, focusing on a patient-centred service concept with changes in the health sector results in the need for patients to take a more active role in health care. Prof. Dr. Yılmaz added that patients who are truly involved made positive choices for their own health and the system allows a progression towards a culture of prevention rather than a treatment system.
Nurses have a great role in patient care …
Prof. Dr. Ümran Dal Yılmaz pointed out that nurses had a great role in patient care and some nurse leaders expressed their views on the subject as follows:
"Virgina Henderson and Hildegard Peplau argue that the aim of nursing care is to ensure the independence of the individual as soon as possible; while Sister CallistaRoy states that individuals are on the move in the continuity of health and illness and have to adapt in order to cope with the problems. On the other hand, Marjorie Price expresses that patients should not be passive in care and education, should be a part of the health team and should act with it; and stresses that this should be done appropriately under the leadership of the nursing team."
Giving a larger role to the patient in care is a highly accepted opinion…
Prof. Dr. Yılmaz expressed that individualized care provided by the nurses will make the patient feel safe and therefore increase patient satisfaction and contribute to the improvement of patient care outcomes and patient care participation and provided examples.
Prof. Dr. Yılmaz said:
"It is necessary to know and respect the values, preferences and needs of patients. Also, it is necessary to promote partnership between service providers and patients in care decisions, to promote patient participation and to provide patient comfort. Furthermore, it is imperative to provide physical and emotional comfort of patients and defend patients' rights in the care processes. That is, patient-centeredness is considered as a quality field in itself. Patient-centeredness in health care delivery; patient values and preferences need to be central to providing both institutional and professional level care. Involving the patient in quality improvement initiatives, improves care quality and provides better patient results. In hospitals providing patient-centred care, there are financial benefits such as reduction of patient stay time, reduction of inpatient costs, reduction of unwanted events, reduction of overwork rates, reduction of surgery costs and reduction of malpractice cases. In case of deterioration of the health status of the individual, various therapeutic-curative nursing care approaches are used today. While some of these methods are applied by nurses, some of them require active participation of patient and family in care."
"Patients and Nurses are Partners of the Healing Process…"
In addition to the above, Prof. Dr. Yılmaz expressed that the way to create improvement in people with illness or health problems is through trust, hope, faith, respect for human dignity, fair approach in care and professional nursing care approach blended with scientific knowledge. He said:
"Knowing, being together, taking action for the patient and facilitating the patient`s life are important in terms of healing. The remedial care process is based on a continuous relationship, with patients and nurses. Nurses use various healing methods and techniques while the remain by the patient`s side during their recovery journeys, or in fact by teaching the patient`s own families to actively participate in the healing process and thus, they make a difference in the treatment-healing process of patients."