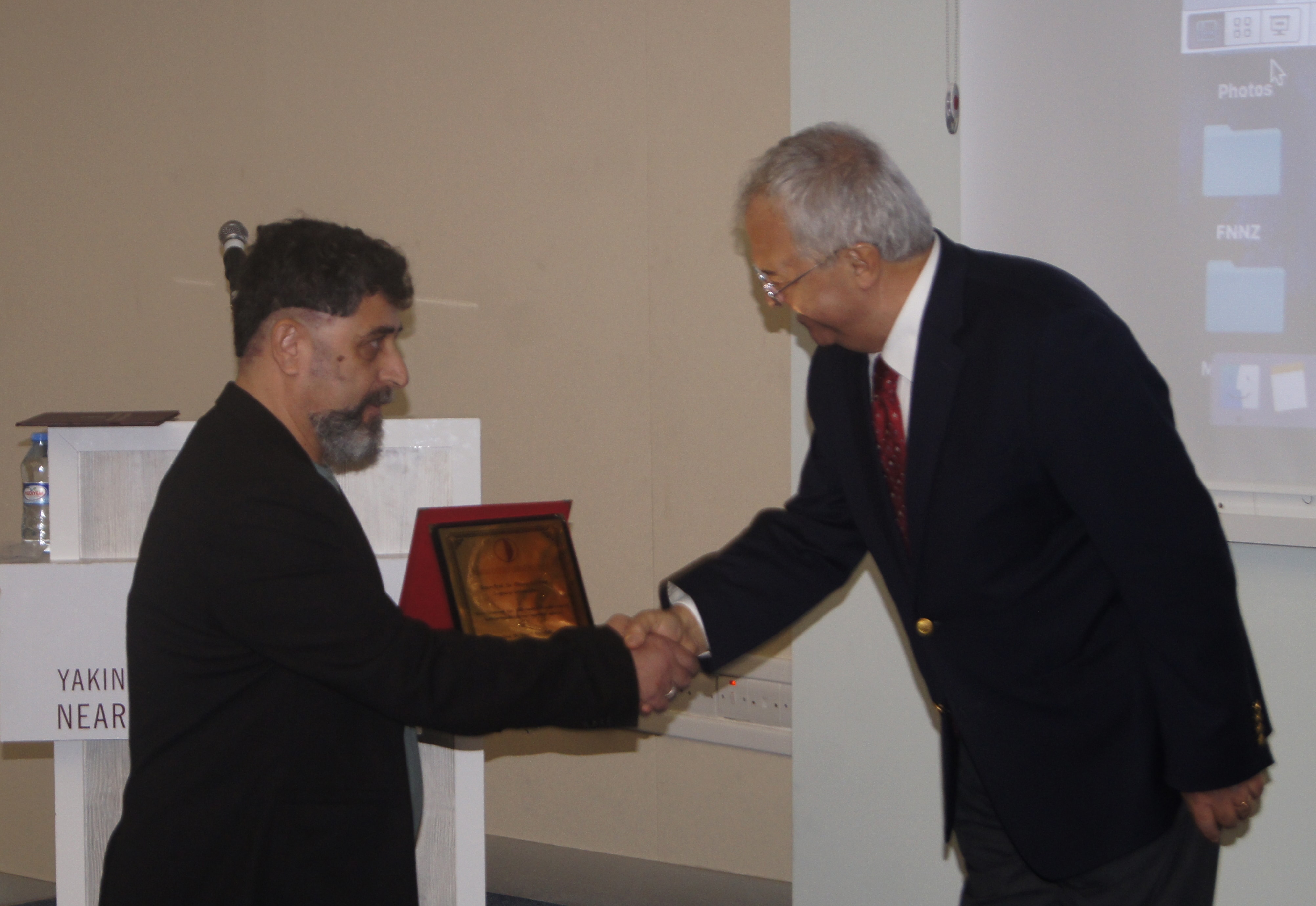 Having been scheduled to host worldwide renowned 100 Turkish scientists, the Conference Series on "100 Reasons to Produce Science" aim to provide platform for scientists to address scientific issues, to present their studies and share their information and experiences with Near East University academics and students. Conference Series continues to host scientists who are forerunners of scientific studies in their fields.
Within the scope of the Conference Series, Near East University hosted Professor Okyay KAYNAK as the keynote speaker of the sixth forum.
Technological Change in the Last 20 Years was discussed
The Directorate of Press and Public Relations Office of Near East University released that Professor Okyay KAYNAK addressed thoroughly the technological changes occurred within the last two decades, especially erosion control technology and convergence of emerging technologies. Touching upon the significant developments in these fields, Professor KAYNAK explained that an array of developments fueled convergence of emerging technologies. Throwing light upon the four main stages on industrial revolution, Professor KAYNAK stated that industry was currently at stage four that defined as Factory System. Touching upon the importance of integration of new industry solutions like cloud services, big data and emerging approaches in cyber physical systems, he also addressed issues such as blending the concepts with each other, blending knowledge, communication and technology-assisted approaches. Prof. Dr. Okyay KAYNAK also delivered information on changes in approaches in various fields ranging from industrial electronics to industrial computing as well as changes observed in industry including cyber physical systems.
Another tree has been planted in name of Prof. Dr. Okyay KAYNAK in the "Near East Forest of Scientists"....
At the end of his presentation, Professor KAYNAK answered the respective questions directed to him. Expressing his pride of being invited to such an outstanding conference, Professor KAYNAK extended his appreciations to NEU Rectorate, faculty members and students for their intense interest in the conference. Attending the conference on behalf of Near East University, the Vice Rector Prof. Dr. Mustafa KURT extended his appreciations to Professor ÇAĞIN and presented him a plaque of thanks in recognition of his unique contributions to the conference. Highlighting NEU's commitment to ensure all possibilities for scientific studies, Vice Rector Professor KURT expressed that another tree had been planted in Near East Forest of Scientists in name of Professor KAYNAK. Vice Rector Professor Mustafa KURT also presented Professor KAYNAK a certificate demonstrating the tree planted in his name in Near East Forest of Scientists.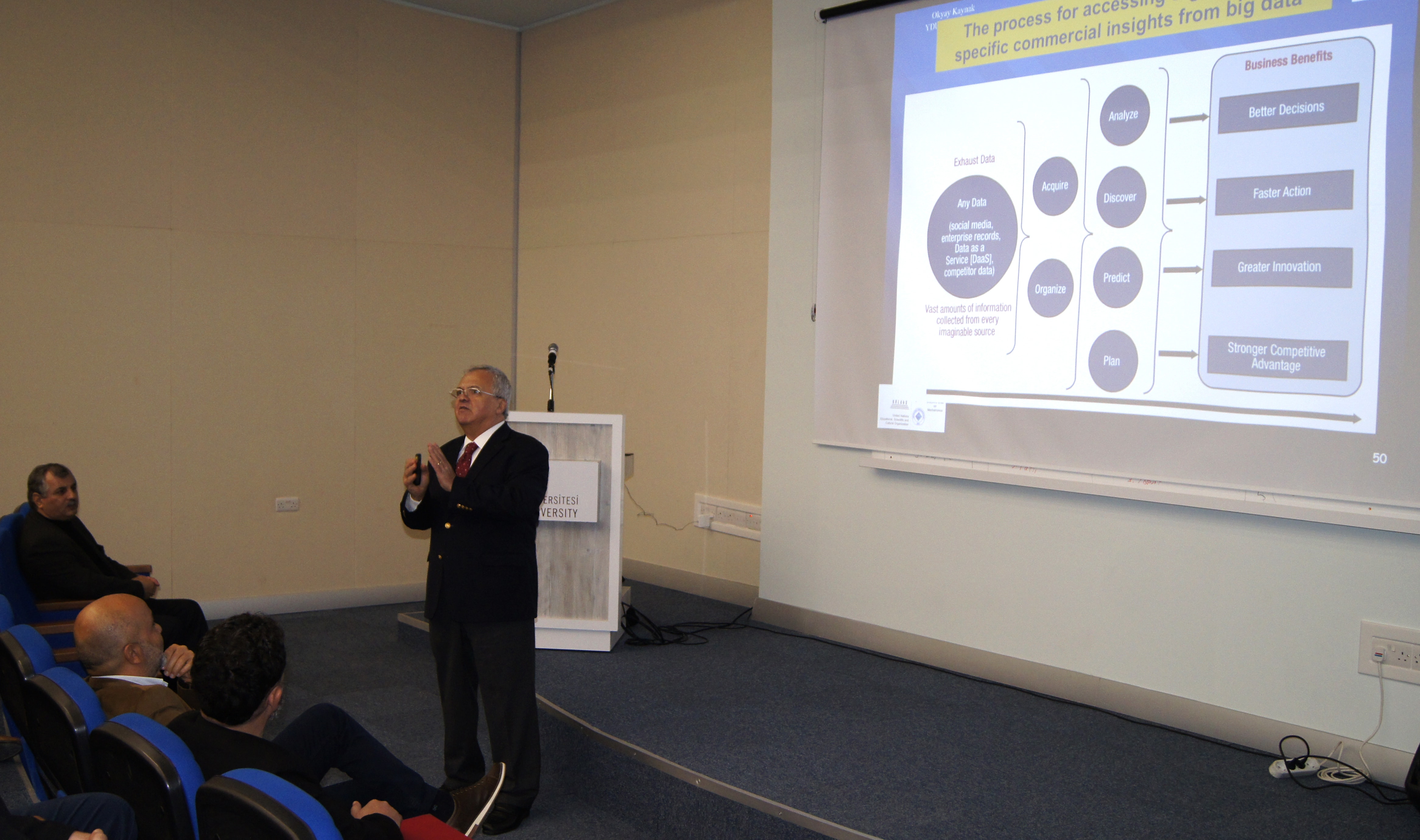 Who is Prof. Dr. Okyay KAYNAK?
Okyay KAYNAK received the B.Sc. degree with first class honors and Ph.D. degrees in electronic and electrical engineering from the University of Birmingham, UK, in 1969 and 1972 respectively .From 1972 to 1979, he held various positions within the industry. In 1979, he joined the Department of Electrical and Electronics Engineering, Bogazici University, Istanbul, Turkey, where he is presently a Full Professor. He has served as the Chairman of the Computer Engineering and the Electrical and Electronic Engineering Departments and as the Director of Biomedical Engineering Institute at this university. Currently, he is the UNESCO Chair on Mechatronics and the Director of Mechatronics Research and Application Centre.He has hold long-term Visiting Professor/Scholar positions at various institutions in Japan, Germany, U.S., Singapore and China. He has recently been awarded the prestigious "1000 People" Program professorship at Harbin Institute of Technology, China.
He currently carries out research in the fields of intelligent control and mechatronics. He has authored three books, edited five and authored or coauthored more than 400 papers that have appeared in various journals, books and conference proceedings.
Professor KAYNAK is a fellow of the Institute of Electrical and Electronics Engineers (IEEE). He has served on the Editorial or Advisory Boards of a number of scholarly journals. Currently he serves as the Editor-in-Chief of IEEE/ASME Trans. on Mechatronics.
Professor Kaynak is active in international organizations, has served on many committees of IEEE and was the president of IEEE Industrial Electronics Society during 2002-2003. He received IEEE Third Millennium Medal (2001), IEEE/IES Anthony J. Hornfeck Service Award (2005) and IEEE/IES Dr.-Ing. Eugene Mittelman Achievement Award (2011).