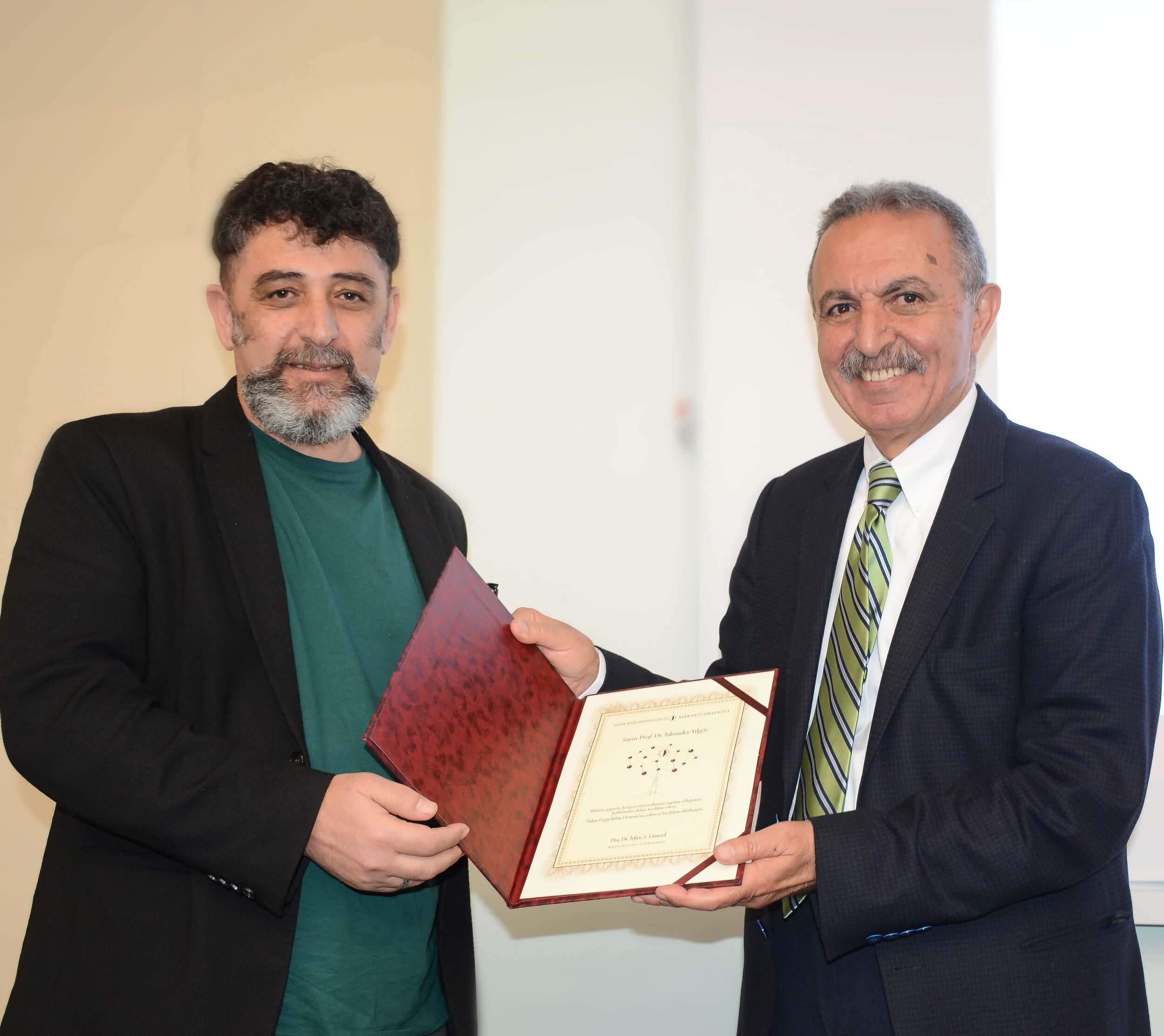 Being devoted to providing institutional contribution to innovative scientific information production and ensure excellence in education and innovative scientific studies, Near East University continues to host worldwide renowned scientists and provide opportunity for the faculty members and students to enhance their knowledge through fruitful plenary conferences.
Having been scheduled to host top100 Turkish Scientists from all around the world, the Conference Series '100 Reasons to Produce Science' hosted Prof. Dr. İskender YILGÖR as the keynote speaker of the seventh forum. Professor YILGÖR is one of the worldwide renowned scientists with his studies in the field of chemistry and he has extensive experience in the structural design, synthesis, characterization, modification and applications of thermoplastic polyurethanes and polyureas, reactive silicone oligomers, silicone containing copolymers and toughening of epoxy resins.
Prof. Dr. İskender YILGÖR: "All other wealth in life is temporary but knowledge is permanent"
Power of Knowledge was the topic of the seventh forum of the conference series. Professor YILGÖR began his remarks with Peter Drucker's quote "Knowledge is the source of wealth". Underlining the crucial role of quality education, observations and experimental studies as well as determination and intense personal effort in acquiring knowledge, Professor YILGÖR stated that all wealth other than knowledge was temporary.
During the conference, Professor YILGÖR delivered information on topics such as science, scientific research, production of information and success chain. In his remarks, he underlined that it was important to produce new knowledge but knowing how to utilize from this knowledge was more essential and important than just producing it. He also added that his studies were aimed at producing new information required to eliminate the challenges and provide solutions for the needs of the relevant sector across the globe.
Underlining the necessity of carrying out very serious and precise studies to overcome the challenges and produce solutions for problems, Professor YILGÖR stated that the aim of his scientific studies was to produce new information useful to provide economic development and raise quality of life for people.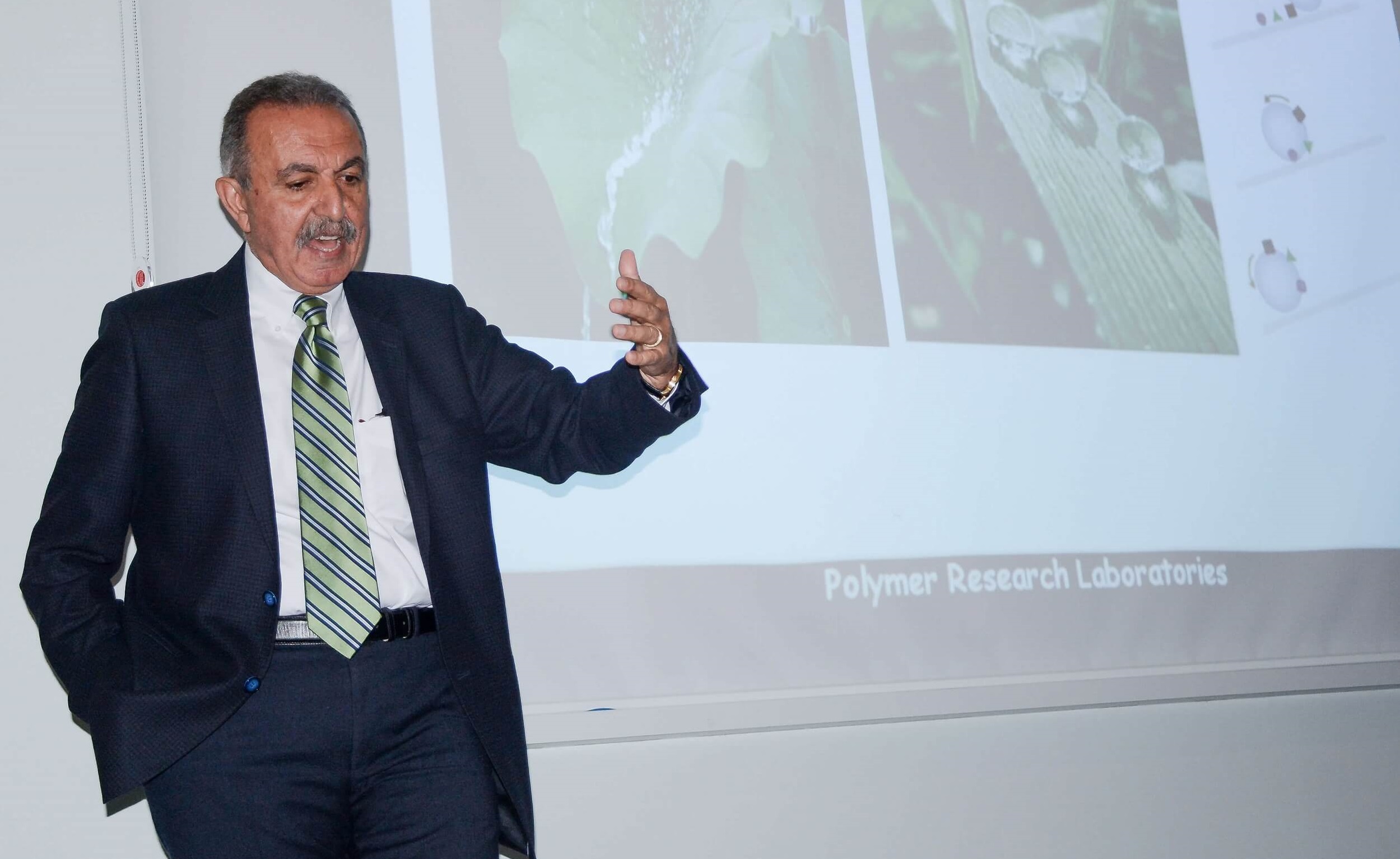 Prof. Dr. İskender YILGÖR: "Quality Education is a must for success!"
Noting that the success chain started with receiving a good education in a good educational system, Professor YILGÖR underlined that quality education was the first ring of the success chain. He stated that failure was inevitable in an education system of poor quality. "We acquire knowledge throughout the educational process. Then, we produce new information from scientific investigations that we carry out. Through innovation, discoveries and new technologies, this new information is transformed into applications leading to economic development and better quality of life for societies. This brings success in turn. This is a continuous cycle" said he.
Polymers that almost used everywhere today
In his presentation, Professor YILGÖR delivered information regarding polymers and the use of polymers in everyday life. "Polymers consist of many small molecules named monomers that are linked together to form long chains and are used in a lot of areas including nanotechnologies, textile, construction, space-aviation, automotive, health-medicine, water treatment, energy, defense, packaging, paints and microelectronics. Product made from polymers are all around us: clothing made from synthetic fibers, polyethylene cups, fiberglass, nylon bearings, plastic bags, polymer-based paints, epoxy glue, polyurethane foam cushion, silicone heart valves, and Teflon-coated cookware" noted he. Referring to polymeric coatings, Professor YILGÖR stated that polymers were used as polymeric coatings for enhanced protection of space stations, space crafts, constructions. "Polymers are also used as water vapor permeable, waterproof, breathing textile coating in products such as military uniforms, tents, and sport shoes. They are used as super water repellent and anti-icing coating in building and automobile paints, windowpanes, textile fabrics, roofs of buildings, solar panels and wind turbines. In addition, they are used as anti-creasing coatings for fabrics" said he.
Touching upon the biomedical applications of polymers, Professor YILGÖR stated that utilization of polymers as biomaterials such as contact lenses, artificial heart and veins and 3D printing tissue scaffolds with extremely complex architectures that can mimic their biological counterparts had greatly impacted the advancement of modern medicine.
At the end of his presentation, Professor YILGÖR answered the respective questions directed to him. Expressing his pride of being invited to such an outstanding conference, he extended his appreciations to faculty members and students for their intense interest in the conference. Attending the conference on behalf of Near East University, the Vice Rector Assoc. Prof. Dr. Mustafa KURT extended his appreciations to Professor YILGÖR and presented him a plaque of thanks in recognition of his unique contributions to the conference.
Who is Professor İskender YILGÖR?
He was born in Mersin-Turkey in 1951. He received his Bachelor of Science degree from the Department of Chemistry of METU in 1972. He received M. S. and Ph. D. Degrees from Middle East Technical University (METU), Ankara, Turkey, where he also served as an Assistant Professor until 1980. Between 1980 and 1985, he was a Visiting Scientist at Prof. Jim McGrath's Polymer Group, at Virginia Tech, Blacksburg, Virginia, USA. Then, in 1985 he joined Mercor Division of Thoratec Laboratories Corporation, Berkeley, California, USA, as the Vice President of Research and Development and was employed until 1989. Between 1989 and 1994 he served as the Director and Vice President of Research and Development at Goldschmidt Chemical Corporation, Hopewell, Virginia, USA, where he established the Polymer Center focused on development, production and commercialization of thermoplastic polyurethanes and various silicone containing copolymers.
In 1994 Dr. YILGÖR joined Koç University as the founding faculty member of the Chemistry Department, where he also established the Polymer Research Laboratories. He has been a full Professor of Polymer Chemistry at Koc University, Istanbul, Turkey since 1996.
Professor YILGÖR is the recipient of 2003 TUBITAK Science Award for his lifetime contributions to Polymer Science. He also received International Nonwovens Technical Conference, Best Paper Award (1987) USA, Koç University-Siemens Award for Excellence in Science and Innovation (1999), Rotary International-Mersin Toros Rotary Club Science Award for his contributions to Polymer Science (2004) and Best Paper Award in ACS 167th Rubber Division Meeting in San Antonio, TX (2005).
Prof. YILGÖR served as a member of TUBITAK Science Board between 2009 and 2013. He is currently a member of the Board of Trustees of Toros University, Mersin, Turkey. He is an Associate Editor of European Journal of Chemistry and is a member of the Editorial Advisory Boards of several international journals, including Silicon.
Prof. YILGÖR has published over 100 refereed journal articles and book chapters and is a co-inventor on 10 US and European Patents. His research interests include structural design, synthesis, characterization and investigation of the structure-morphology-property relations in multiphase copolymers. He has extensive experience in the structural design, synthesis, characterization, modification and applications of thermoplastic polyurethanes and polyureas, reactive silicone oligomers, silicone containing copolymers and toughening of epoxy resins.